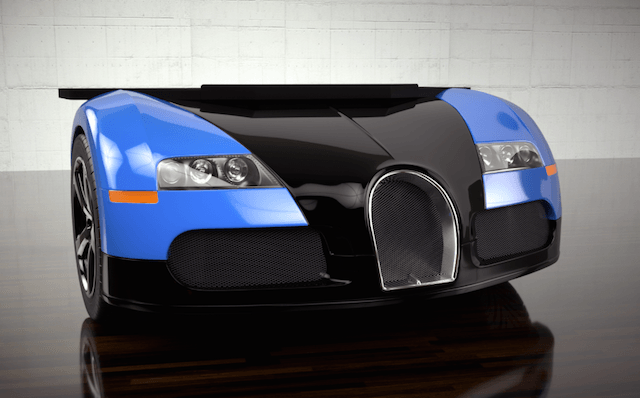 So you're an affluent and important businessman/businesswoman and you love everything about cars, and your absolute favorite is the king-of-the-hill, the Bugatti Veyron. "What a dream it would be to own one", you think to yourself. However there's a bit of an issue: you don't have $2 million dollars to drop on a car. So what can you do? Well how about buying a desk that's designed like one? Yup, you can bring the heat off the roads and into your office with this premium Bugatti Veyron Desk.
The Bugatti Veyron Desk is a luxurious and unique piece of furniture that is produced by Design Epicentral that allows you to show off your passion for the Bugatti brand in your office. They have reconstructed the front end of the vehicle exactly, and it even has real tires on it.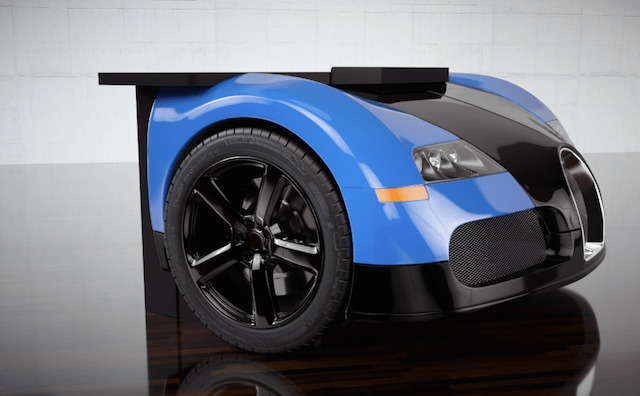 Design Epicentrum is a Polish company that specializes in high-quality furniture. Just take a few moments to browse through their catalog and you can get a sense for just how nice their products are. They wanted to create a piece that was a little more unique that their usual offerings, so they have come up with this desk. The desk is made from high-grade wood and fiberglass and it looks exactly like a Veyron. While shown in two-tone black and blue, the desk is also available in a variety of colors including orange, gold, and white. If you're interested in this piece, it's going to run you about $22,800 which is more than some real cars. Compared to a real Bugatti however, it's just a drop in the bucket.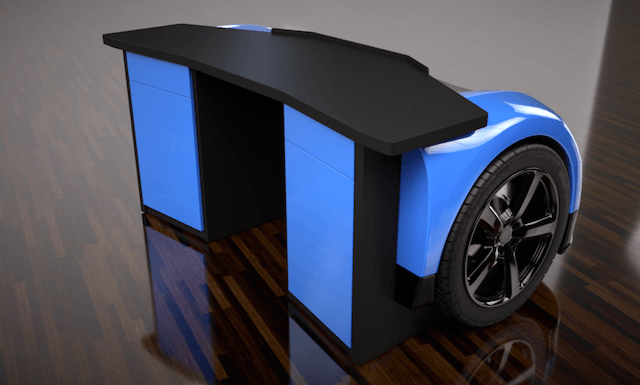 Now I must admit that I am not very well-versed in the world of premium office desks. My desk was $200 and I got it from a local Office Depot. Still I'm sure there are a variety of incredible desks out there for you to choose from. $22,800 is definitely a lot for a desk, and I'm wondering what other desks you could get for that price. Sure this desk is pretty cool, but it sort of reminds me of those old beds for children that are shaped like a red sports car. While it's impressive work from Design Epicentrum, it's seems a bit juvenile to have in an office environment. I think it would fit better in your home car garage where you're tinkering with that old Mustang or in your man cave. Regardless, if you want to get a desk that looks like a Bugatti Veyron, it turns out that you can.
Photo from Design Epicentrum