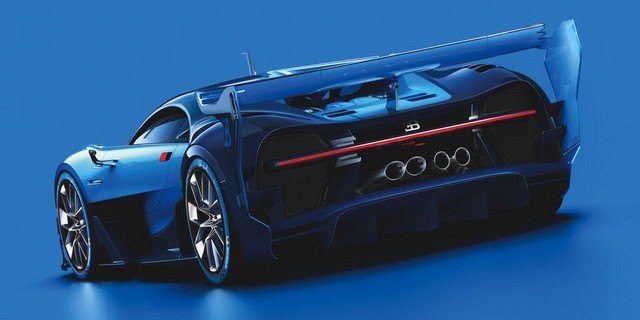 If you're wondering what's going to replace the Bugatti Veyron, then look no further. Say hello to the Bugatti Vision Gran Turismo. Nope, it's not a real car yet but it most certainly will be. At this point it's more of a "vision," a concept. But we can dream. We can always dream. And the dream won't have to last long. The Turismo is more of a production car teaser but it's by no means a shot in the dark.
While the Bugatti's Vision Gran Turismo concept has no virtual specs yet, it seems Bugatti will be saving that for the car's official debut at the Frankfurt Motor Show. And that's because they've built a full-size version of the car to display on their show stand. Oh yeah. And it looks mean in all the right kind of ways.
We don't know much but we do know this. The car shares some of its appearance with the Veyron as well as the old Chiron concept. The interior appears to use Audi's virtual cockpit and is devoid of most other buttons or controls. It's powered by a 16 cylinder, quad turbo engine, just like the Veyron. And it'll get nearly 1500 horses.
Look for a lot of these elements to appears on the upcoming Chiron super ultra hyper duper car when it's released. We can't wait!