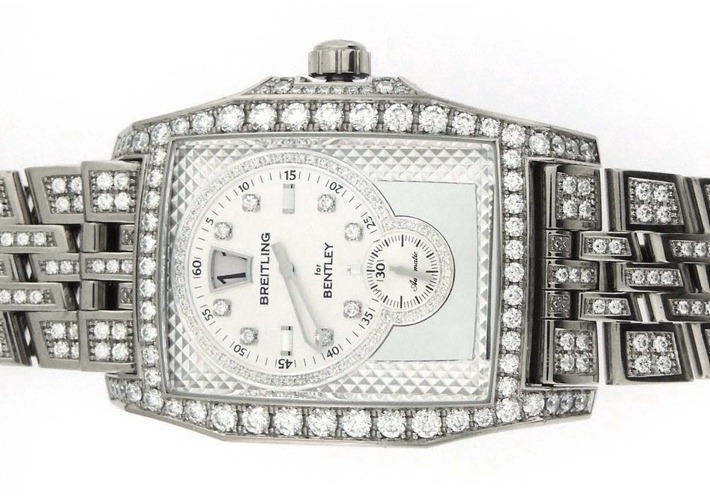 With an astronomical retail price of $255,500, this Breitling for Bentley Flying B J28362 automatic watch actually costs more than a brand new 2015 Bentley Continental GTC Speed Convertible–which has a base price of $250,100, according to motortrend.com. The luxury watch that costs more than a luxury car was part of limited run of only 50 specially-crafted pieces from Swiss watchmaker Breitling SA's iconic partnership with Bentley Motors Limited. The Breitling for Bentley Flying B J28362 features an 18-caret white gold case and bracelet completely covered in hundreds of Breitling factory set diamonds, weighing in at an overall caret weight of 11.62. The luxury watch's white gold case has a rectangular shape that flares out slightly on the sides (a departure from Breitling's famous round case chronographs) and measures in at 57 millimeters long by 41 millimeters wide by 14.7 millimeters thick. The Swiss-made timepiece also features formed sapphire crystal, a Bentley Flying B logo and limited edition number engraved on the caseback, a pave diamond dial, an off-center time display, a window for the jump hour display, diamond hour markers, a subtle red chapter within the seconds dial, and COSC-certified movement.
According the Breitling for Bentley's website, "Breitling for Bentley combines the best of both worlds. Style and performance. Luxury and accomplishment. Class and audacity. Power and refinement… A proud alliance between the grand art of British carmaking and the fine Swiss watchmaking tradition." The line of Breitling for Bentley luxury wristwatches is a range of handmade Swiss watches from Breitling SA, a watchmaker founded in 1884 and the only watchmaker ever entrusted to build instruments for inclusion in a Bentley dashboard. In 2002, Bentley launched the Continental GT–then the most powerful Bentley ever built–and teamed up with Breitling to design the vehicle's technical instruments and, most importantly, to create the onboard clock. According to Bentley, "It was the first time that Bentley had entrusted this task to anyone other than its own craftsmen." Over the past 12 years, Breitling and Bentley have worked tirelessly together to create some of the most innovative and stylish luxury watches and automobiles ever. Last year, to celebrate the lasting partnership, Breitling for Bentley introduced international soccer star David Beckham as the brand's celebrity ambassador.
Visit breitlingforbentley.com for more information on the luxury partnership and make sure to check out a video showcasing the exquisite craftsmanship and style of both Bentley Motors Limited and Breitling SA below, courtesy of Breitling's YouTube channel.
Video by Breitling/YouTube.com
Photo by ealuxe.com