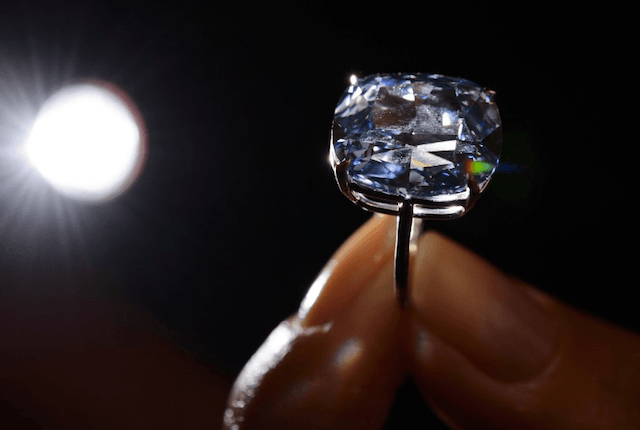 Sotheby's wrapped up their "Magnificent Jewels and Noble Jewels" auction in Geneva this past Wednesday, and the auction has a lot of people talking. Many incredible pieces of jewelry and gemstones were auctioned off for incredible prices, however one particular gem stole the show. It is called the "Blue Moon of Josephine" and it's a massive blue diamond that weighs 12.03-carats in total. According to Sotheby's, the sale of this diamond broke a world record:
A new world auction record for any diamond of any colour or any gemstone was set today when a sensational blue diamond sold for $48,468,158 ($4,028,941 per carat) at Sotheby's in Geneva. Previously called the "Blue Moon diamond", the magnificent stone was purchased by a private collector from Hong Kong tonight who has renamed the record-breaking jewel "The Blue Moon of Josephine".
The exceptional result for The Blue Moon of Josephine importantly marks a new auction record price-per-carat for any diamond or gemstone – surpassing the benchmark established just last year at Sotheby's New York by The Zoe Diamond ($3,348,205 per carat) – as well as a new auction record price for any jewel.
The Blue Moon of Josephine gathered a massive following when it was revealed that it was going to be put up for auction, since stones of this size and color are so rare. It was estimated that the diamond would sell for somewhere between $35 to $55 million, so the sale fit right within that initial estimate.
The winner of the auction is non-other than Joseph Lau, a multi-billionaire real estate investor who is one of the wealthiest individuals in the world. According to reports, he also purchased that 16.08-carat pink diamond that was sold for a record breaking $28.5 million dollars, so it seems as though he has a thing for fine jewels.
There's no telling if we will ever see a diamond of this size or color again in an auction, and it is truly astounding that it sold for well over $48.4 million dollars. Not only is the diamond extremely large and rare, it is also internally flawless which makes it even more valuable. No one knows how many diamonds like The Blue Moon of Josephine are out there, but you never know what will turn up.
Photo from Fabrice Coffrini/Getty Images