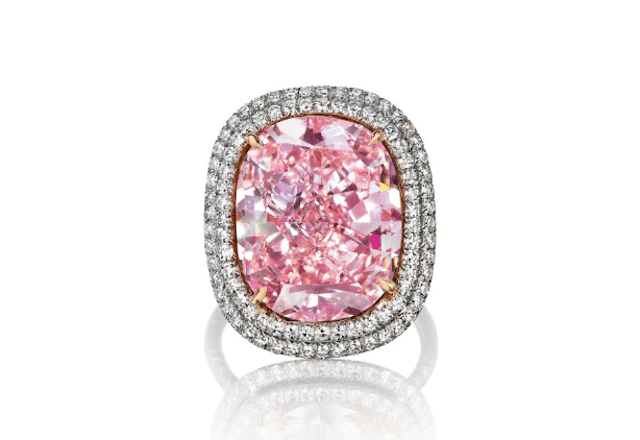 Christie's Geneva auction house has recently just completed a massive auction called the "Magnificent Jewels" in Switzerland where a variety of expensive jewelry and gems were auctioned off. The event contained many truly incredible pieces, however one particular lot has broken a record. It's a 16-carat pink diamond that was sold for the incredible price of $28,523,925 dollars. With the sale of this diamond, we now have the world record holder for the largest pink diamond ever sold at auction, as Christie's reports:
The top lot of Christie's Geneva auction of Magnificent Jewels was a fusion-shaped Fancy Vivid Pink Diamond, the largest to be offered at auction. It sold for $28,523,925, setting a new auction record for any vivid pink diamond and prompting a burst of applause in the sale room. The stone, which is set as a ring with a double row of pavé-set white diamonds which surround and highlight the main stone, with a third row of small pink diamonds underneath, was bought by a private Asian buyer, who named it 'Sweet Josephine' immediately after the sale.
As you can obviously see, this piece is truly magnificent for many different reasons. Not only is the diamond so large, but the cut is perfect, and the color couldn't be any more ideal. It's a rare TypeIIa diamond that contains absolutely no other colors, a quality that less than 2% of all diamonds can claim. Diamonds often go for pretty incredible prices, as they are some of the most valuable stones in the world, and that is truly evident by this sale.
Apparently in nearly 250 years of Christie's and auction history, there have only been just three other vivid pink diamonds that were offered for sale and over 10-carats, however this one takes the cake. Outside of this massive sale, the auction was a huge success. Christie's reported that the Magnificent Jewels auction brought in some $109 million dollars. That number is also pretty crazy, but what's even more unbelievable is that this pink diamond brought it roughly 26% of all of those earnings. While we don't know who the anonymous buyer is, I am sure they are fairly pleased with their purchase, as a diamond like this will just increase in value over time.
Photo from Christies