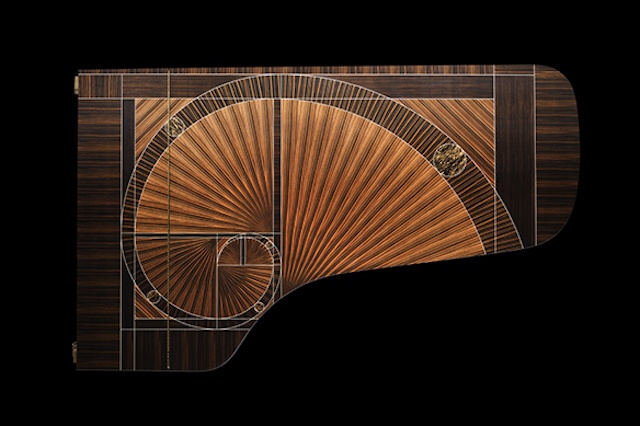 For the creation of their 600,000th piano, legendary piano manufacturer Steinway & Sons have created a beautiful piano that they are calling "The Fibonacci". If you know a thing or two about Steinway & Sons, they are arguably the greatest piano manufacturer in the world. This new piano features the Fibonacci sequence on the top and it will run you some $2.4 million dollars.
Steinway & Sons The Fibonacci was designed my master craftsman Frank Pollaro who wanted to highlight everything that the brand is known for. Constructed entirely by hand out of some six individual logs of Macassar Ebony, The Fibonacci could be one of the greatest pianos the brand has ever produced. Based on their beloved Model D grand piano, The Fibonacci took them some 6,000 hours of labour spread over the course of four years to create.
The Fibonacci piano can be yours for $2.4 million dollars, and while that's expensive, it's expected to sell very quickly as it is not only a commemorative piano with a beautiful design, but also one-of-a-kind instrument as well. Additionally Steinway & Sons will be constructing six smaller Model B pianos that will also feature the same design, but there is no word on how much they will cost. If you are interested in purchasing the $2.4 million dollar Fibonacci piano from Steinway & Sons, contact Laura Steel at (646)-356-3960 for more information.
Photo from Steinway & Sons