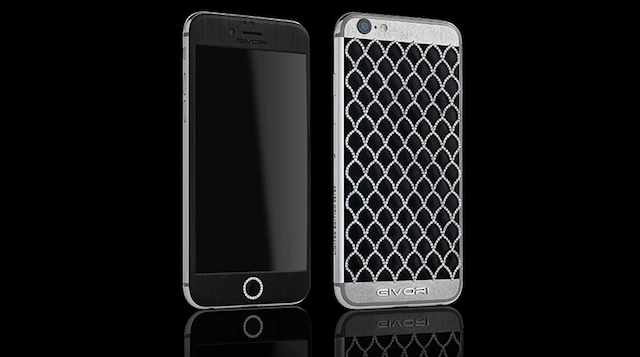 We all like to customize our phones with cool cases to make them unique, but how much would you spend for a device or a case? Well the company known as Givori, a luxury cellphone customizer, have recently unveiled a decked out Apple iPhone 6S. It's called the Calypso Diamond Limited Edition iPhone 6S and it costs $30,137 dollars.
The Calypso Diamond Limited Edition iPhone 6S is the most expensive cellphone from Givori's newly launched Calypso line. The phone is entirely encased in real 18-karat white gold coupled with black platinum. As if that wasn't enough, they've also added some precious stones. There are 1,091 polished cut diamonds that weigh out to be 10-carats in total and are of WS1 quality. Additionally there is also 117 hand-carved pieces of Onyx as well.
The Givori Calypso Diamond Limited Edition iPhone 6S is available worldwide for $30,137 dollars. However if you actually want one, you'll have to act fast as only 50 units have been made in total. If this phone costs too much for you, then you can opt for the Calypso Malachite iPhone 6S or the Calypso Pink Mother of Pearl iPhone 6S, both of which cost $6,300 dollars.
Photo from Givori