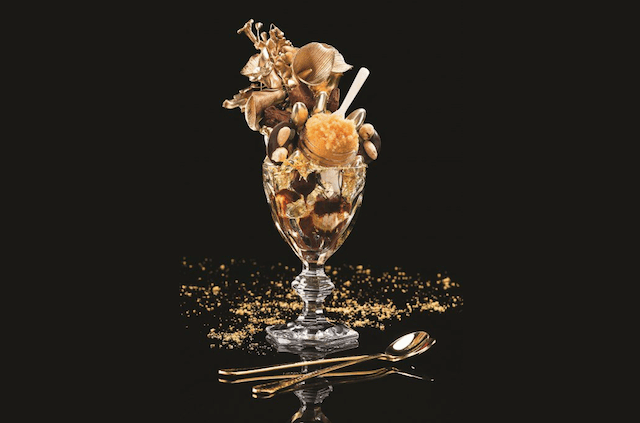 Anyone that has been to Las Vegas knows that they like to do everything over-the-top there, and that includes food. Las Vegas is home to many amazing, expensive, and unique restaurants that like to serve up some very interesting dishes. So what if you wanted to spend $1,000 dollars on a single dessert item, would you be able to actually do that? As it turns out, you can.
The restaurant known as Serendipity 3 has a very expensive dessert dish on their menu: a $1,000 ice cream sundae. It is called the "Golden Opulence Sundae" and it's about as insane as ice cream can possibly get. Serendipity 3 is best known for their Manhattan location, however they have opened up a store in Las Vegas within the Caesars Palace complex.
The Golden Opulence Sundae starts with Tahitian Vanilla Bean ice cream which is the most expensive ice cream in the world. Next they add Amedei Porcelana chocolate syrup (one of the most expensive forms of chocolate in the world) chocolate candies and truffles from Paris, and exotic fruits. But as the name implies, real gold is also an ingredient. The sundae also comes with 24-karat gold leaf that is edible, edible flowers that have been pained with gold, and 24-karat gold flakes on top. The sundae is then served in a Baccarat Crystal Glass and it is consumed with a gold-spoon. You get all of that, for $1,000 dollars.
According to the Guinness Book of World Records, the Gold Opulence Sundae is the most expensive ice cream sundae in the entire world. It is a dessert item that is essentially edible art, and Serendipity 3 is the place to get it. So next time you are in Las Vegas and want to try a $1,000 dollar sundae made with real gold, you now know where to go.
Photo from Serendipity 3
Save