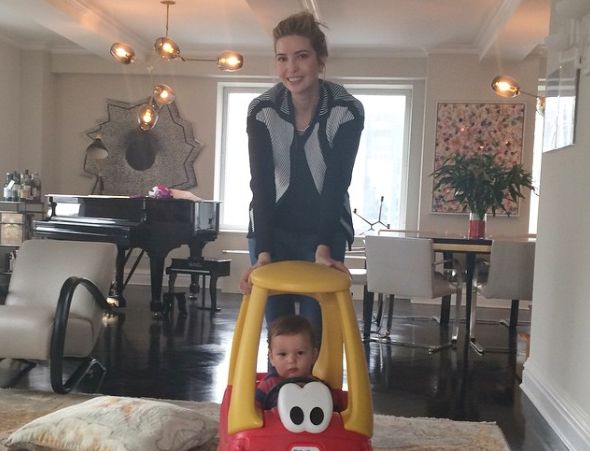 Artists from the New York City cultural community have attacked Ivanka Trump through social media and continue to express their political views to separate them from President-Elect Donald Trump. The liberal art community includes many from Ivanka's social circle. Some have joined the "Halt Action Group" expressing the disapproval of many of the Trump Presidency policies.
Ivanka Trump became a target of Halt Action Group through her Instragram postings. She has posted over 2000 Instagram photographs and videos in her upper east side apartment in front of her valuable art work. Ms. Trump is an avid art collector with contemporary tastes. As a businesswoman and socialite, she has enlisted Alex Marshall as an advisor for her art purchases. Marshall is a highly sought after art advisor among New York City's elite.
Halt Action Group was founded late last year by Alison Gingeras, an art curator, and Johnathan Horawitz, a multimedia artist. The 2 arranged the "Dear Ivanka" campaign, appealing to artists to post Instagram messages showing Ivanka's pictures from her own Instagram account with pleas to appeal to her father or disassociate herself from her father's politics. The group organized a protest in late November in front of the SoHo Puck building owned by her husband, Jared Kushner's family. About 150 people from the art community joined the LED candlelight protest that headed for the Trump Hotel in SoHo, shouting, "Tell Daddy No!". The protestors included people from the Trump social circle. Halt Action Group hopes to appeal to Ivanka because many know her and believe she will listen.
Some artists that have appealed to Ivanka include friends. Shoe designer, Alex Wohl, grew up with Ivanka and was a classmate. Alex Da Cote, whose painting appears in an Instagram post by Ivanka, posted on Halt Action Group's account, "Dear @IvankaTrump Please get my work off of your walls. I am embarrassed to be seen with you". Artists do not have a say who purchases their artwork, but some artists feel they need to express their political views and their work owned by a Trump family member will be devalued. Because of Ivanka Trump's political ties to her father, some artists simply wish to express their opinions, hoping that Ivanka will help the liberal New York City art world.
Ivanka Trump and her husband have amassed a valuable art collection. With dozens of pieces, the collection is worth well over a million dollars. Several of the contemporary pieces are works by young, up and coming artists. One painting seen in her Instagram posts taken in her New York City Apartment includes a "chewing bubble gum" painting by Dan Colen. The piece is made with boiled shampoo paint with pastel colors painted on a mirror from IKEA. A similar piece by Colen sold for $578,000. A piece by Nate Lawman, "bullet hole" is similar to one by him that sold for $665,000. Ivanka and her husband own a piece by Alex Israel whose pieces sell for $580,000. One of the most outspoken artists supporting Halt Action Group's campaign, Alex Da Cote, also has a piece owned by Ivanka. Ivanka's art collection also includes a series of prints by conceptual artist, John Baldessari, prints by photographer, Mariah Robertson, and work by the up and coming artist, Will Boone.
Whether people agree with the artists are right in attacking Ivanka Trump because of her father's politics is debatable. The campaign by Halt Action Group has been effective in bringing the attention of Ivanka's connection to the cultural world of New York City. That world is mostly liberal and many people of the cultural community do not agree with President-Elect, Donald Trump's politics. Some of the group's supporters include artists that simply do not want to be associated with the Trump family. Some hope to devalue the artwork owned by Ivanka Trump. Some wish to express their political views in an attempt to influence Ivanka to encourage her father to listen to the views of the art community.
Whatever the supporters of Halt Action Group wish to gain with their campaign against Ivanka, they are certainly making themselves heard. The fact is that with her father's election as the President of the United States and Ivanka's influence on his businesses, she is the person to reach to get political opinions heard. Ivanka is no longer just a business woman and New York socialite, she is one of the most powerful connections to the new President of the United States. With Ivanka's interest and investment in the art community, she is clearly reachable.
Related Articles
https://worthly.com/most-expensive/art/street-artists-erase-london-art/
https://worthly.com/most-expensive/instruments/the-story-behind-john-lennons-sgt-peppers-piano/
https://worthly.com/most-expensive/art/10-expensive-paintings-ever-sold/
Image via Instagram