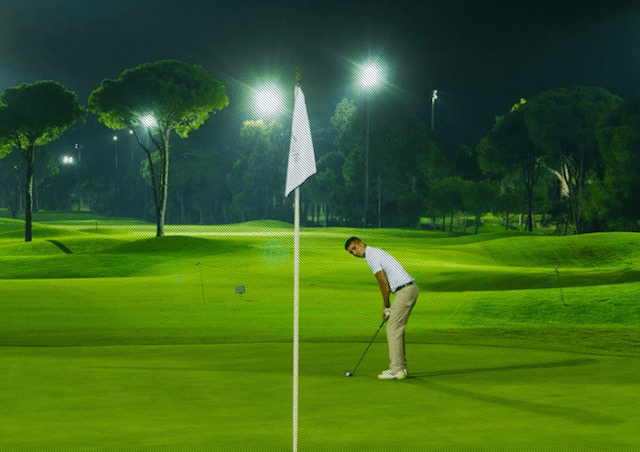 A round of golf is always a fun and enjoyable way to spend your time, provided you're shooting well that is. The sport of golf is played throughout the world by countless and it's one of the more popular sports out there. However there are some caveats to playing golf. The biggest ones are that since you're outside you are relying on the weather and time of day to dictate when you play. Well that may no longer be an issues, as the popular Montgomerie Maxx Royal golf course in Turkey has come up with an ingenious way to combat one of these caveats. They have set up massive floodlights around their course allowing you to know play golf even at night. Here's what they're saying over at their website:
Live the passion of golf night and day! The first host of the European Tour in Turkey's golf history and host to this great tournament 3 years in a row, Montgomerie Maxx Royal Golf Course presents a unique golf experience with 9 floodlit holes to be enjoyed all hours of the day! The 18-hole golf course bears the footprints of legendary golfers and, hosting prestigious tournaments, it is one of the finest venues in the world of golf.
With these headlights, you can say goodbye to waking up early in the morning to play a round of golf. While the lights are only available on just nine holes, it's still better than nothing. Apparently these lights are also very sophisticated. They can all be controlled via a computer and have been positioned perfectly around the holes to prevent most shadows that would interrupt a shot.
The added floodlights that Montgomerie Maxx Royal has put in is a great benefit, and something that we'd like to see on other golf courses. I supposed the older and more famous coursers are opposed to such a notion, but for the courses that aren't played by the pros, I'm sure it's something worth incorporating.
Photo from Montgomerie Maxx Royal