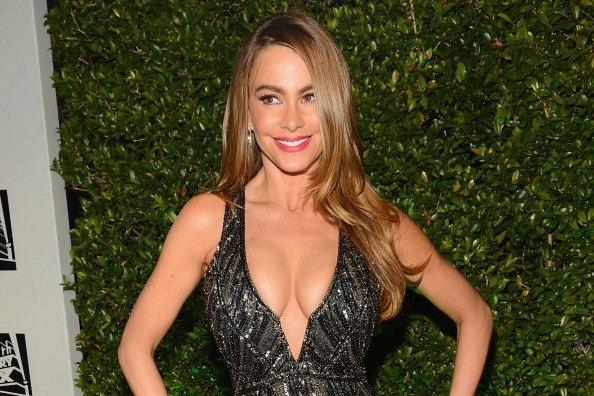 Sofia Vergara is a Columbian born actress, model and spokesperson with a net worth estimated around $100 million. Born in Columbia on 1972, she is a true beauty. Not only is she jaw-droppingly beautiful in appearance, she also has a phenomenal personality. She's funny and self-deprecating, and she never takes herself too seriously. Her coworkers have nothing but wonderful things to say about her, and that's big in a world where many costars like to bash their not-so-nice costars when they're a bit difficult to work with. She might look like a diva, but she is anything but.
Her career began by accident. She was discovered when she was doing nothing but lying on a beach, enjoying the beautiful weather. Though she was raised a very strict Catholic, she was able to begin booking modeling and acting jobs with the permission of her family and her very strict school, and she was only a teen when her fame began to grow. She spent many years working in South America before she came to the states to work, and her success has only become that much more prominent since she arrived here and began working.
Sofia Vergara is most well-known for her role as Gloria, the young trophy wife of Ed O'Neill's character on Modern Family, the Emmy award winning hit comedy that airs Wednesday nights. This goes down in history as one of the most hilarious shows in the world, and just about everyone loves it. Her character is a young bombshell with quick wit and a heavy accent – though she has that in her real life, too. Vergara is currently earning $190,000 per episode, but we can say that she'll probably earn more than that as the show goes on even longer. Characters from hit shows such as Friends and The Big Bang Theory ended up earning more than $1 million per episode as they were on for even longer, and this one is right there with those.
In addition to her amazingly hilarious role on our favorite sitcom, Vergara earns the bulk of her income through her endorsements. She's worked with Pepsi, CoverGirl and Kmart. She's also worked for State Farm and she has a line of clothing. She's been in a number of hilarious movies, and she's beginning to accept more and more leading roles in the movies, which will only add to her excessive net worth. According to financial information released about her, she earns upwards of $30 million per year from endorsements alone. She was engaged for a while, and she called that off which has resulted in a very public battle of the frozen embryos she had created with her ex. She is now engaged to be married to Hollywood heartthrob Joe Manganiello, and the two are very secretive about their wedding date at the moment.
With a net worth of $100 million, it's obvious that Vergara is one of the most popular and in-demand actresses in the world at the moment. Her roles are almost always funny, and many consider her a comedian. Expect to see a lot more of her and probably an increase in her net worth over the next few years.
Photo by Mark Davis/Getty Images