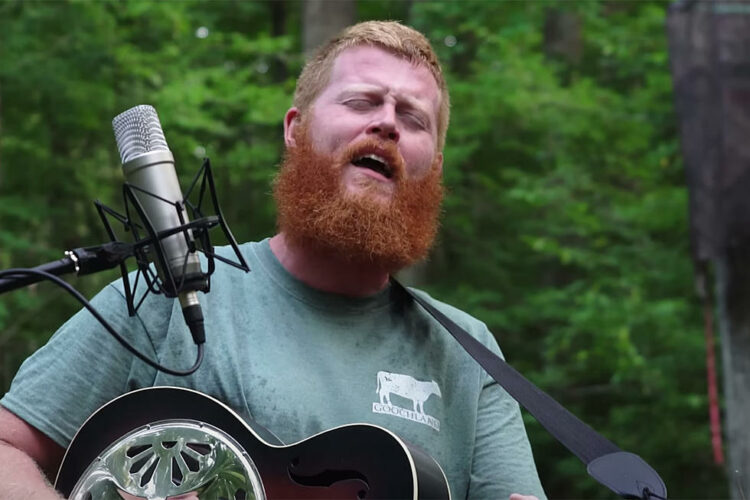 Oliver Anthony, the country music sensation behind the hit "Rich Men North of Richmond," has seen a meteoric rise to fame, with reports suggesting that he is currently earning an astounding $40,000 per day from his self-released song. The singer-songwriter's newfound success has not only resonated with blue-collar workers, but has also piqued the curiosity of fans who wonder about his net worth.
While there has been some speculation surrounding his net worth, it is estimated to range between $1 million and $2 million. Born in 1992 or 1993 in Farmville, Virginia, under the name Christopher Anthony Lunsford, Oliver Anthony has managed to captivate audiences and become an overnight star with his relatable, and popular track. Despite receiving offers up to $8 million, he remains an independent artist, carving his own path in the ever-competitive world of music.
Early Life
Oliver Anthony, born Christopher Anthony Lunsford, grew up in Farmville, Virginia. Born in 1992 or 1993, he had a humble upbringing with his family, surrounded by blue-collar workers. Pursuing education, Oliver managed to earn his GED.
His early life was not without challenges, as he dealt with depression and the struggle to find his place in the world. Oliver found solace in music, which became an outlet for expressing his emotions and experiences. He honed his skills as a musician and songwriter.
Oliver's father played a significant role in his life, supporting and encouraging him along his journey. The bond between them ultimately impacted Oliver's music, which often reflects his family's values and the lifestyle he grew up in.
Overall, Oliver Anthony's early life in Virginia provided a strong foundation for his future success in the country music industry.
Career
Oliver Anthony, an American country-folk singer-songwriter, came into the spotlight with his independently released single "Rich Men North of Richmond" in August 2023. This song made him an overnight sensation on various platforms like YouTube, iTunes, and Spotify. Born as Christopher Anthony Lunsford in Farmville, Virginia, Oliver Anthony's career took a remarkable turn when his song debuted at number 1 on the Billboard Hot 100, making him the first artist to achieve this feat without any assistance from record labels.
Innovation and originality have been pivotal in his rise to stardom. Utilizing platforms like YouTube and TikTok, Anthony managed to create a strong following for his music, which ultimately helped propel his career. The singer's unique blend of country music and singer-songwriter aesthetics has found a niche in the hearts of fans across the United States and beyond.
Oliver's success can also be credited to the immense support he received from fellow musicians and the wider music industry. For example, well-established country artists like Luke Combs, Jason Aldean, and Morgan Wallen have all recognized Anthony's talent and helped share his music with a broader audience. The singer has also made use of social media platforms like Instagram to engage with fans and promote his music.
Apart from his viral hit, Anthony's discography includes original songs that have consistently performed well on global music charts like the iTunes Charts and Hot Country Songs Chart. Most notably, his music has garnered millions of streams on Spotify and Apple Music, making him a formidable presence in the industry.
The singer's authentic connection with his fans has been an important factor in boosting his career. Able to evoke raw emotions and retain a down-to-earth sensibility, Oliver Anthony has performed free shows in various cities and even showcased his undeniable guitar skills. This organic approach to music and fan engagement has not only expanded his fan base but also firmly established him as a prominent figure in the country music scene.
Despite turning down offers as high as $8 million from record labels, Oliver Anthony chose to remain independent and focused on his craft. This decision seems to have paid off, as it is estimated that he earned over $350,000 in royalties during his Hot 100-topping week. Currently, his net worth is estimated to be between $1 million and $2 million.
While Oliver Anthony's career has seen significant growth, his humble roots remain a source of inspiration. Living in a $750 camper he bought on Craigslist, situated on a piece of property in Farmville, VA, his modest beginnings have kept him grounded and focused.
In conclusion, Oliver Anthony's career is a testament to the power of resilience and dedication to one's art. As an independent musician who has successfully navigated the complexities of the music industry, he represents a growing wave of artists who are pushing the boundaries of traditional business models.
Rich Men North Of Richmond
Earnings & Net Worth
Oliver Anthony, the singer-songwriter behind the viral hit "Rich Men North of Richmond," has experienced incredible financial success from his viral song. With reports stating he earns around $40,000 per day from royalties, it's easy to see how his net worth has skyrocketed. The song's success even caught the attention of record companies, resulting in an $8 million record deal offer for the artist.
Interaction
The connection between Oliver Anthony and his fans primarily takes place through various social media platforms like Facebook, YouTube, TikTok, and Instagram. By sharing his experiences on his property in Farmville, Virginia, and interacting with fans through these platforms, Anthony has built a dedicated and engaged fanbase.
Influence
Thanks in part to strong conservative messaging within the viral song, "Rich Men North of Richmond" has garnered significant support from politicians and media personalities. Notable conservative figures such as Fox News personalities Kari Lake, Marjorie Taylor Greene, and Matt Walsh have all endorsed or promoted the song to their followers.
Critique
Despite its popularity, some critics argue that the messages within "Rich Men North of Richmond" oversimplify the issues that blue-collar workers face. Critics may take issue with the song's portrayal of relations between the working class and political figures, believing that the song may unintentionally perpetuate stereotypes or misinformation about job sites, politics, and welfare.
Popularity
"Rich Men North of Richmond" has seen incredible success on various music charts, such as the Billboard Hot 100 and the Hot Country Songs Chart. Oliver Anthony's music has struck a chord with listeners, who have made his song an unstoppable force in the industry.
Controversy
The song's unapologetically conservative message has sparked debates on the role of politics in music, further fueling the song's popularity. Through Oliver Anthony's Facebook posts discussing politics and his experiences living off-grid in Farmville, VA, he has exposed the divide in views on whether or not music should engage in political discourse.
Impact
Oliver Anthony's unique perspective and position as an outsider in the music industry have had a profound effect on the public's understanding of the challenges faced by blue-collar workers. As an artist who has captivated fans with his authenticity and raw view of the world, "Rich Men North of Richmond" has ultimately served as a voice for many who may have felt unheard in the conversations surrounding work, politics, and welfare.