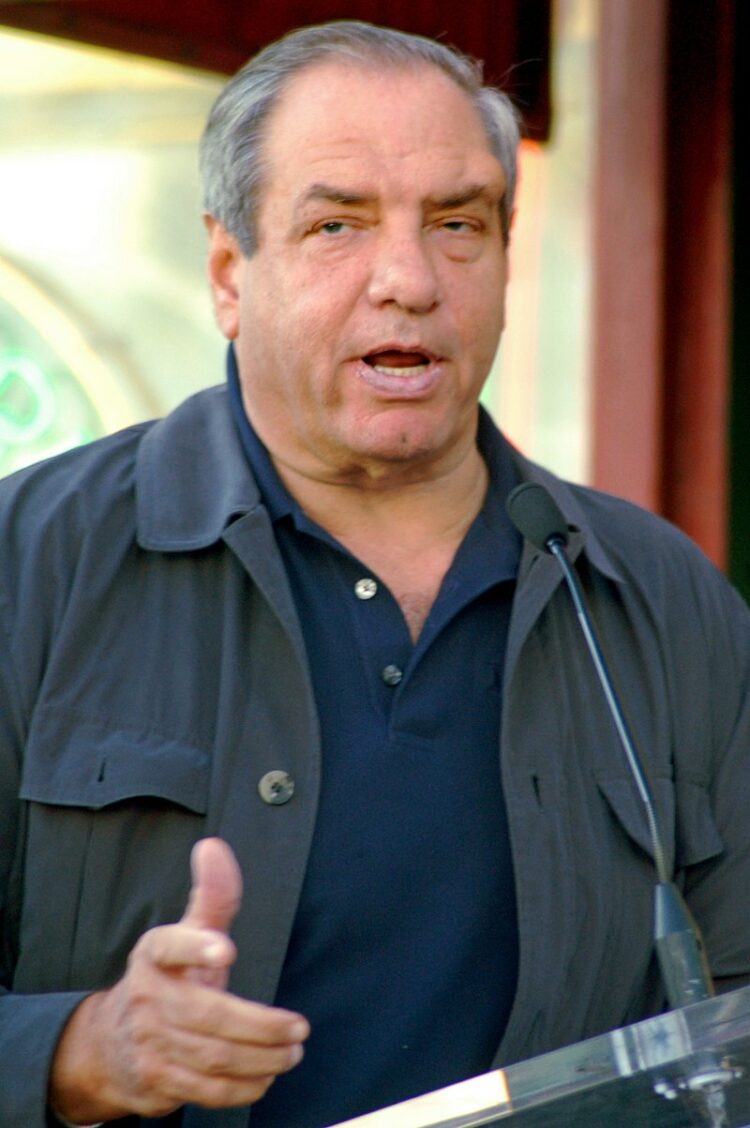 Dick Wolf is a prominent figure in the American television industry, widely recognized as the creator and executive producer of the iconic 'Law & Order' franchise. His prowess extends further into the world of TV production as he is also responsible for the 'Chicago' franchise, which has captivated audiences since 2012. As of May 2023, it is estimated that Dick Wolf's net worth amounts to a staggering $600 million, a testament to the significant impact he has had on American television.
Throughout his successful career, Wolf has amassed immense fortune and fame due to his innovative approach to television creation. His unique touch can be seen in many popular television shows, which has led his net worth to steadily grow over the years. In 2021, he was ranked #15 on Forbes' list of highest-paid entertainers, with earnings of $86 million for that year.
In addition to being an accomplished producer, showrunner, and writer, Dick Wolf is celebrated for his ability to generate significant revenues for networks and himself. Earning a net worth of $600 million, Wolf undoubtedly stands among the television industry's wealthiest individuals. This wealth can be attributed to his dedication, perseverance, and inventive concepts embodying the essence of groundbreaking television.
Early Life and Education
Birth and Family Background
Richard Anthony Wolf, better known as Dick Wolf, was born on December 20, 1946, in New York City. His father, George Wolf, was an advertising executive, and his mother, Marie G, was a homemaker. Dick Wolf comes from a diverse religious background, with a Jewish father and a Catholic mother of Irish descent.
High School Education
Wolf attended several schools during his formative years. He first attended Saint David's School in Manhattan, before moving on to The Gunnery (now known as The Frederick Gunn School) in Washington, Connecticut. Later, Wolf attended Phillips Academy, an elite boarding school in Andover, Massachusetts.
College at University of Pennsylvania
Wolf continued his education at the prestigious University of Pennsylvania, where he graduated in 1969. While at the university, he joined the Zeta Psi fraternity.
Career Beginnings
Advertising Copywriter
Dick Wolf started his career as an advertising copywriter after obtaining a degree in History from the University of Pennsylvania. He soon made a name for himself in the advertising industry, where he learned the art of storytelling and developed essential writing skills. During this time, he was exposed to various advertising campaigns and honed his craft, laying the foundation for his future endeavors in television.
First Steps in Television Writing
Wolf transitioned from advertising into television writing in the early 1980s with his first television writing credit appearing on the popular police drama series, "Hill Street Blues." His contribution to the show led to more opportunities in the television industry. He went on to pen scripts for other notable TV series, including "Miami Vice" and "New York Undercover."
These experiences allowed Wolf to establish a reputation for crafting compelling crime stories and led to the creation of his popular "Law & Order" television franchise.
Law & Order Franchise
Creation and Success
The Law & Order franchise was created by Dick Wolf and has its roots in the original series, Law & Order, which premiered in 1990. The show's unique format, combining elements of a police procedural with legal drama, quickly gained popularity and critical acclaim, making it one of the most successful television series of all time. The series follows New York City police detectives and the district attorneys who prosecute the cases they investigate, emphasizing the importance of teamwork and justice.
Over the years, the franchise has expanded to include a variety of spinoff series, furthering its impact on audiences and the crime drama genre. Key elements of the franchise that make it stand out include realistic storylines, strong character development, and engaging dialogue.
Spinoff Series
Law & Order: Special Victims Unit: This spinoff, which first aired in 1999, stars Mariska Hargitay as Detective Olivia Benson and focuses on the investigation and prosecution of sex crimes. The show is widely praised for its sensitive handling of difficult topics and strong performances from its cast.
Law & Order: Criminal Intent: Premiering in 2001, this spinoff features a unique format that delves into the minds of criminals, offering viewers insights into their motives and methods. It starred Vincent D'Onofrio as Detective Robert Goren and Kathryn Erbe as his partner, Detective Alexandra Eames.
Law & Order: Organized Crime: The most recent addition to the franchise, airing its first season in 2021, stars Christopher Meloni reprising his role as Elliot Stabler from Special Victims Unit and focuses on the investigation of organized crime networks in New York City.
Legacy
The Law & Order franchise has left a lasting impact on the television landscape, not only by inspiring other crime dramas but also by creating enduring characters, such as Jeremy Fisk and Olivia Benson. The series has garnered numerous awards and nominations, including multiple Emmy Awards, and is recognized for its influence on the careers of many actors.
In addition to its success on television, the franchise has also ventured into other media, such as novels, where characters like Jeremy Fisk have appeared. Overall, the Law & Order franchise continues to leave its mark on audiences worldwide, contributing to the popularity of the crime drama genre and setting a high standard for storytelling and authenticity.
Chicago Franchise
The Chicago Franchise, created by Dick Wolf, has contributed significantly to his net worth, which is estimated to be around $600 million as of May 2023.
Chicago Fire
Chicago Fire, the first show of the franchise, premiered in 2012 and focuses on the lives of the firefighters, rescue squad, and paramedics of the Chicago Fire Department. The show has become a staple in the franchise and has garnered positive reception, allowing it to continue and expand into its current multiple spin-offs.
Chicago P.D.
Airing its first episode in 2014, Chicago P.D. is a procedural drama that delves into the complex world of the Chicago Police Department's elite Intelligence Unit. The show has grown in popularity and is praised for its storytelling and character development, which has positively impacted Wolf's financial success.
Chicago Med
Introduced in 2015, Chicago Med is a medical drama centered around the emergency department of Gaffney Chicago Medical Center. The series showcases the daily challenges and emotional turmoil faced by the staff as they treat patients from all walks of life. Chicago Med has continued the success of the franchise and helped cement Dick Wolf's status as a top television producer.
Chicago Justice
Though it had a relatively short run, airing only one season in 2017, Chicago Justice was a legal drama exploring the workings of the Cook County State's Attorney's office. While the show did not achieve the same level of success or longevity as its predecessors, its inclusion in the franchise still played a part in increasing Wolf's net worth.
In summary, the Chicago Franchise has been immensely successful, and it contributes greatly to Dick Wolf's impressive net worth. From its beginnings with Chicago Fire to the subsequent shows like Chicago P.D., Chicago Med, and Chicago Justice, the franchise has captivated audiences and solidified Wolf's position in the television industry.
FBI Franchise
FBI
"FBI" is a popular TV series produced by Dick Wolf, as part of his expansive FBI franchise. The show first premiered in 2018 and has since become a staple in the crime drama genre. The series follows the exploits of a team of elite FBI agents, working together to solve the most complex cases and uphold justice.
Among the notable cast members is Alana De La Garza, who plays the role of Assistant Special Agent in Charge Isobel Castille. De La Garza is a talented actress with prior experience in Wolf's other productions, having appeared in the "Law & Order" franchise. Her performance in "FBI" has received positive reviews from both critics and audiences alike.
The FBI franchise's success is evident in the various awards and nominations the show has received, along with its consistently strong ratings. With each new season, "FBI" continues to captivate viewers and maintain its status as a leading crime drama.
FBI: Most Wanted
As a testament to the popularity of the "FBI" series, Dick Wolf decided to expand the franchise further with the spinoff "FBI: Most Wanted." This series premiered in 2020 and focuses on a specialized team tasked with tracking down the most elusive and notorious criminals on the FBI's Most Wanted list.
Just like its predecessor, "FBI: Most Wanted" has attracted a loyal fanbase and garnered positive reviews for its gripping storytelling and well-developed characters. It has also been successful in terms of viewership, further solidifying the strength of Dick Wolf's FBI franchise.
Through the development and success of both "FBI" and "FBI: Most Wanted," the franchise has played a significant role in Wolf's overall net worth, which is currently estimated to be around $600 million. The franchise's sustained popularity and influence on television continue to contribute to Wolf's enduring success as a creator and producer of hit crime dramas.
Other Projects
Cold Justice
Dick Wolf is not only a television producer, but also a versatile creator, having produced several other hit shows apart from the successful 'Law & Order' and 'Chicago' franchises. One such television series is Cold Justice, a true-crime investigative show that premiered in 2013 on TNT. The show features real-life investigators and experts as they work to solve cold cases across the United States.
Films and Directing
In the realm of films, Wolf has ventured into documentary projects, such as the 2009 film When You're Strange about the iconic rock band The Doors. This documentary, directed by Tom DiCillo and narrated by Johnny Depp, received positive reviews and won several awards, including the 2011 Grammy for Best Long Form Music Video.
Books and Writing
Alongside his accomplishments in television and films, Dick Wolf has entered the world of literature as well. He has written several books, proving that his storytelling capabilities extend beyond the small and big screens. Some of his notable works include:
The Intercept (2012): A thriller novel that marks the beginning of the Jeremy Fisk series, featuring a New York City detective.
The Execution (2014): The second installment in the Jeremy Fisk series, which continues the crime-solving adventures of the titular detective.
The Ultimatum (2015): The third and final book in the Jeremy Fisk series, wrapping up the thrilling narrative of the hero detective.
Overall, Dick Wolf's body of work extends beyond his iconic television production career, showcasing his abilities as a writer, director, and creator in fields such as true-crime investigation, films, and literature. These projects play an essential role in contributing to his impressive $600 million net worth.
Personal Life
Marriages and Divorces
Dick Wolf has been married three times throughout his life. His first marriage was to Susan Scranton, though details regarding their marriage and divorce are scarce. He then married Christine Marburg in 1983. This union came to an end in 2005 when they divorced.
Wolf's most recent marriage was with Noelle Lippman in 2006. The couple separated in 2018 and finalized their divorce in 2019. The settlement reportedly included a generous monthly payment of $100,000 to Noelle. She had been the primary caretaker of their children, which left her with most of the day-to-day expenses.
Children
Throughout his marriages, Dick Wolf has fathered several children. He has two children with Christine Marburg — Elliot Wolf and Olivia Wolf. Additionally, he has had two children with Noelle Lippman — Rex Wolf and an unnamed younger child.
Awards and Recognition
Dick Wolf has had a remarkable career in the television industry, and as a result, has been honored with several notable awards and recognitions. One of his most prestigious accolades is the Primetime Emmy Award. Wolf received the Outstanding Drama Series award in 1997 for his groundbreaking creation, "Law & Order."
In addition to his Emmy win, Wolf was also awarded the coveted Governors Award at the 1995 New York Emmy Awards. He was recognized as a "Creator/Producer – A creative force in television for 25+ years." This recognition highlights his sustained excellence in television production throughout his extensive career.
The Banff Television Festival further acknowledged Wolf's talents. He was presented with the Creative Achievement Award, acknowledging his significant impact on the television industry. Wolf's vast contributions range from the ever-popular "Law & Order" franchise to his more recent "Chicago" franchise.
In a testament to his influence in popular culture, Dick Wolf was honored with a star on the Hollywood Walk of Fame. This notable recognition is a fitting tribute for a successful producer who has left an indelible mark on the television landscape.
Another major acknowledgment came from the Television Academy Hall of Fame. Wolf was inducted into the esteemed organization, solidifying his status as a significant figure in television history.
To summarize, here are some key awards and recognitions Dick Wolf has received:
Primetime Emmy Award for Outstanding Drama Series (1997)
Governors Award at the New York Emmy Awards (1995)
Banff Television Festival Creative Achievement Award
Star on the Hollywood Walk of Fame
Induction into the Television Academy Hall of Fame
These numerous accolades contribute to Dick Wolf's impressive celebrity net worth, which is estimated at $600 million as of 2023.
Net Worth and Income
As of May 2023, Dick Wolf's net worth is estimated to be $600 million. He is an American television producer, best known as the creator and executive producer of the 'Law & Order' franchise. Wolf is also the creator and executive producer of the 'Chicago franchise', which, since 2012, has included four Chicago-based police […]
Real Estate
Add information about Dick Wolf's real estate investments and properties here.
Salary
In 2012, Wolf earned around $70 million according to a […]. His income continues to grow as he takes on more projects. Forbes has Wolf listed as #15 on their list of 2022 highest-paid entertainers.
Syndication Residuals
The value of the Law and Order franchise was worth $1.6 billion when Wolf got the production deal with NBC. His creation, Law & Order, is NBC's longest-running crime series which has completed 20 seasons. As a result, he has likely earned substantial income from syndication residuals.
Add more specific information about the income from syndication residuals and other sources here.
Current Projects and Future Plans
Dick Wolf, with an estimated net worth of $600 million, continues to expand his television empire with various projects. One of his latest ventures is the show LA Fire and Rescue, which will most likely contribute to his increasing net worth. The series will focus on the life-saving efforts of firefighters, paramedics, and rescue teams in the Los Angeles area. As the showrunner, Wolf will oversee the production, ensuring that the series maintains the high quality and excitement for which he is known.
Aside from LA Fire and Rescue, Wolf is also working to expand his presence on the streaming platform Peacock. Peacock features several of Wolf's shows, such as the Law & Order and Chicago franchises. By bringing his content to Peacock, Wolf is keeping up with the trend of streaming services becoming the new standard for television consumption. This move will help solidify his position in the industry and contribute further to his net worth.
Moreover, Dick Wolf continues to develop and executive produce shows within his already successful franchises. With multiple series, spin-offs, and crossover events in both the Law & Order and Chicago universes, the television producer keeps his audience engaged and entertained. These successful franchises not only add to his impressive resume but also contribute significantly to his net worth.
In conclusion, Dick Wolf's current projects and future plans involve investing in new shows like LA Fire and Rescue, expanding his presence on streaming platforms like Peacock, and maintaining his successful franchises as a showrunner. These efforts will continue to cement his status in the entertainment industry and increase his net worth.