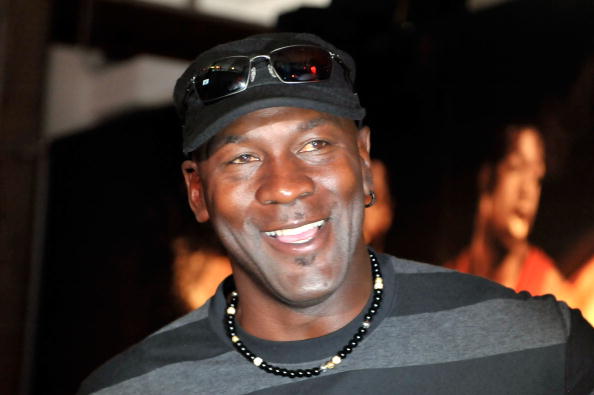 Michael Jordan is a retired NBA basketball player with an estimated net worth of over $1 Billion. Michael Jordan's net worth is a result of years of paychecks from the Chicago Bulls, various endorsements, and his own Nike-Jordan brand.
Jordan was born in Brooklyn, New York on February 17, 1963. His father, James was an equipment supervisor and his mother, Gloria worked in banking. His family moved to Wilmington, North Carolina where he was introduced to sports. Jordan played baseball, basketball, and football. During his sophomore year of high school, Jordan was deemed to short and cut from his varsity high school basketball team. Years later, he'd be widely recognized as the greatest basketball player to ever live.
During Jordan's 16-year NBA career he accumulated over $93 million dollars in salary. He became the first player in NBA history to earn over $30 million per year in salary alone from the years 1996-1998 while playing for the Chicago Bulls. Jordan's endorsement portfolio is vast and lucrative. He has signed deals with Nike, Gatorade, Wheaties, McDonald's, Coca-Cola, Chevrolet, Ball Park Franks, Rayovac, Hanes, and MCI. Despite being retired from basketball Jordan still makes close to $100 million dollars in endorsements annually.
Jordan owns one of the most decorated careers in the history of the NBA. He was a 6x NBA Champion (6 times finals MVP), 5x NBA MVP, 14x NBA All-Star, 10x NBA Scoring Champion, Sports Illustrated Sportsman of the Year in 1991, 3x NBA Athlete of the Year and a dozen or so more awards. Jordan was one of the few athletes in the history of NBA basketball that had a 'Love of the Game' clause in his contract. The clause allowed him to play basketball against anyone, anywhere, at anytime without repercussions from his employer.
Jordan did take a hiatus from basketball to give professional baseball a shot. On February 7, 1994, Jordan signed a minor league baseball contract with the Chicago White Sox. He played for their Double-A minor league affiliate. A year later, Jordan would return to basketball to go on another championship run with the Chicago Bulls.
Jordan's biggest source of revenue throughout his year has been his partnership with Nike and launch of the Air Jordan brand. 58% of all basketball shoes sales are Air Jordans and the brand produces over $5.8 billion in annual sales for Nike. He also appeared in the 1996 film Space Jam promoting the brand. While Jordan still continues to profit from his brand and endorsements, he also is the majority owner and chairman for the Charlotte Bobcats.
Jordan has two sons and a daughter with his first wife Juanita Vanoy. The two were married in 1989 and went through a $168 million divorce settlement in 2006. He has since remarried to Cuban model Yvette Prieto. The two exchanged vows in April of 2013 and have since had two identical twin girls Victoria and Ysabel.
Jordan has consistently appeared on Forbes' list for most powerful and wealthiest celebrities. As mentioned, he is widely regarded as one of the greatest basketball players to ever live. His career plus business growth after his playing days have contributed to his net worth.