News reporters are often thought of as hardcore, hard-hitting news journalists that bring fact and reality to the world, but sometimes news reporters are also a little more entertaining than hard-hitting. For example, did you know the hosts of your favorite morning television shows such as "Today" and "GMA" are news reporters despite all the fun they have? Even some talk show hosts and late night hosts are now considered news anchors and reporters because they bring you the news. If you're not sure who your favorite news reporter is, don't worry. If you don't consider them all news anchors and serious journalists, don't worry. However, you do want to know what your favorite anchors make each year.
Photo: /Shutterstock
Kathie Lee Gifford – $2 million
She might not be making nearly as much as other people on the same show she stars, but she's all right. She's woman with a net worth higher than many people on this list thanks to her years of hard work hosting television shows and being married to Frank Gifford. She's been through a lot with the recent passing of her husband, but the couple does have two children she's been able to focus on. She has a full-time slot hosting the fourth hour of the Today Show, and she does make many appearances on the other hours, too.
Photo: /Shutterstock
Hoda Kotb – $3 million
She gets paid to sit around and basically have a cocktail for breakfast every morning, and her job is not a bad one. She's not making serious hard-hitting news her forte, but she's making bank like most people only dream of making. She sits around and has a good time with her guests, and she earns millions of dollars each year for doing it. She's probably not too upset about how much she's getting paid, but she might be looking for a raise now that NBC had several million dollars open up from just one salary.
Photo: /Shutterstock
Chelsea Handler – $10 million
What she's doing is nothing short of genius. She's making her name bigger and better than ever with what she's got going on, and she's looking to continue to profit on that. She was a late night host, and then she started showing up in movies and shows, and she has done one heck of a job making a name for herself in the celebrity world. She's got friends in high places, she's not ashamed of what she has to say, and she's never looking to hold anything back.
Photo: /Shutterstock
Shepard Smith – $10 million
He's been with Fox News for many years, and some people like to say he's just the face of the network because of it. He's gone from hosting to having his own shows to managing the station for many reasons and in many ways. He never agrees with the other anchors, he never bothers with saying what he knows is politically correct, and he's always looking for a way to make sure the world hears what he has to say. Whatever he's doing, it's working for him very well.
Photo by Fox News
David Letterman – $12 million
He's not on the late night circuit anymore, but that certainly hasn't stopped Dave Letterman from making a lot of money on his job. He's now hosting his own Netflix show as yet untitled with an interview angle, and they are paying him well. It's not unfamiliar to him, either. He's been making tens of millions of dollars every year for many years now. This is why he is one of the most recognizable and influential names in the industry.
Photo: /Shutterstock
Anderson Cooper – $12 million
He's one of the most famous faces on television, and he's been called a silver fox more than once. He's a serious news reporter, and he's a man who manages to make the world laugh when he spends time with his close friend Kelly Ripa anytime she needs someone to take over her cohosting role for a day or two. He's been on the front lines. He's been on the battlefield, and he's been in places many people consider entirely too dangerous to bother with.
Photo: /Shutterstock
Conan O'Brien – $12 million
He began his career behind the camera, but many people have no idea he was a writer long before he was a host. He was even someone who worked on the Simpsons for a while when they were still relatively new in the early 90s. His late night comedy is funny. His personality is entertaining, and he's managed to become so familiar for no other reason than being himself. It's paying him well, too.
Photo: /Shutterstock
Jimmy Kimmel – $15 million
This has been an interesting year for the late night comedian. He's had a baby that has a lot of health problems. His little boy has a heart defect, and he's been using his stance on late night television to bring awareness to many serious problems since this has happened in his own life. However, he's still funny. He's still making people laugh, making inappropriate jokes, and he's sparing no one what he has to say and think. He's done well for himself, and that's something we all think is amazing.
Photo: /Shutterstock
George Stephanopoulos – $15 million
The Good Morning America talk show host has been on television for many years. ABC is his home, and he's done well with his time there. He's managed to work his way up from news reporting on the weekends and sometimes being present during the week to taking on a major cohosting role. He's a serious man, but he's shown the world how he's able to lighten things up a bit since he turned himself on to early morning television in a serious capacity. He's paid well, and his fans love him.
Photo: /Shutterstock
Ryan Seacrest – $15 million
He's a host, a reality star, a talk show host, a host more. He's not in the market to change the way the world works, but he is in the market to try and change the way the world thinks. He's managed to take his career and turn it into something more serious. The man is showing the world he can have more than one job and do them all well, and that you don't stop working hard and hustling just because you've achieved one dream and accomplished one goal. You keep at it.
Photo: /Shutterstock
Savannah Guthrie – $15 – $18 million
We can't say for sure what she makes every year. The Today Show host has managed to keep her salary very secretive over the course of her lifetime with the show, but we do know she signed a new contract in 2016 that was much higher and much more profitable for her. Rumor has it that her contract was much closer to what her then-co-star Matt Lauer was making. She's been able to host the show, stand on her own two feet, have some kids, and come back to host fulltime without Lauer in the past few years, and she's done well.
Photo: /Shutterstock
Stephen Colbert – $15 million
He's a news anchor who has a very interesting take on the news. He's bringing the world what is seriously going on, but with a hilarious twist. You can never take him too seriously, and he's always happy to bring his own version of what's happening in the world into the limelight. He's a man who has a funny personality, and it makes watching him provide nightly news coverage so much more entertaining.
Photo: /Shutterstock
Jimmy Fallon – $16 million
It wasn't long ago when he was working his way up the ladder and trying to be a household name. He was in movies, he was showing up on shows that made him laugh, and he was not doing much of his own. But he was working on it. When he was given his own late night show a few years back, he did all he could to make sure it was successful, and he's managed to turn it into something he can be quite proud of. He has a huge following, and his humor keeps people coming back for more.
Photo: /Shutterstock
Robin Roberts – $18 million
Robin Roberts has been with ABC and Good Morning America so long she wasn't even a main host when she began. She's worked her way up, she's worked with some of the most famous names in the business, and she has always captured the hearts of her fans. She's dealt with cancer and other serious health problems on the air, she's an advocate, and she is a lot of fun. It's hard not to enjoy watching her on television, and it's why she is worth so much.
Photo: /Shutterstock

Megyn Kelly – $18 million
She's one of the most controversial news reporters on the air, and that only became more prevalent when she and the current President of the United States Donald Trump went into a social media frenzy with one another. She's bold, she's outspoken, and she's not afraid to ask the hard questions. She's someone everyone recognizes, and she does try to remind her fans she's not always a serious journalist and that she can have a good time, too.
Photo: /Shutterstock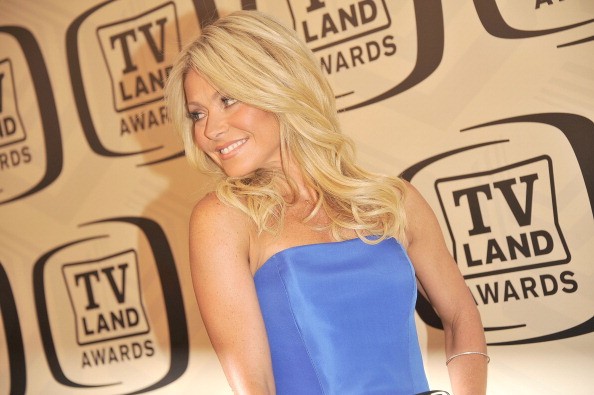 Kelly Ripa – $22 million
Her career started when she was on soap operas. She met and married her husband, Mark Consuelos, on a soap. They had three kids. She took over for Kathie Lee alongside Regis Philbin when she left the show and he needed someone else. She then took over the show entirely when Regis retired, and now she's the most famous face on morning television. She's funny, she's cute, and she's always looking for a good time with her guests. She's also paid handsomely to do so.
Photo: /Shutterstock
Matt Lauer – $25 million
He still makes it onto the list since he did earn this money for the better part of 11 months in 2017. He was fired unexpectedly and suddenly one morning the last week of November when NBC announced he would not be back after allegations of sexual misconduct were brought to their attention less than 36 hours before. He just didn't show up for work that morning, and his cohosts were shocked, upset, and unsure what was going on. It might not have been the best way to handle that situation from NBC's standpoint, leaving their on-air anchors in the dark, but it's what happened.
Photo: /Shutterstock
Sean Hannity – $36 million
Sean Hannity has been working in the news industry for many years, and he currently has his own show with Fox. He's been working to bring the news for many years, and he is serious about it. Unlike some of the other anchors on this list, he is not a comedian. He is a serious news anchor. He's got a following, and he's got a lot of fans who tune into what he has to say quite regularly.
Photo: /Shutterstock
Judge Judy Sheindlin – $47 million
She's Judge Judy, and she tells it like it is. She's been behind the bench telling people for decades how they can live their lives more appropriately, how they can get their act together, and how they should focus on things that really matter rather than things that they deem important even though they are not. She's not a person to mess with, but she's someone who is good at what she does. The world loves her unless they end up in her courtroom.
Photo: /Shutterstock
Ellen DeGeneres – $50 million
Ellen is not a news anchor, but she is a talk show host who does bring the news to fans. She does it in a way that's more entertaining than serious, and she's always making people laugh. She tops the list of highest paid anchors since she technically does anchor her own show on television. She's someone who works hard to get what she wants in life. She started as a stand-up comic, she had her own show, she lost her show after she came out on national television, and then she started a talk show. Now she's everywhere, and the world adores her.
Photo: /Shutterstock