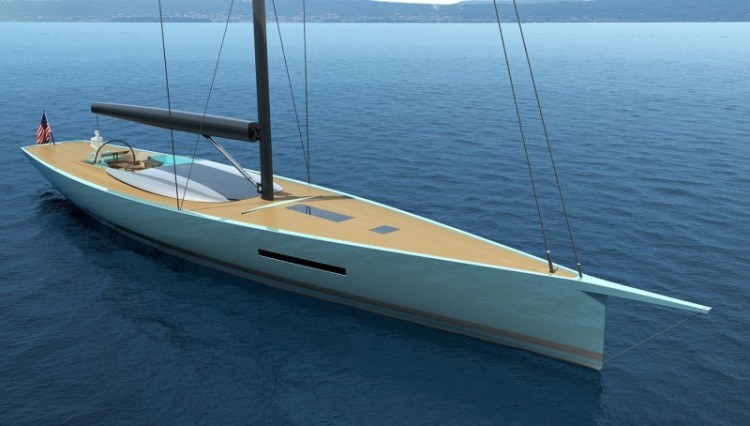 Philippe Briand, the famous French yacht designer who is based in London, recently unveiled his plans for his newest and brand spanking concept yacht, known as Egoist. It is a beautiful carbon sloop which is nearly 100 foot long and the basic design can be customised to suit the client's every need and desire. It is fast and highly responsive and so it could easily be used for racing. However, at the same time, it would work wonderfully as a pleasure craft for relaxed trips across the ocean blue. It has a classic look and is sure to turn heads at the harbor, but it isn't as showy as some of the superyachts that are around on the market. It has space for two cabin crew and is really roomy once you go beneath the deck. It has also been designed with simplicity and 'getting away from it all' in mind. Briand knows that people sometimes don't want anybody else about, let alone crew, and so he designed it so that no crew members at all are actually required. The master cabin will not disappoint anyone who likes to have lots of space and does everything you could possibly want it to do.
In order to sail this yacht you should be competent, and it has been designed with competent sailing regatta veterans in mind. It's a boat for someone who wants a superyacht experience but for it to not be hugely complex in the way it has to be sailed.
From the initial design drawings you would be forgiven for thinking that there is not much to this yacht but, in fact, you could not be further from the truth. The beauty of this design is in its simplicity. Although it seems clean and simple on the outside, it is actually a highly complex design and will do everything that you might expect from a modern, sleek yacht. It really does take the best from the old classic designs and combines it with the modern.
Each individual yacht could be built within two years according to many boat builders, depending of course on the kinds of customisations that the client requires. This is the beauty of having a custom yacht. You can have exactly what you want and live your fantasies to the core. This does of course mean that it can get more complex and the price can also increase. However, for those who can afford it, it is well worth getting exactly what you want. These boats will not go significantly down in value once built. They will be in high demand, especially if it means that the client will not have to wait many months, or maybe even years before they can receive their yacht. Many of the super rich lack one thing and that is patience!
If you want more details, the draft is thirteen feet and full displacement is fifty five tons. The sails include an asymmetrical spinnaker and a code 0. Downwind sail area is 10,226 square feet and upwind is 4268 feet.
Philippe Briand has over 30 years of experience in the yachting industry and has worked on a wide range of different shipyards, from Perini Navi to Royal Huisman. He designed his first boat at the age of sixteen and it was clear that he was going to go far in the industry. His designs have attracted a lot of attention over time and he has won numerous international design awards. He has also won sailing awards. In 1986 for example he won the One Ton Cup on a boat that was to his own design. He has designed a number of superyachts and caters his designs to those who can afford to buy them – the super rich.
To own a superyacht is to be part of an elite club that only a very small number of people can call themselves part of. This yacht will take time if you want to custom it to your own specifications but it will certainly be worthwhile in the end. It is a beautifully designed, well constructed boat that enables you the freedom and simplicity of a small boat but the statement and excitement of a superyacht.
For more information, interested parties should visit Briand's website – www.philippebriand.com