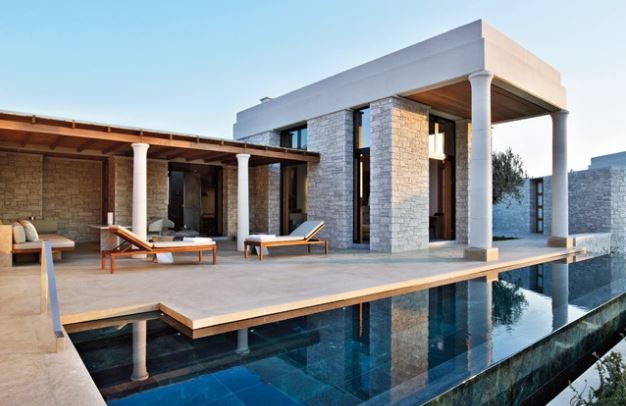 Anytime an Instagram user posts a photo of Greece, it's immediately obvious that it's Greece. Whether it is Mykonos or some other luxury destination within the country is beyond me, but there is something so easily recognizable about the landscape and the scenery. I feel instantly relaxed as if I should don a designer maxi dress and a floppy hat and grab hold of a decadent glass of white wine and a luxury yacht.
Having never been to Greece, I can only imagine this is what it feels like there. If for no other reason than to stand Cliffside and watch the world go by over the ocean, it's on our bucket list of places to go when our kids are bigger and we are more comfortable leaving them for more than a few days at a time. When we do go to Greece, I can assure you it might to be one of these gorgeous villas. Prepare to have your mind blown.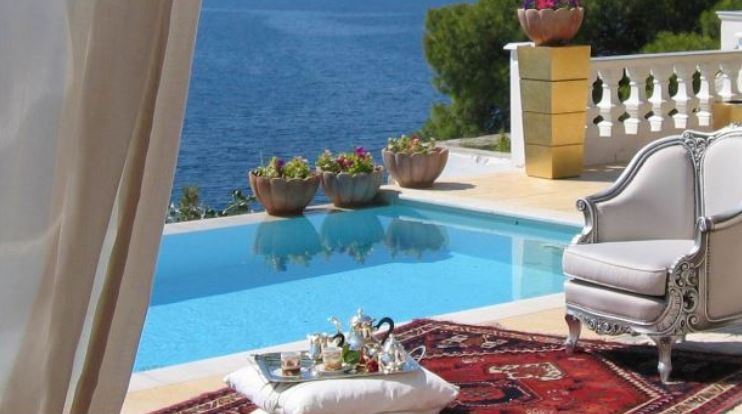 Danai Beach Resort and Villas
Built in 1985, this beach front resort has 61 guest villas each as private as you might imagine in beautiful Chalkidiki. With three decadent restaurants on the property from which to choose, you never have to leave the resort. Each room is gorgeously appointed, spacious and as luxurious as imaginable down to the most minute detail. Rooms start at around $500 per night and reach well above $1,200 per night depending on your villa of choice.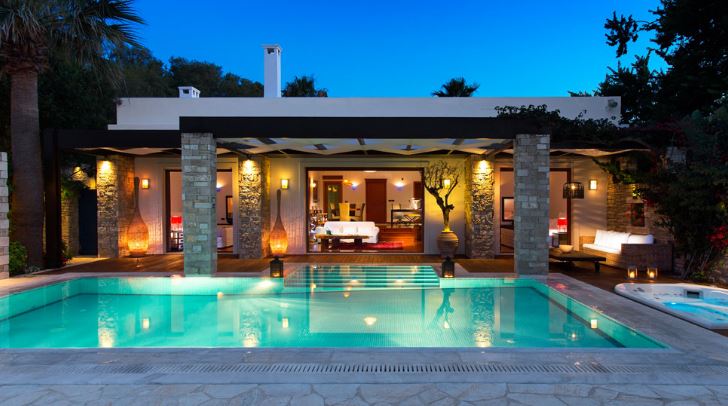 Porto Zante Villas and Spa
If a waterfront spa sounds like relaxation to you, welcome to my imagination. This gorgeous boutique resort is located on Zakynthos, and it's completely private. All the villas have their own private pool, each one has every luxury amenity known to mankind, and it's an award winning resort that caters to the rich and famous of the world. Prices are well over $1,000 per night at peak season, and it's not easy to book a room here as they sell out months in advance.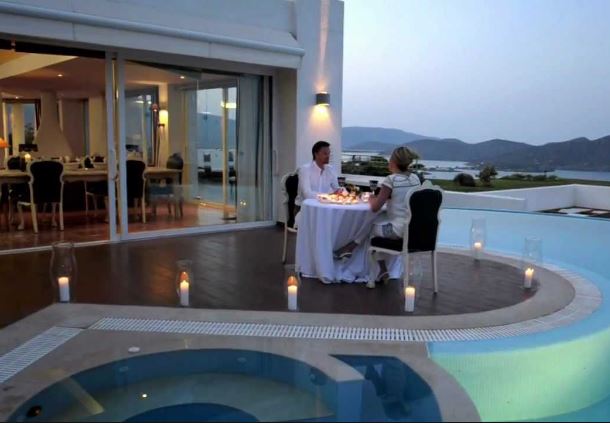 Elounda Gulf Villas and Suites
In Crete, you'll find nothing but sheer luxury here. These villas were expertly designed to make the most of every square foot. There are only 18 available, and they book quickly. Each has a private pool and a private concierge, and each room has its own hillside location with uninterrupted views of the ocean. A spa, a beautiful beach, a fitness facility and several bars and restaurants make this villa hotel worth the $400 – $2,700 per night cost.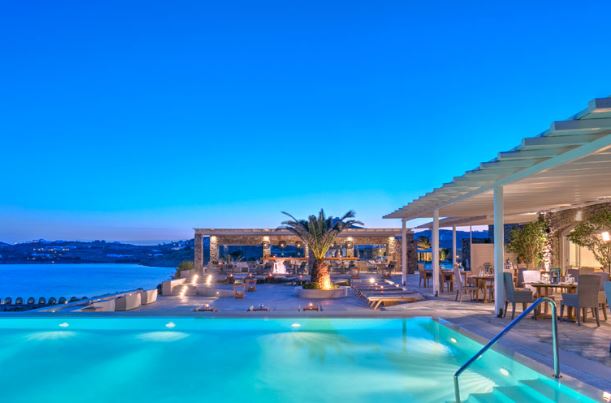 Santa Marina Resort and Villas
Located in the gorgeous Oceanside town of Mykonos, this Greek villa hotel is everything. It's infinity pools over the ocean, decadent restaurants and the most amazing luxury services. There are a number of gorgeous villas available all with stellar views, private concierge service, children's activities and what we love most is that the hotel offers you a private jet and a helicopter so that you don't have to bother with traditional methods of traveling. Might I add that champagne flows here much like water? Of course, with rooms that reach into the thousands almost every night of the year – if you can find one available in the first place – you'd expect nothing less.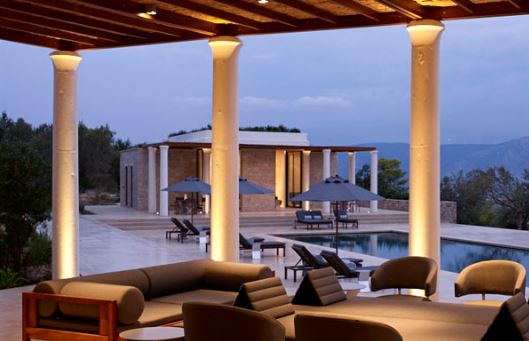 Amanzoe
This is the picture perfect resort in every sense of the word, and you will find this beautiful villa getaway in Argolida. While most resorts offer a great ocean view, this one sits so high atop a hill that it actually offers a 360-degree view of the water. What is better than that? The short answer is absolutely nothing. There are 38 private villas with private pools, and gorgeous views of the Aegean Sea. The amenities here are among the highest of high-end, and the price is well over $1,000 per night on the least expensive night of the year. It is not a room for those on a budget, but it's a room for anyone looking for complete luxury.