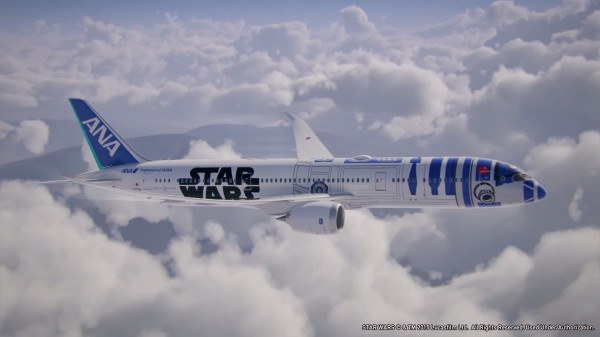 The seventh Star-Wars movie is coming to theaters this holiday season and the return of the franchise has people extremely excited. Star-Wars is a classic series of films that many people are excited to see once again. This is the third trilogy installment that comes together for a nine film series. It's no surprise that there will be tons of marketing for this movie because it is such a big deal, but things for Star-Wars are entering a whole new level.
Nippon Airways has announced that they are going to paint a Boeing 787-9 Dreamliners in Star-Wars theme. The first plane that has been painted (seen above) is in an R2-D2 design that looks amazing. The R2-D2 design extends from the cockpit to the wings. This is certainly an unusual thing to go through with; however, brands do use planes as a marketing tactic sometimes. There are plenty of people who would be excited to fly on this R2-D2 themed plane and spread it around all of social media.
The plane also features "Star Wars" big in black letters on the side of the plane. The ANA aircraft that R2-D2 is painted onto will be traveling internationally this year and will be showing itself off all around the world. Star-Wars: The Force Awakens does not release until Christmas Day, so plenty of people will get to see this plane before then.
It is interesting to see how many people are recognizing how large of a partnership this is. ANA and Nippon Airways are smart for taking advantage of this business strategy. The painted R2-D2 Boeing 787-9 will catch a lot of attention from anyone in the airport, it will begin to travel the world in the upcoming Autumn season. Hopefully the companies will work to create other decals as well that feature other characters or connections to the film series.
Photo via Boeing