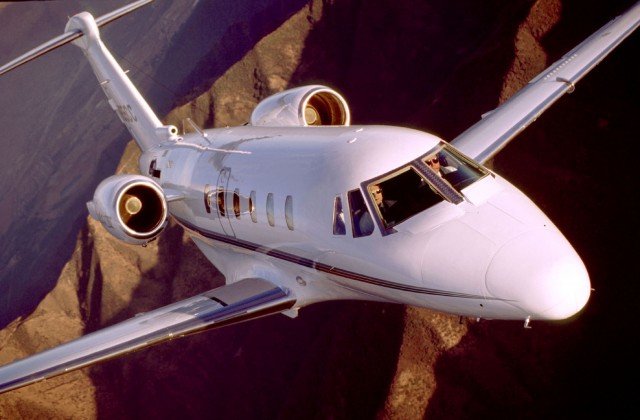 Many people dream of owning a private jet, but only a select few can actually realistically afford to own and buy one. If they were cheap, everyone would have them, but a private jet is far from "inexpensive". The sheer cost to purchase, store, maintain, and operate a private jet is absurdly high. You effectively have to be multi-millionaire, but more realistically, you probably have to be a billionaire to even consider one. While they are expensive, if you can actually afford to own one, their benefits are endless. You can fly in comfort, skip waiting at airports, and leave whenever you want to any location with a private jet. It's really the ultimate luxury.  Most private jets are already outfitted with premium amenities, but some wealthy individuals like to add their own interiors. So what does a private jet owned by a billionaire look like on the inside, that is to say, one that has bespoke interiors deigned specifically for the individual? Well luckily the people over at Jet Aviation can give us a sense as to what these flying machines are really like for the wealthy elite of the world.
Based out of Switzerland, Jet Aviation is a subsidiary of General Dynamics that specializes in the world of business aviation. They refurbish private jets, maintain them, offer charter services, sell aircraft, and will even help you design an interior for your luxury travel machine. Donna Cruthis, an interior designer for the company, has recently just showed off some pictures of an interior from one of their more recent projects. A billionaire who wants to remain anonymous, commissioned the services of both Jet Aviation and Donna to design and then outfit a custom private jet. Donna studied design at the Illinois Institue of Art and has been working with the company for nine years now as one of their leading interior designers. So what did she come up with?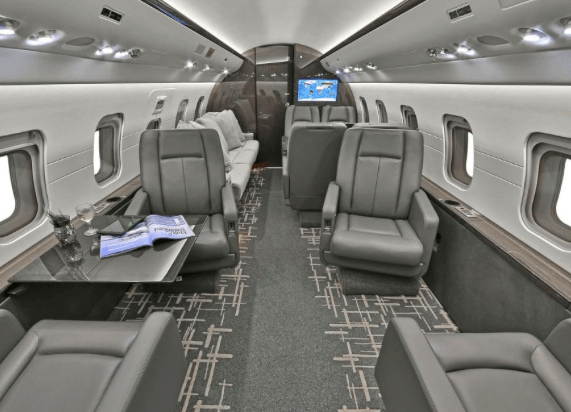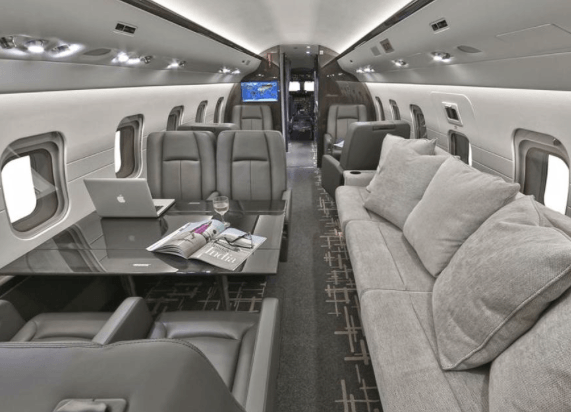 The jet in question is a Bombardier Challenger 601, which is certainly an impressive aircraft in its own right. Without any customizations or bespoke offerings, that jet alone can come in at around $15 million dollars. So again, only billionaires can realistically afford these vehicles. The anonymous billionaire client gave his jet to Jet Aviation and Donna, and over a 14-week period, they have completely remodeled and restyled the interior. The order called for extensive use of black and grey-shades, so Jet Aviation had to redesign and refurnish almost every detail of the airplane. The main cabin area is extremely premium and has all the luxury offerings one could ask for in a private jet of this nature. We see gray leather chairs, black tabletops, a light gray couch, custom carpet (handmade from silk and wool), carbon fiber detail work, and more. The main area of the aircraft can hold 12 people in its seats, in addition to four more that can fit on that couch.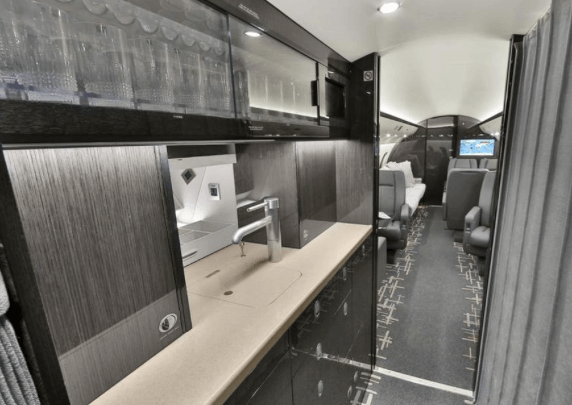 At the front go the main cabin area we also see the small kitchenette unit that has also be customized. That cabinets are made from composite oak and have a special veneer as well. It took Jet Aviation around 13 weeks to design and install just the cabinets themselves. We also find more cabinet space, a small refrigerator, and a small sink as well. While it's not a flying castle with beds, it is still more luxurious and comfortable than 99% of the airplanes out there.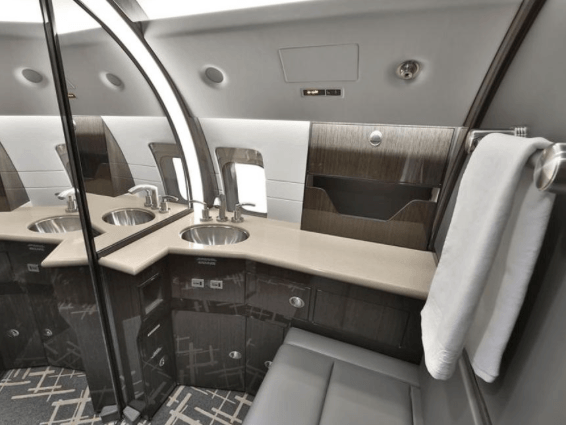 The bathroom has also been completely redesigned as well. While most bathrooms on jets are small, the one seen here is actually fairly large and roomy compared to others. Again we see the oak cabinets, the gray leather, and the carbon fiber detail work that make the entire package look and feel extremely premium. The jet is piloted by two individuals and it is powered by dual GE CF34-3A turbofans. The 601 can cruise at speeds of 529 mph and has a range of about 3,875 miles. It's a very capable jet, and with these additions, it's certainly extremely luxurious.
We have no idea how much all of this bespoke work cost, but given the insane price of the vehicle alone, it certainly would be a lot. Custom made interiors always cost a lot of money, and that holds true for bespoke interiors that are used in private jets. This is what a billionaire's private jet looks like on the inside, and it definitely looks amazing. Most of us, unfortunately, will have to stick flying with standard commercial jets. But if you can afford a private jet with a bespoke interior, you are certainly living a life of luxury.
Photo Courtesy of Cessna Corp/Newsmakers, Jet Aviation, Forbes