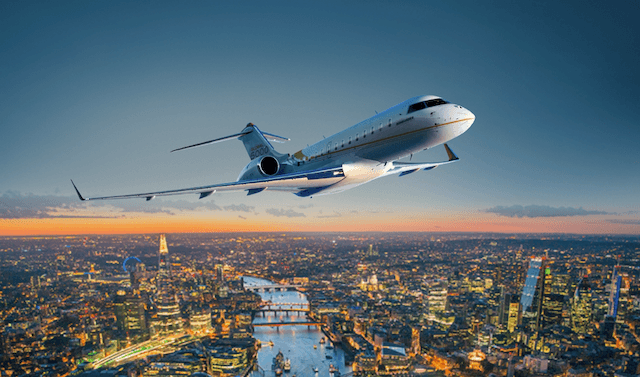 Forget Rolls-Royce's or Sunseeker superyachts, the most premium luxury vehicle that one can own is definitely a private jet. The freedom of having a vehicle that can take you anywhere on the planet is truly luxury living at its finest. Private jets are outfitted today with a range of premium features and amenities that essentially make them flying homes. So if you were a wealthy billionaire, which private jets are worth considering? Here are five premium and high-end private jets that are currently some of the best on the market today.
Photo from Bombardier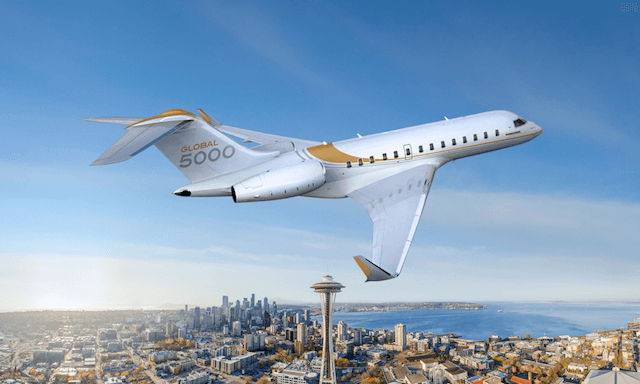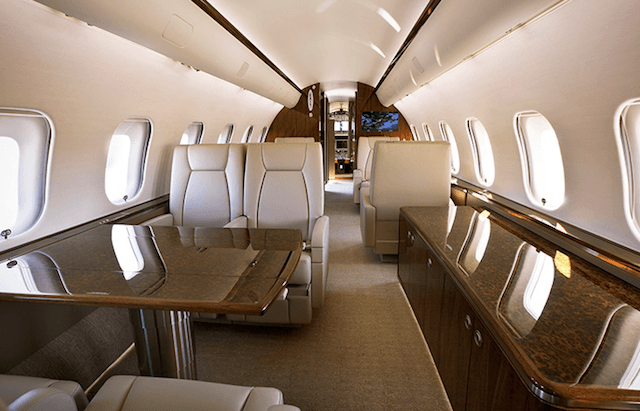 5. The Bombardier Global 5000
The Global 5000 from Bombardier is one of the companies high/mid-ranged private jets that perfectly balances luxury features with performance. As the name implies, the Global 5000 was created to be a long-ranged private jet capable of traveling across the oceans of the world. The vehicle can travel some 5,200 nautical miles (5,984 miles) at speeds of mach 0.85 making it a solid performer all-around. The Bombardier Global 5000 typically cruises at altitudes of 43,000 feet as well. On the inside passengers are greeted with a modern, clean, and comfortable interior. The cabin is around 45-feet in length meaning you can easily have multiple chairs, some tables, couches, a small kitchen area, and more inside this $50.4 million dollar aircraft.
Photos from Bombardier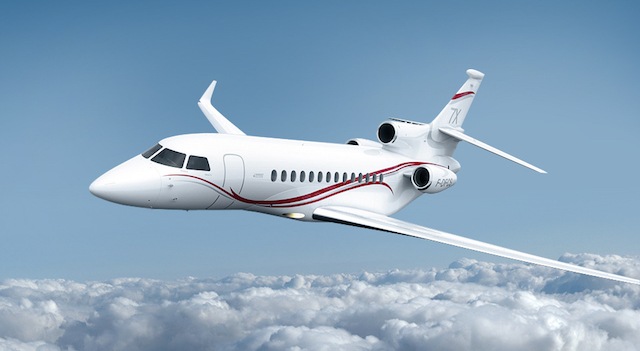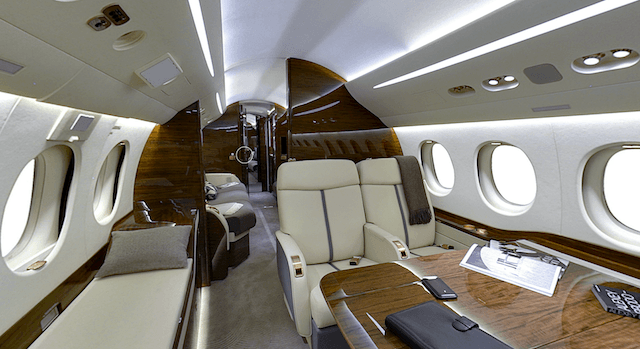 4. The Dassault Falcon 7X
The Dassault Falcon 7X continues to be a popular high-end private jet that aims to offer potential owners the complete package. The interior cabin measures to be nearly 40-feet in total, it's 6.1-feet high, and 7.6-feet wide so there's plenty of space for passengers. As is the case with many private jets, Dassault offers a range of different interior options and configurations (you can potentially put a full-sized bed in one) allowing this jet to be able to carry anywhere from 12 to 16 passengers. With it's three-engine configuration the Dassault Falcon 7X is also quite powerful and safe. It can travel some 6,847 miles in total, it can reach speeds of mach 0.9, and since there are three engines, if one were to ever fail, you will always have a backup. The 7X was also the first business jet to feature fly-by-wire when it originally came out and the current generation models are also outfitted with the latest and greatest in aeronautical technology. It's a solid private jet in all aspects, but one that comes with a price of some $53.8 million before options.
Photos from Dassault Falcon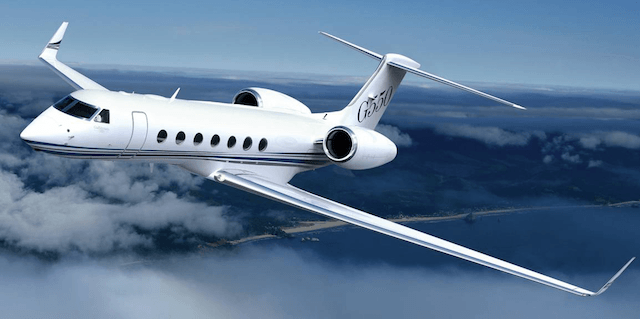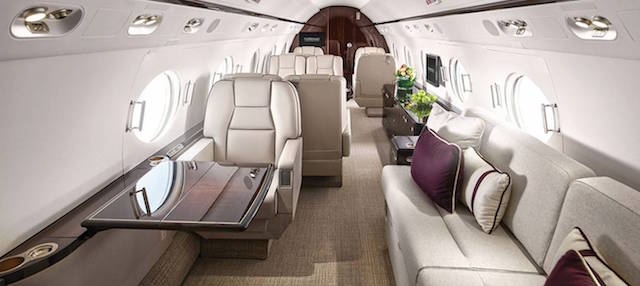 3. The Gulfstream G550
Gulfstream is one of the most respected names within the private jet industry, and the G550 is easily one of the companies best sellers despite the $61.5 million dollar base price tag. It has won a few awards over the years and is considered one of the best jets out there in terms of overall value and customer satisfaction. With its twin Rolls-Royce engines it has an incredible range of some 7,767 miles, a maximum cruising altitude of 51,000 feet, and it has a maximum operating speed of mach 0.885. As it is one of the companies greatest hits, Gulfstream offers a large range of interior configurations. It can accommodate up to 19 passengers in total and certain models can also sleep up to eight. The Gulfstream G550 is a tried and trusted jet which has been pleasing owners for a number of years now.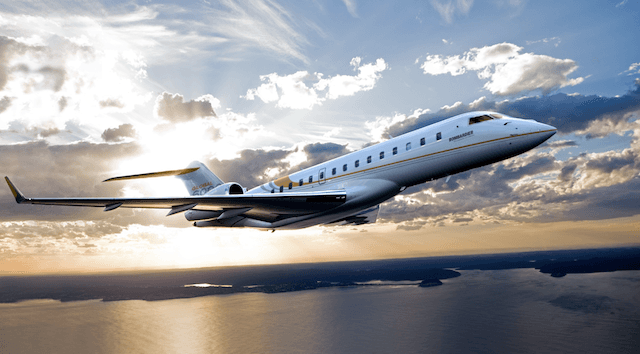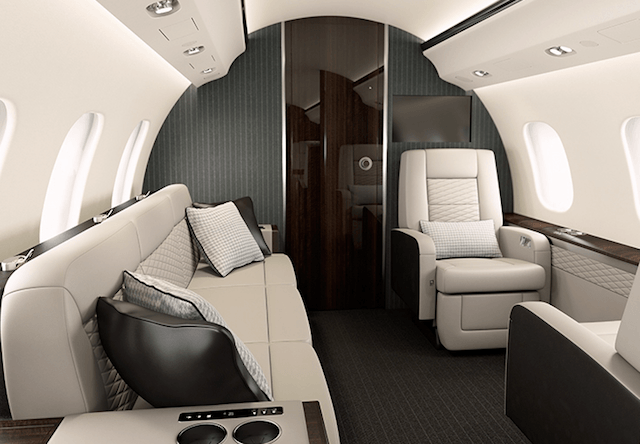 2. The Bombardier Global 6000
The Bombardier Global 6000 is a fairly significant upgrade over the Global 5000 in a few important ways. It is fairly larger so their is more interior space and it can accommodate up to 19 guests, it can climb to 51,000 feet, it's slightly more powerful than the 5000, but most importantly, it can travel much further. The Bombardier Global 6000 can fly some 6,904 miles on a single tank of gasoline, which is about 1,000 or so more than the Global 5000 can travel. If you're someone that needs a little more "oomph" in a private jet, this $62.3 million dollar vehicle is for you.
Photos from Bombardier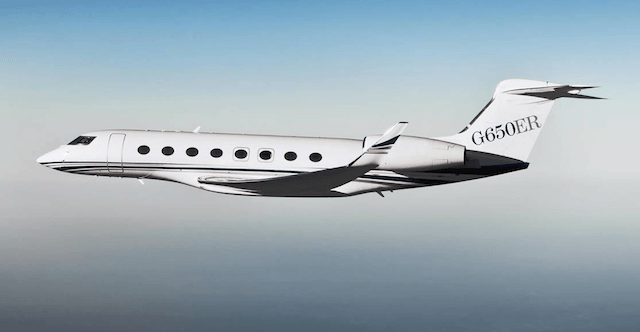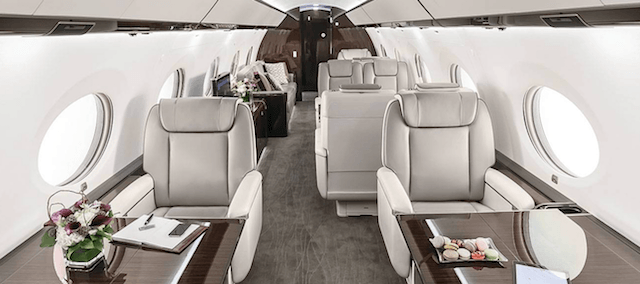 1. The Gulfstream G650ER
The Gulfstream G650ER serves as the companies flagship aircraft and it is easily their most premium offering. However in addition to that fact, the G650ER is also one of the best business jets out there was it has the longest total range of any private jet on the market today as it can fly some 8,630 miles in total. This jet can travel non-stop from Hong Kong to New York City which is a truly impressive feat. Compared to the standard G650, the extended range model has larger fuel tanks and is more efficient which allows it to fly so far. Outside of that, the G650ER is outfitted with a luxurious interior cabin that can accommodate 19 passengers and it can sleep up to 10. It is extremely expensive at $68.8 million dollars, however the Gulfstream G650ER is the industry standard when it comes to high-end and luxurious private jets.
Photos from Gulfstream