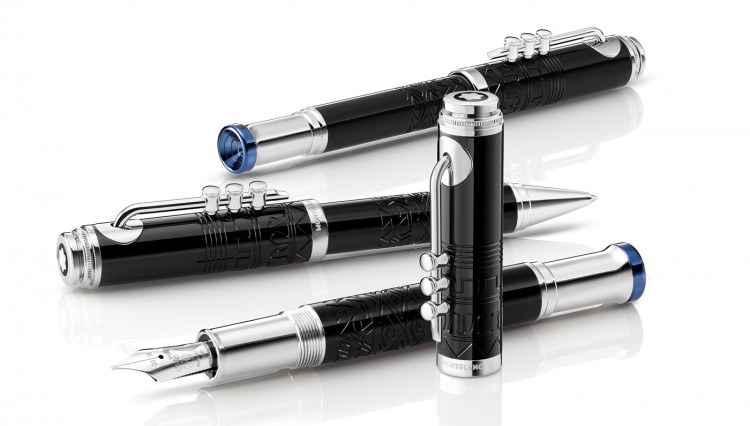 Montblanc has honored jazz great Miles Davis with a stylish, jazzy collection of writing instruments. There are three pens in the collection. This year marks the 90th anniversary of his birthday, and there is a pen for each of the 30 years since he was born. The trio is a fine example of Montblanc craftsmanship, with an eye toward design details which are elegantly musical and purely Miles.
It is fitting that the Davis collection is part of the Montblanc Great Characters series. Montblanc honors exceptional people who have lived lives of impact and significance. These are the individuals whose work have influenced history and whose approach to their lives and careers are iconic in their fields. Miles Dewey Davis III is one of the greatest American Jazz musicians and composers. His pioneering performances in the genre of cool jazz were pivotal to its development, and he is known worldwide for his innovative fusing of jazz genres. His creativity and consummate musicianship are honored with the Montblanc Great Characters Miles Davis Limited Edition writing instruments.
Miles Davis Special Edition
This piston fountain pen is hand-crafted with a 14 K gold nib which is coated with rhodium. The nib is engraved with Davis' silhouette. The clip includes tiny, raised trumpet finger buttons as a tribute to his fabulous career as a trumpeter. The pen's blue cone is a tribute to the great 1959 jazz album "Kind of Blue" and its shape is inspired by his favorite Heim mouthpiece. The black resin barrel and cap feature inscribed line designs and patterns representing Cool Jazz, Modal Jazz, Jazz Fusion, Bebop and Hard Bop. The cap ring includes the engraving "2006", in honor of the year he was inducted into the Rock & Roll Hall of Fame. The fountain pen is available for $905 USD. This pen is also available in ballpoint for $710 USD and rollerball for $780 USD.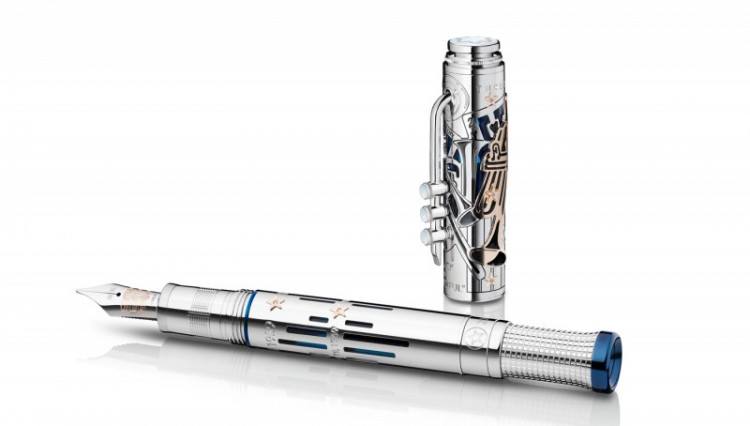 Miles Davis Limited Edition 1926
Paying tribute to the year Davis was born, the Limited Edition 1926 honors his Master of Styles and King of Cool stage names. This fountain pen is coated with platinum and engraved on barrel and cap with elegant Art Deco styled musical symbols referencing the five jazz periods his music inspired. The cap is engraved with 2006; the year of his posthumous induction into the Rock & Roll Hall of Fame. The cap also features his silhouette, engraved in gold. It also includes the blue cone referencing his Kind of Blue album. The barrel includes a star, which is engraved, and then topped with a diamond. Unique to this fountain pen is the spiral cap decoration, which was inspired by the powerful and fierce tornado Miles experienced as a child. The cap is topped with agate stone of black and white featuring the Montblanc emblem. Pricing for this model is only available upon request. This edition is limited to 1,926 pieces, referencing his year of birth.
Miles Davis Limited Edition 90
This fountain pen features a red gold trumpet on its cap. The trumpet design creates a three-dimensional appearance on the cap. There is also resin in translucent blue beneath Au750 white gold as a symbol of the masterpiece studio album of jazz, Kind of Blue. The solid gold nib is coated with rhodium, with trumpet keys engraved on the surface. The Montblanc snowcap crowns this pen with mother-of-pearl. Intricate lines engravings on the white gold barrel and cap depict the phases of American Jazz which Davis pioneered. Pricing for this model is only available upon request. The edition is limited to just 90 pieces.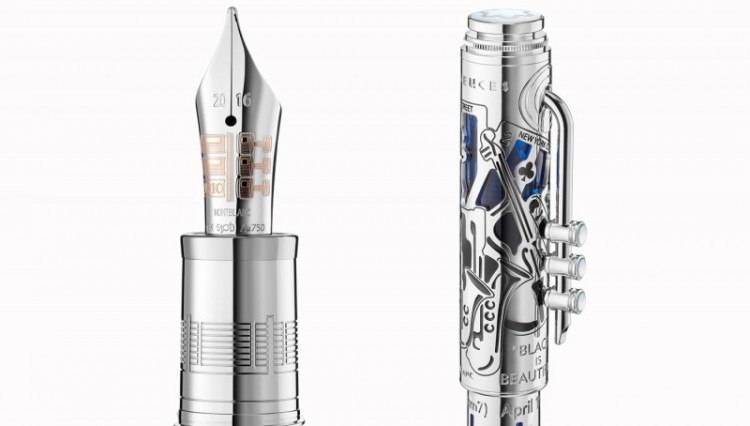 Miles Dewey Davis III: Acclaimed American Jazz Innovator
Born in 1926 in Illinois, Davis was described by Rolling Stone magazine as not only one of the 20th century's most notable musicians, but also as the jazz trumpeter who is the most revered throughout time. Davis earned this praise for his innovative and influential performances and recordings. He started performing in New York in the 1940s and from that point forward, his career includes an important list of significant events and contracts with leading record labels:
Birth of the Cool recording sessions with Capitol Records, 1940s
Early hard bop recordings with Prestige Records, 1959s
Newport Jazz Festival performance, 1955
Round About Midnight recording with Columbia Records, 1957
Milestones (in 1958) and Kind of Blue band recordings with Bill Evans, pianist, 1959
Work with John Coltrane, saxophone and Paul Chambers, bassist, early 1960s
Sketches of Spain orchestral jazz collaboration with Gil Evans, 1960
Seven Steps to Heaven recording with Ron Carter, bass; Herbie Hancock, piano; and Tony Williams, drummer; 1963
Experiments with electronic music technologies, African rhythms, funk and rock and many new musicians, 1970s
Commercial recognition for pop music albums and sold-out concerts, The Man with the Horn, 1980s.
North Sea Jazz Festival, 1991, and many, many more credits throughout his lifetime

Davis: Artist, Nearly Unknown
Davis is commemorated with a statue in Kielce, Poland, depicting him in casual clothes and a long coat, playing trumpet and wearing sunglasses…such is his global recognition and popularity. He had started to draw and paint during the 1980s. He wasn't quite as active musically then, and he was known for his obsessive work on his art pieces every day that he didn't tour. He studied art with Jo Gelbard, the New York painter. His work is said to include influences from African tribal art, Kandinsky, Picasso and Jean-Michel Basquiat. His works were not exhibited extensively while he was still alive, but after his death, exhibitions of his art became more common. He considered his art to be therapeutic, and noted that he sketched his own suit designs for his tailor because the tailor couldn't discuss them with him in English. Quincy Jones is known to have collected several of Davis' pieces.
Miles' artwork did adorn his record releases at times. The 2013 book, Miles Davis; The Collected Artwork, brought to the public the opportunity to become familiar with his body of artwork which had been previously known best by his truest jazz fans. They were those with the keen eye for detail, who noticed his visual art when it appeared on his album covers. Ultimately, the man who played trumpet, and fairly privately, sketched drawings throughout his life, is appropriately honored with a series of fountain pens created by the renowned and prestigious Montblanc.
Davis died in Santa Monica, California in 1991. He was only 65, but he suffered a stroke, developed pneumonia and the experienced respiratory failure. He was buried in New York City, in the Bronx, at Woodlawn Cemetery where a monument engraved with a trumpet, a treble staff with music notation and the inscription "In Memory of Sir Miles Davis 1926 – 1991".