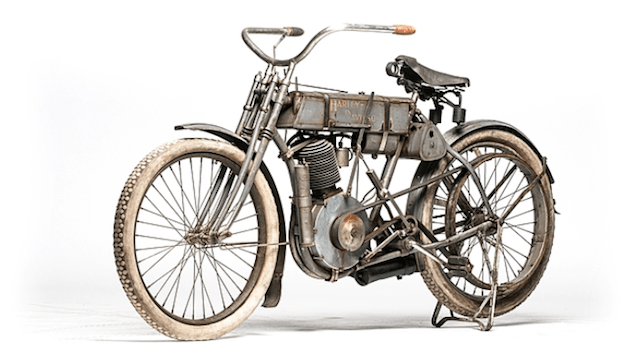 Out of all the various companies that produce motorcycles, one brand consistently remains as a cult favorite: Harley-Davidson. Their bikes aren't the fastest around or the most luxurious, however they are arguably the most famous motorcycle company to have ever existed. They're as American as Uncle Sam. Recently a Harley-Davidson Strap Tank from 1907 was sold at a Mecum auction for the incredible price of $650,000. To give you some perspective on just how crazy that is, with that money you could purchase about 48 Harley-Davidson Street Bob's or three Ferrari California T's! However neither of those vehicles have as much history as this particular motorcycle.
Out of all the various motorcycles that Harley-Davidson has produced over the years, none of them are as desirable among collectors as the Strap Tanks are. The reason why? Well these are the first motorcycles that Harley-Davidson ever produced; it's basically the Ford Model T of Harley-Davidsons. The three Davidson brothers and William Harley wanted to get into the world of motorbikes and racing back in the 1900's and in 1901 they constructed their first prototype. After a few years of refining their prototypes, the eventually came up with the Strap Tank in 1907. Back then, Harley only produced just 150 of these bikes and the serial number on the model that was sold at auction indicates that it was number 37. This bike is an important part of not only motorcycling history but American history as well.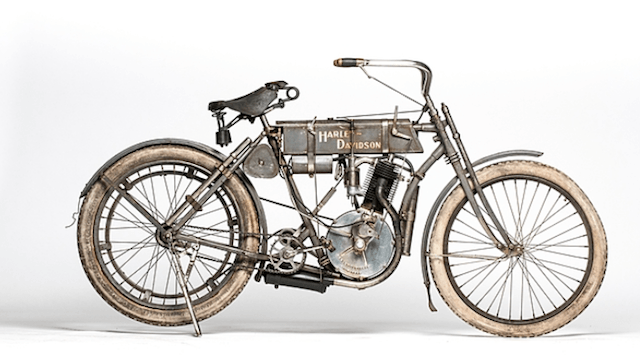 The 1907 Strap Tank isn't technically a true "motorcycle", but rather a motorbike as it still has mechanical pedals. The bike has a single-cylinder, V-twin prototype engine that isn't too powerful, so Harley added the pedals for when you need that extra "umph" of power. The bike has been maintained pretty well over the years and features all the original parts and paint. This particular model is also considered to be one of the best examples of the Strap Tank that hasn't been restored.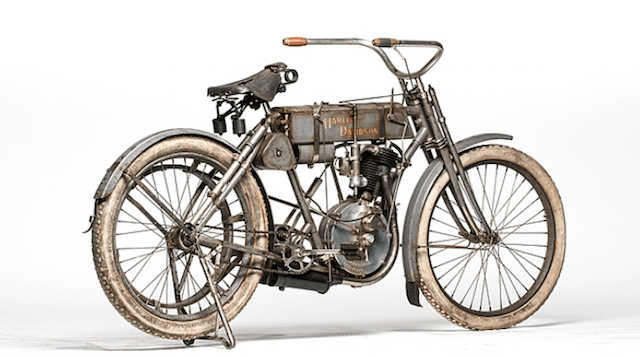 You aren't going to be breaking land speed records in this bike, obviously, however it's still really cool for what it is. Personally I wouldn't ride this motorcycle given the price, its age, and the historical significance, however it makes for a great collectors item. This bike is part of the first series of motorcycles that Harley-Davidson has ever produced, so it makes sense as to why it was sold for $650,000.
Photo from Mecum.com