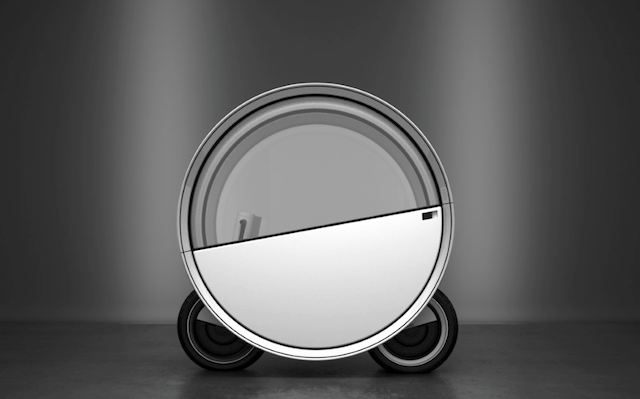 The motorcycle is one of the most straightforward vehicles known to man. It's gone largely unchanged over the years as the general "idea" remains the same: one engine, two wheels, a small seat, and some handlebars. Okay, a motorcycle is obviously more than than, but you get the idea. Manufacturers can add in more powerful engines and update the internal specs, but there's only so much you can do to change the motorcycle. However that does not stop companies and designers from creating cool concept motorcycles. While most never make it to production, they at least show the world what the motorcycle will evolve into next. Here are ten concept bikes that are the future of motorcycles.
Photo by yankodesign.com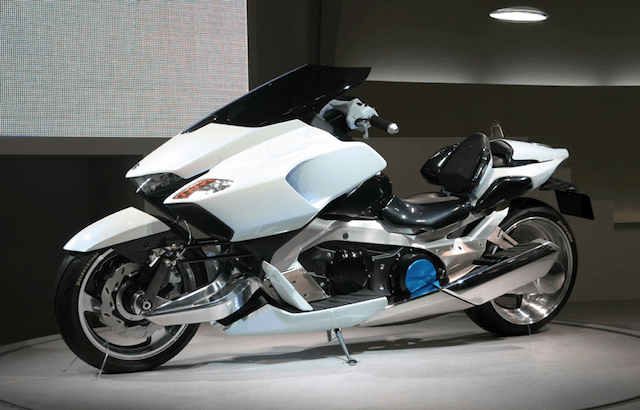 10. The Suzuki G-Strider
The Suzuki G-Strider was a concept vehicle that the brand first unveiled back in 2003, yet it still stands the test of time and serves as a representation of the future. While Suzuki never went forward with production, the G-Strider is quite an interesting vehicle. It's a large motorcycle that offers a parallel-twin 916cc motor that's been placed into a very futuristic body. The rider sits on the bike more like a scooter, as one's legs are in front of the handlebars. There's a large windshield, a back rest, and easy to reach handles bars on the bike, as the G-Strider is all about comfort. Fans of the 1998 Japanese anime film Akira will instantly recognize that this bike looks like the fictional machines used in the movie, and it's very fitting for a Japanese brand to produce such a bike.
Photo from smcars.net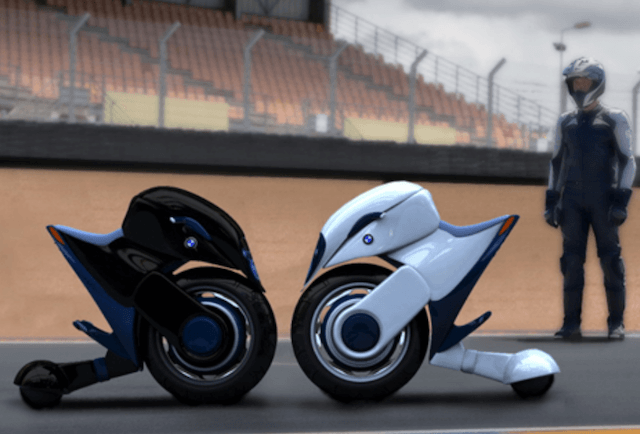 9. The BMW Halbo
The Halbo is a concept motorcycle that was designed by Pierre Yohanes Lubis over at Yanko Design. It was created as a potential idea for BMW, and it's quite interesting. The Halbo is an extremely small, all-electric motorcycle that's meant to be the ideal urban vehicle. Motorcycles are great transportation solutions for those that live in places like New York City or Shanghai, places where owning, using, and storing a car is just cumbersome, inefficient, and unaffordable. The Halbo has a standard front tire while the rear "wheel" is actually a sphere. Because of this design, the bike is nimble and quick, making it perfect for cities. And it doesn't hurt that it's environmentally friendly as well. However no production version has ever been made, as it just remains an idea as of this point. However if a bike like this were produced, it would potentially revolutionize urban travel as it is essential a motorcycle that's small enough to fit in one's apartment.
Photo from yankodesign.com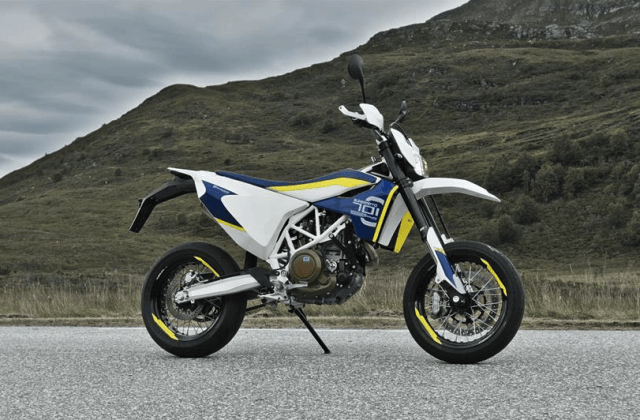 8. The Husqvarna 701 
While the Halbo is just an idea, the Husqvarna 701 is quite the real deal. The Swedish-based company created the 701 originally as a concept, but has now moved forward with producing the bike as it will be available for sale soon. Basically the Husqvarna 701 takes the idea of the Halbo, an ultra-portable and small motorcycle, and applies it in a more realistic manner. It's an extremely compact and maneuverable bike that does not compromise features or performance. It has a single cylinder, 4-stroke 690cc engine, a 6-speed gearbox, Brembo brakes, and all the other standard features one would expect from a production motocross bike. It's a fully-functional bike that's small and weighs only 319 pounds without fuel. While it's currently used for motocross and off-road riding, it would be nice to see a street model that has a similar design. Essentially, the Husqvarna 701 proves that bikes don't need to be big and heavy to go fast.
Photo from 701supermoto.com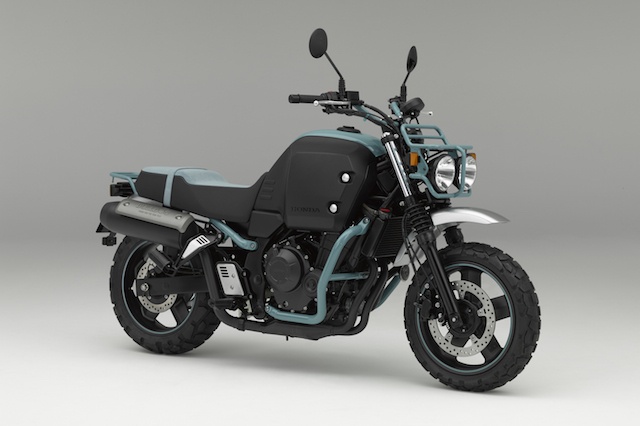 7. The Honda Bulldog
Honda unveiled their Bulldog concept this year at the Osaka Motorcycle Show, and it's quite an interesting bike. It's positioned as a small, practical, and easy-to-ride motorcycle that you can also take off-road or on lengthy motorcycle adventures. It's low to the ground and has smaller tires, yet those tires are still able to handle dirt roads. It's powered by a 400cc liquid-cooled 4-stroke DOHC inline 2-cylinder engine that offers a total of 47hp. That engine is also extremely efficient and it can get around 93 miles per gallon. While the bikes not a representation of the "bleeding edge", the concept brings the general design of the motorcycle into the 21st century. It's robust and utilitarian, yet also minimalistic and practical. It's a concept bike that could actually be made into a production model.
Photo from Honda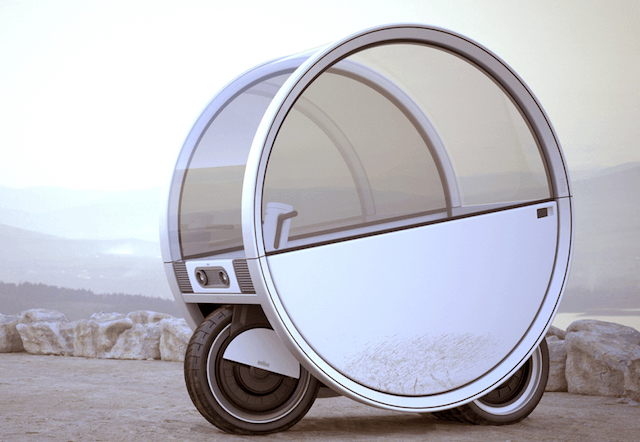 6. The Moon
The Moon is another concept bike from Yanko Design, and it is the brainchild of Alejandro Lanatta and Franco Di Pietro. One of the main drawbacks to the motorcycle is that you are exposed to the elements, although I suppose many would argue that that's the point of a motorcycle. However The Moon isn't targeted for the general motorcycle rider, rather those that want a small, affordable, and eco-friendly machine. It's currently just a design on-paper, as it has never been produced or tested, however it's still very interesting. The Moon could potentially be yet another vehicle that would re-define how commuters travel in dense, urban environments. It's small and compact, yet it also shields the rider from the outside. Effectively it's a bike that would be comfortable to ride in all weather conditions, throughout the year. It still remains to be seen if any company would actually produce a bike like this one, but the concept is interesting.
Photo from yankodesign.com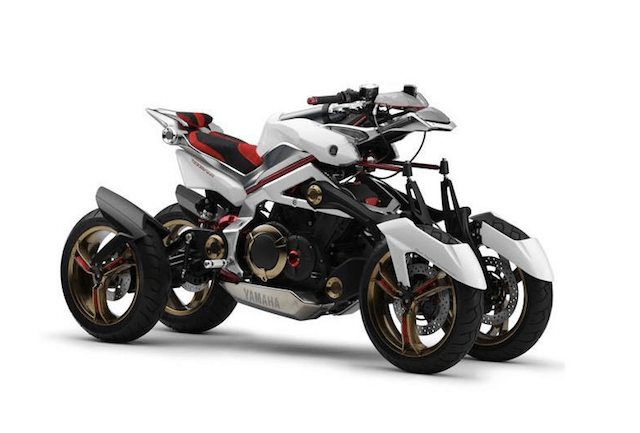 5. The Yamaha Tesseract
Between it's futuristic and aggressive looks to the fact that it has four wheels, the Yamaha Tesseract is a very "progressive" concept, to say the least. Yamaha first unveiled the concept back in 2007, and it's still one of the most radical motorcycle concepts to date. It's a hybrid electric bike that has both a V-twin engine and an electric motor, so in terms of performance, it's quite fast. However that's obviously not the most interesting feature, the four wheels are. The Tesseract utilize an ingenious tilting wheel suspension that still allows the bike to bank and turn like a conventional motorcycle. The four wheel design not only increases the stability of the vehicle, it allows it to perform (theoretically) better off-road than standard bikes. The Tesseract takes what you know about motorcycles and then throws it out the window. The Tesseract most likely will not be turned into a production model, but hey, one can hope right?
Photo from thefutureofthings.com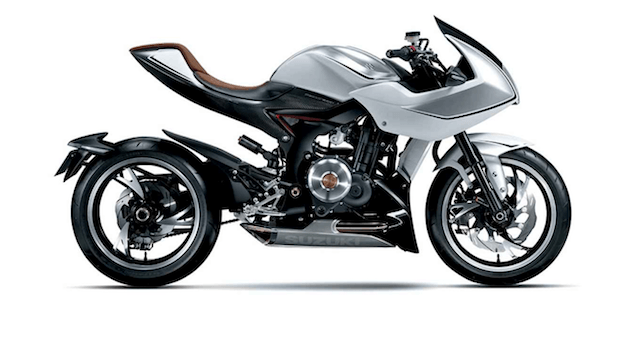 4. The Suzuki Recursion 
While it may not be as futuristic as some of the bikes on our list, the Suzuki Recursion concept represent the near future of motorcycles, rather than being just a pipe-dream or a bike that we would see 50 years down the line. The Suzuki Recursion fits in with the growing trend of riders seeking smaller bikes that still offer a big punch. We're seeing a trend in the automobile industry where supercar manufacturers are moving away from large V12 engines in favor of supercharged V8's, and this bike is somewhat similar. It's positioned as a small to mid-sized motorcycle that's compact, yet it's still a solid performer with its turbocharged 588cc parallel-twin engine. So while it doesn't fly or is powered by liquid hydrogen, it's still a concept vehicle, and one that could actually be produced realistically.
Photo from motorcyclistonline.com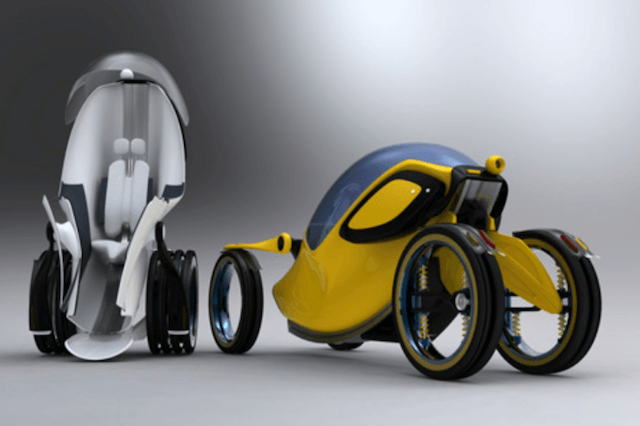 3. The Scarab Motorcycle 
Designed by David Miguel Moreira Gonçalves, the Scarab Motorcycle combines the ideas presented by The Moon and the Halbo. So not only is it a small, practical, and compact solution for urban travel, it's also an enclosed vehicle. Despite the fact that it has four wheels, the Scarab is not a car. It would be made with composite materials and sport an electric or fuel cell engine, which makes it environmentally friendly as well. The Scarab can also "transform" from it's riding position into a more upright position that's ideal for storage. While it's just a design concept, a bike like the Scarab could potentially be yet another great solution for commuters living in large cities.
Photo from yankodesign.com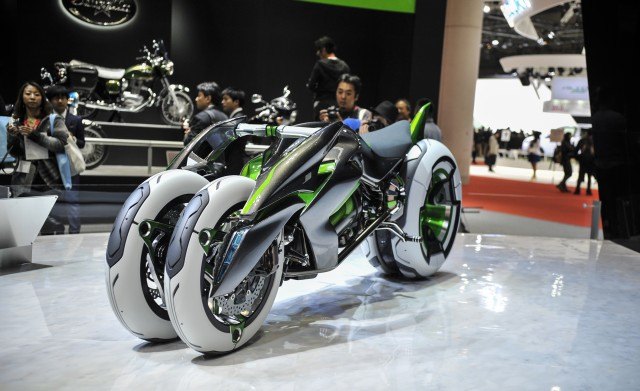 2. The Kawasaki J Concept
Unveiled in 2013, the Kawasaki J Concept is yet another interesting motorcycle that represents the future. It has pretty much all the features that a concept vehicle should poses: a futuristic design that's bold, new technologies, and new features. The bike features a three-wheel design and is powered entirely from an electric motor. It has a unique frame that can sort of transform the bike. In the standard mode the rider is seated down low and rides the bike like a sport motorcycle. Then with the flip of a switch, the front wheels widen, giving the rider a more comfortable, upright riding position. While it's not exactly clear whether or not riders "need" a bike like this, the Kawasaki J Concept shows that the motorcycle can still be a very radical, envelope-pushing vehicle.
Photo by Keith Tsuji/Getty Images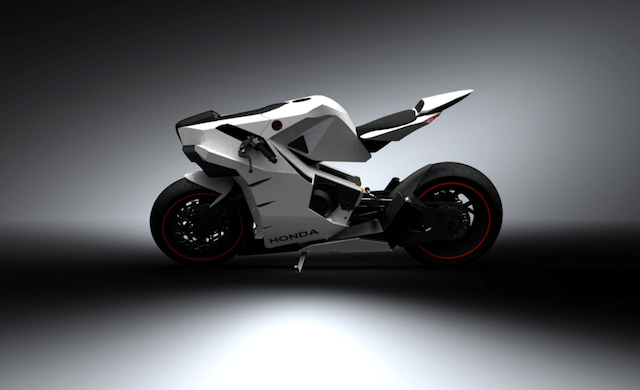 1. The Honda CB750 Concept
The Honda CB750 was created outside of Honda by designer and visionary Igor Chak. While it hasn't been made into a real bike, it represents what a bike from the future could be like, like all concept vehicles. Igor asked himself "what would happen if you went all out with designing a bike", and the CB750 Concept was the result. Obviously, at first glance, the bike has a very futuristic design. It has aggressive lines, a floating seat, and it just looks like no other bike. But at the same time, the design isn't so far-fetched and you could theoretically make a bike that looks like this. The CB750 would be constructed from carbon fibre, titanium, and aluminum, which would make it extremely rigid and lightweight. However the most interesting detail about this bike is it's engine. Instead of a conventional combustion engine, the CB750 sports a 750cc liquid hydrogen engine. That would make this bike not only environmentally friendly, but a bike that can perform like supercars. It also would feature an advance on-board computer system that's controlled by a touch-screen interface. While it's never been produced, the Honda CB750 represents the future of motorcycles in nearly all aspects.
Photo from hdwallpapersos.com