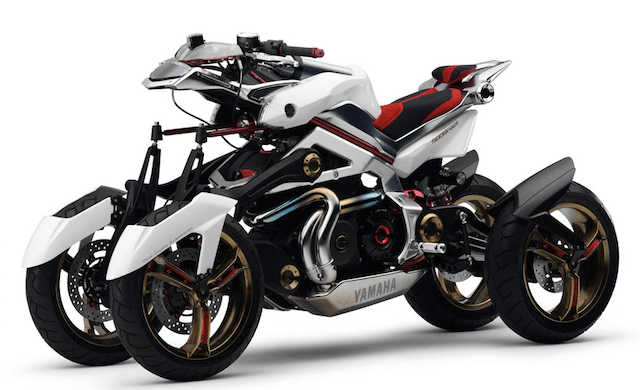 Since its inception, the motorcycle has gone largely unchanged over the years. Sure we've seen them become more powerful, lighter in weight, and have on-board LCD displays, but they've really stayed the same. It would seem that there isn't a whole lot you can do to change a vehicle that has two wheels, a motor, and a pair of handlebars but like cars, motorcycle companies also create concept vehicles. These concept bikes attempt to redefine the motorcycle as a whole and we've seen some pretty cool ones over the years. However like all concept vehicles, by their very nature these machines will never hit mass production. But we can always hope. Here are ten concept bikes that we would love to see become a reality.
Photo from blog.motorcycle.com
10. The Honda Stateline "Slammer" Bagger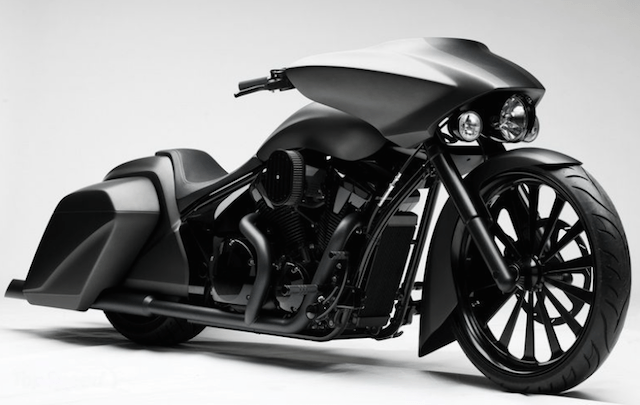 If Darth Vader was a motorcycle enthusiast, he would probably ride the Honda Stateline "Slammer" Bagger. While the design is nothing ground breaking, it's minimal look and sleek lines make it very attractive. Honda released this concept bike back in 2011 and based it on their standard Stateline motorcycle. The bike features an air ride suspension, a VT1300cc engine, and custom 23-inch wheels in addition to custom bodywork.
Photo from topspeed.com 
9. The Scarab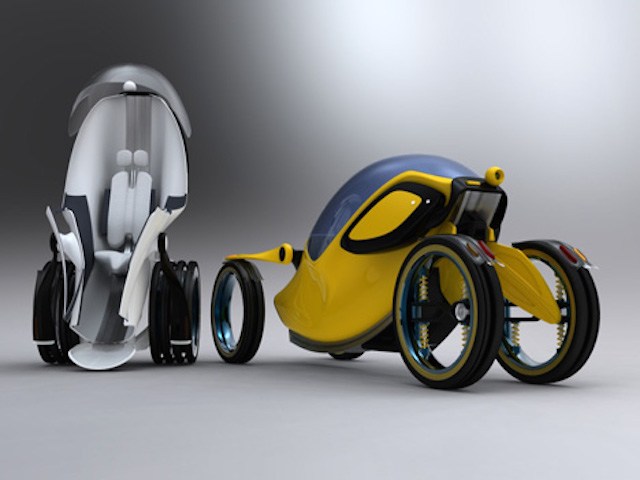 Designer David Miguel Moreira Gonçalves came up with the designs for his Scarab motorcycle; a bike that he envisioned for urban environments. It's very futuristic looking and it actually features four wheels. Still despite the two extra wheels, it's not large enough to be considered a car. It's designed in a way where it can fold completely upright to allow it to be as compact as possible, making it perfect for cities around the world.
Photo from yankodesign.com
8. The Speed Racer "Alien"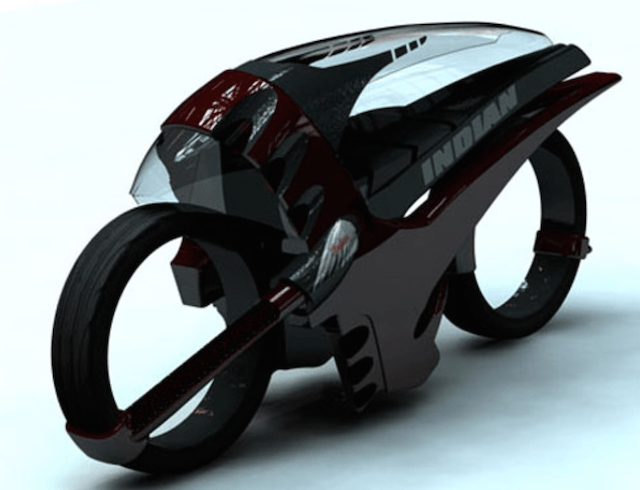 Designed by Dan Bailey and nicknamed the "Alien", this concept bike is one of the most interesting looking ones that we have ever seen. The bike features the specs of a Kawasaki Ninja, meaning that it's plenty fast, yet it certainly looks like something an alien would ride. Unfortunately it's just a design as no bike has ever been produced, but needless to say we would love to see a real one.
Photo from tuvie.com
7. The Husqvarna Svartpilen 401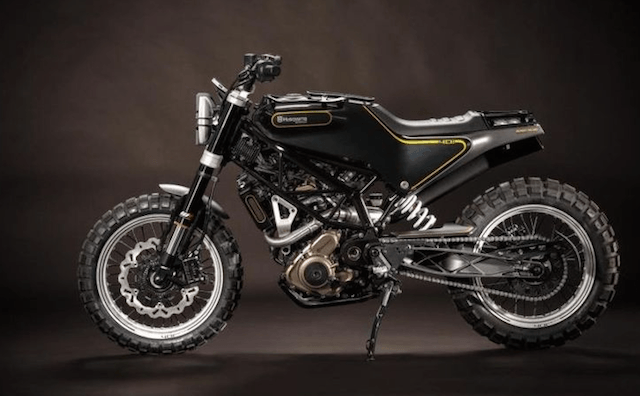 Last year Husqvarna, a Swedish motorcycle company, released this beauty known as the Svartpilen. If any bike on our list could realistically be produced, it would be this one. It eloquently combines classic and modern styling in a way that is certainly very attractive. It has a 400cc, 43hp engine that provides power and it could theoretically be used on and off-road. But above all else, it just looks really good. 
Photo from Husqvarna
6. The Swordfish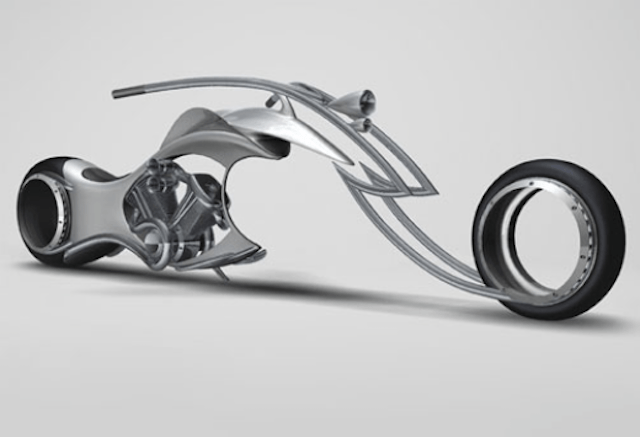 Those who like choppers would probably love to see the Swordfish hit production. Designed by Alexander Kotlyarevsky, the Swordfish is certainly a very unique bike. It's long front end, interesting wheels, and the mixture of sharp and subtle curves truly make this design one-of-a-kind. But like a few other bikes on our list, so far this has never been produced into a real bike.
Photo from gizmodo.com
5. The Dodge Tomahawk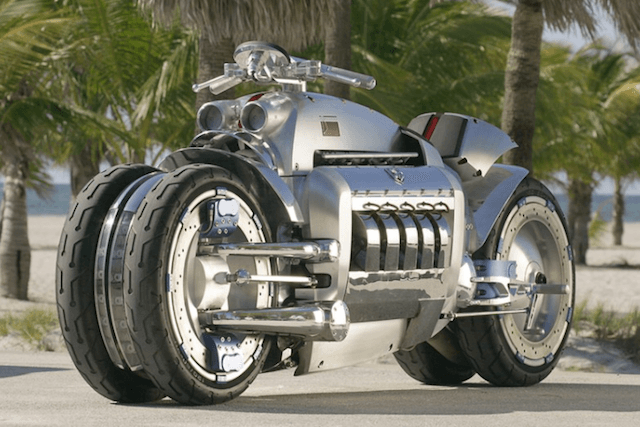 The Tomahawk was a concept bike that Dodge introduced back in 2003. It's unique design and appearance made it very attractive, and it looks like something out of a comic book. However the most impressive feature of this bike is the engine. Dodge took the 8.3-liter, 500hp V10 engine from their Viper and put it into this bad boy. They claimed that it could exceed speeds over 400mph, however it's not street-legal and has never been ridden over 100mph.
Photo from 2016carspictures.com
4. The "Ferrari" V4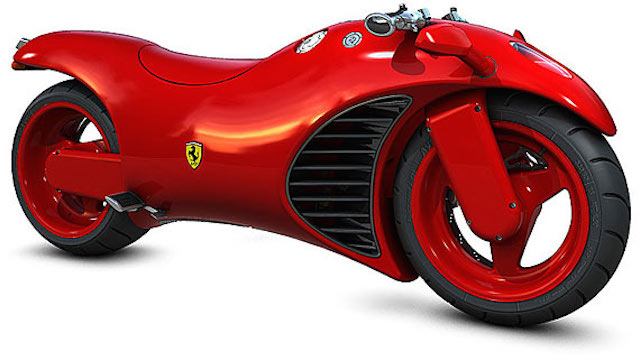 Have you ever wondered what a motorcycle produced by Ferrari would look like? Well so did designer Amir Glinik, so he came up with this bike known as the Ferrari V4. It's inspired by the classic Ferraris from the 1960's and 1970's, and it certainly is aesthetically pleasing to the eye. However it's very unlikely that this will ever be made into a real motorcycle.
Photo from coolmaterial.com
3. The Yamaha Tesseract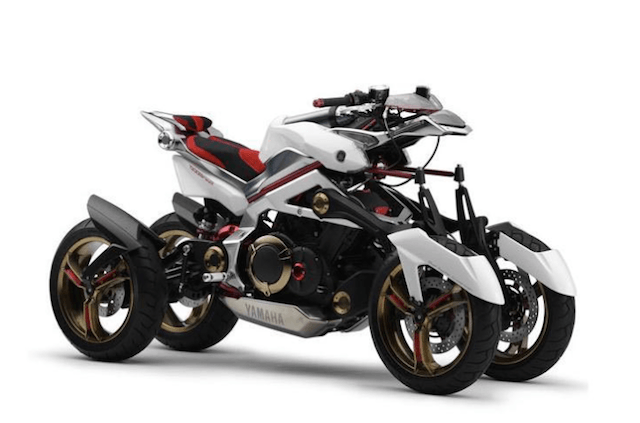 The Yamaha Tesseract is a concept, quad-motorcycle that Yamaha created in 2007. The bike features a very aggressive appearance and obviously four wheels. The real interesting thing is that the four wheels are able to lean depending on how the rider turns the bike. This would theoretically make for a unique ride, but the bike has never been mass produced.
Photo from thefutureofthings.com
2. The Icare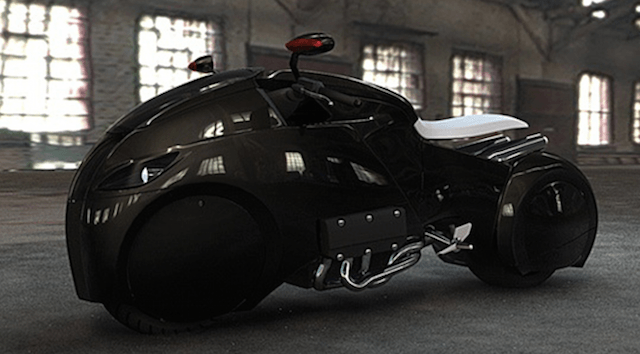 Created by Enzyme Design, the Icare is a very unique and awesome looking motorcycle. It's powered by a standard Honda flat-six engine, but like nearly all concept bikes, they really attractive thing is its looks. The bike looks super futuristic and seems like it would be ones of those bikes from the movie Tron.
Photo from enzyme-design.com
1. The Honda CB750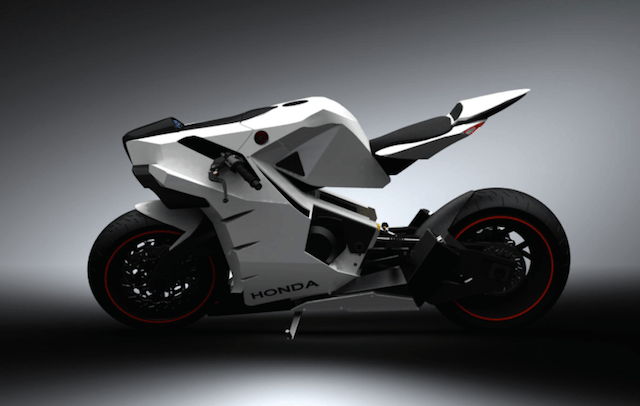 Unveiled earlier this year, the CB750 is the newest concept motorcycle from Honda, and it's probably my favorite on the list. It's futuristic and aggressive looking, yet it's actually feasible to produce unlike some of the others on our list. It features carbon fiber parts, aluminum components, and a titanium frame in addition to a four-cylinder, liquid hydrogen engine. It has an onboard computer system and plenty of other futuristic gizmos, but again like the other bikes, it just looks so cool. 
Photo from hdwallpapersos.com