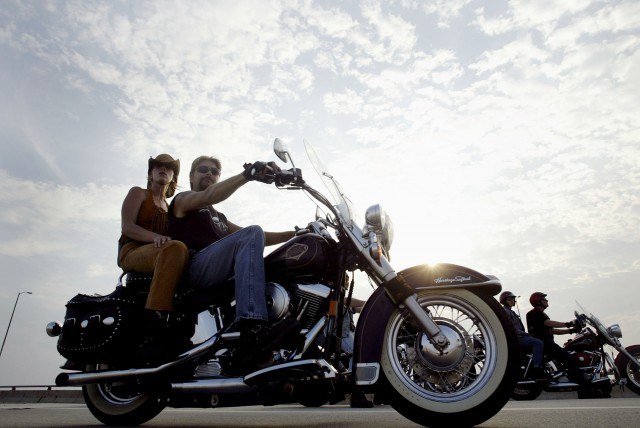 The 1990s will be a decade that will be remembered in similar ways as the 1960s and the 1970s are. The 90s were a span of years that produced some incredible music, vibrant culture, and a range of other important events. It was the time that the internet was created and when personal computers became popularized. It was also an incredible decade for motorcycles. The motorcycle has been around for over a century and the 1990s were a very important decade for motorcycles and motorcycle riders. It was a time when a motorcycle was not just the vehicle of an "outlaw" but something that can be used by anyone. It was also a time that the modern sport bike arguably came into its own. There were many great motorcycles produced during these years, but a few standout as some of the greatest. Here we will take a look at a list of the ten best motorcycles from the 1990s, in no particular order.
Photo by Scott Olson/Getty Images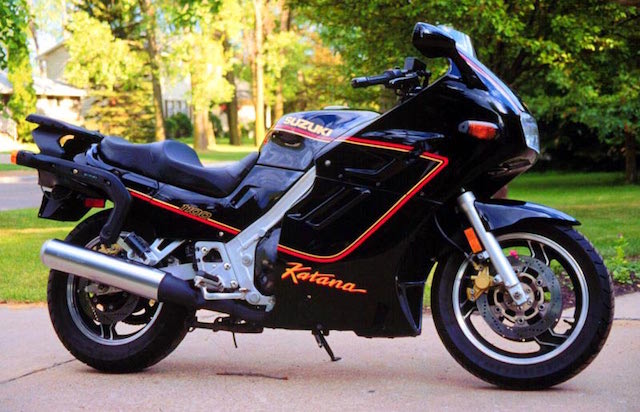 10. The Suzuki GSX1100F Katana
The Suzuki Katana was first conceived all the way back in 1979 and it quickly became one of the companies more popular sport bikes. The Katana models from the 1990's were some of the more popular iterations of this bike, and they possessed nearly all of the qualities that a sport bike should have. It had a sleek and aerodynamic design, it had a low ground clearance, and a powerful 1,127cc inline-4 DOHC engine that delivers 136 hp at 9,500 rpm. Like many Suzuki's, the GSX1100F Katana was fast, practical, and extremely affordable which made it a very popular bike from this era.
Photo from Suzukicycles.com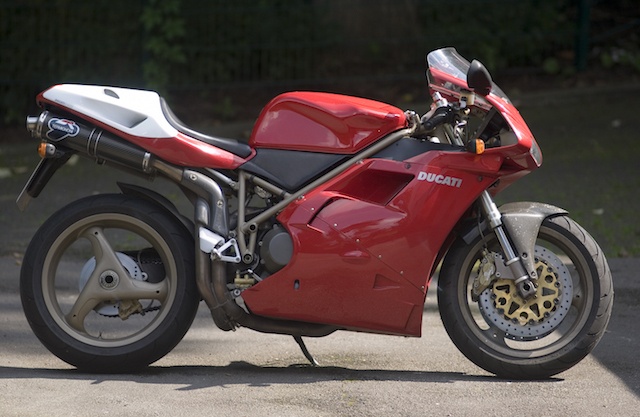 9. The Ducati 916 
Ducati has always been an industry leader in motorcycles, and are easily the most popular Italian manufacturer. The Ducati name is associated with speed and terrific looking bikes, and the 916 is evident of that. These bikes were produced from 1994 to 1998 and were very popular amongst motorcycle enthusiast and the bikes secured a number of wins for the brand. The 916 featured a 6-speed transmission and a 916cc liquid-cooled V-twin engine. Depending on the model, the 916 was able to achieve top speeds of around 160 mph which made it an absolute beast. But more importantly the bikes design is arguably one of its greatest features, as the design has lived on to this day.
Photo from ScuderiaAssindia/Wikipedia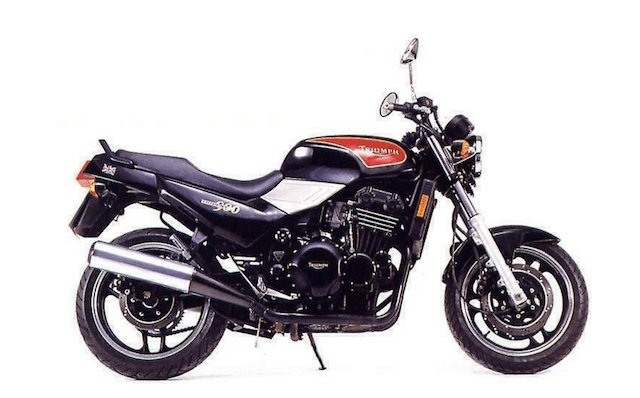 8. The Triumph Trident 900
Triumph is one of my personal favorite motorcycle brands, and their Trident 900 was another great bike from the 1990s. While they are best known for their Bonneville's, the Trident 900 stands out for a few reasons. Namely the Trident 900 incorporates Triump's iconic bike design with a truly powerful motor. It's rocking a unique 885cc three-cylinder engine that pumps out 100 hp in total. It's comfortable, good looking, and an extremely versatile bike that's definitely one of the more memorable bikes from the 1990s.
Photo from motorcyclenews.com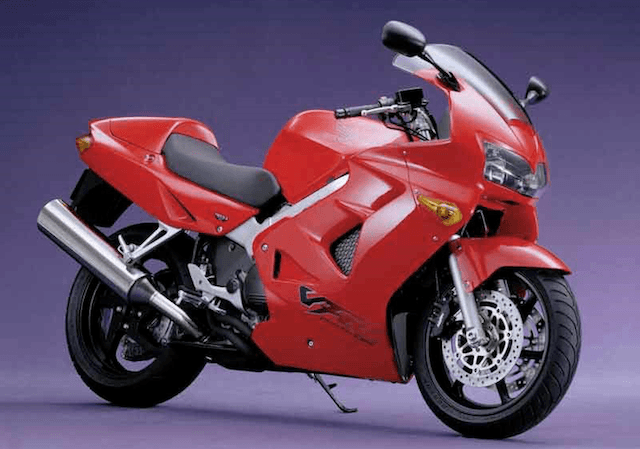 7. The Honda VFR800 
The 1980s ushered in an era where Japanese bikes were actually taken very seriously, and the 1990s only continued this trend. Produced from 1998 to 2001, the Honda VFR800 sport/super sport tourer is often considered one of the greatest motorcycles that Honda has ever made. Between it's aggressive styling and it's powerful 782cc DOHC V4 engine that offers 104 hp at 10,250 rpm, the VFR800 was extremely popular amongst anyone that wanted to go fast. It was affordable and easy to ride in nearly all situations, which made it an instant classic. The bike was so successful that Honda still produces variants of this bike even to this day.
Photo from motorcyclenews.com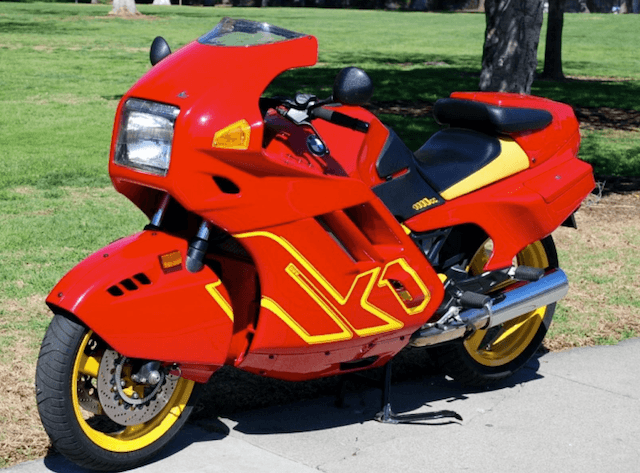 6. The BMW K1
If there's any motorcycle on our list that just screams the 90s, it would be the BMW K1. BMW first made motorcycles before they started building cars, so they have a strong history in this field. Production of the BMW K1 began in 1988 and went up until 1993. It was designed the be a comfortable sports tourer that was specifically developed with one road in mind: the autobahn. It featured a unique design made from glass fibre coupled with a powerful 987cc four-cylinder DOHC engine that delivers 95 hp in total. BMW wanted this bike to redefine what a BMW motorcycle was, and it certainly did just that. It was a polarizing bike for sure, but it's design is so distinctly 90s that we had to include it.
Photo from moto.zombdrive.com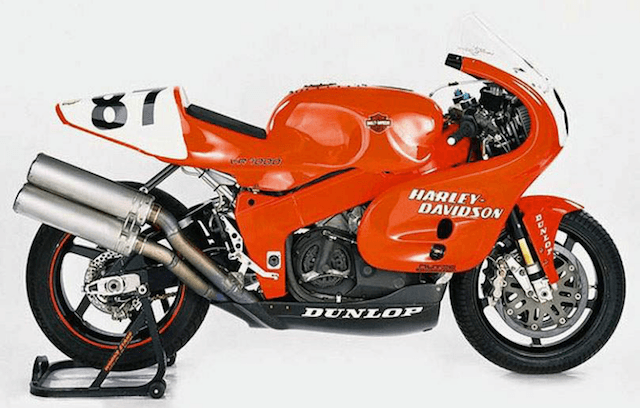 5. The Harley-Davidson VR 1000
Harley-Davidson first introduced the VR 1000 in 1994 and it is easily one of their most important motorcycles from that decade. The bike incorporates a very different design that was never seen on a Harley up until that point. It had a 1,000cc four-stroke DOHC V-twin engine that was able to pump out 135 hp at 10,000 rpms. The bike was extremely quick and could hit speeds of 170 mph easily. The reason this bike is so important is because the VR 1000 was truly the first 100% racing motorcycle that Harley had ever made. Before this bike, all of their other racing motorcycles were just modified cruisers while this one was constructed entirely for the purpose of racing from the get-go. While it's racing career still wasn't that successful, it was a very important motorcycle none the less.
Photo from motorcyclespecs.co.za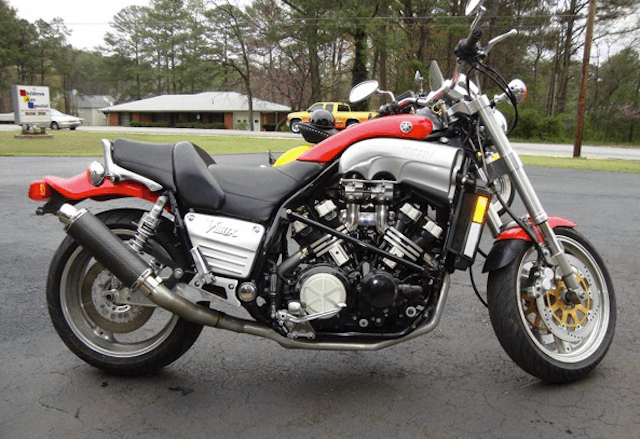 4. The Yamaha V-Max
If you were someone that wanted a cruiser style motorcycle from a Japanese brand in the 90s, your choice were very limited. However the one bike that stands out the most would by the V-Max from Yamaha. It was first unveiled back in 1985, but production continues to this day, and the models produced during the 90s are still some of the best from that decade. This was the bike used in the original Mad Max film, so that alone should tell you how cool it is. With it's 1,197cc V4 engine that delivered 102 bhp, the V-Max was one of the only cruising bikes that could smoke sport bikes in drag races.
Photo from ridelust.com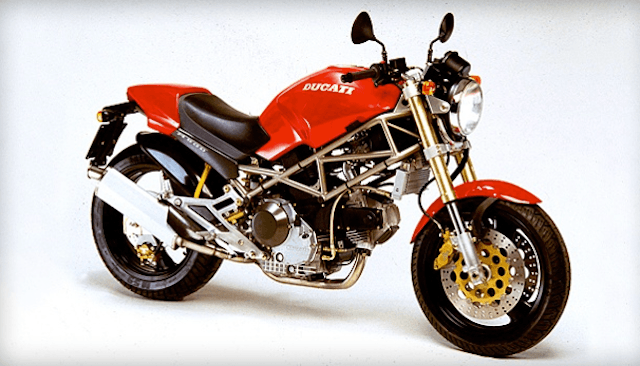 3. The Ducati Monster 900
Ducati began toying with prototypes of the Monster in the early 1990s, and in 1993 they officially unveiled the Monster 900. It's credited as the first "naked" motorcycle that combines a cruiser-esque design with the performance and handling of a sports bike. When this bike was launched it took the world by storm, as no one had ever seen a bike quite like it. If you look at Ducati's current offerings today you will not only see new versions of the Monster, but bikes that look very similar. It was with the Monster 900 that Ducati truly pioneered their naked design which is now a design that is synonymous with the brand.
Photo from Ducati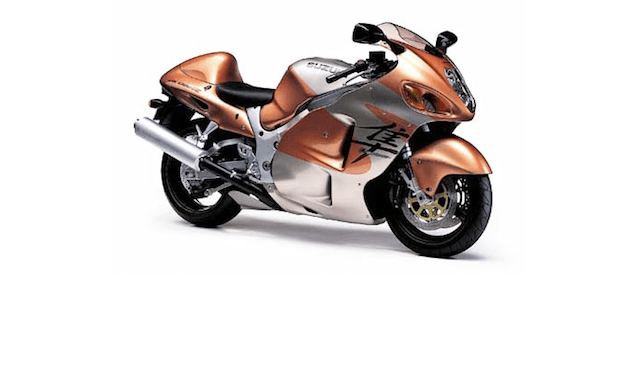 2. The Suzuki Hayabusa 
Japanese sport bikes really took off during the 1990's as all the major brands fought to produce extremely impressive machines. Then in 1999 Suzuki unveiled the Hayabusa, and everything changed. As soon as it was unveiled it immediately turned heads because of its design, but this bike was special for a different reason. The original Hayabusa featured a 1,299cc inline-four engine that was able to deliver an absurd 173 bhp. The bike was recorded by a few different sources to top out at either 188mph or 194mph. While that official time is disputed, the Hayabusa was the fastest production motorcycle ever made. Suzuki still makes the Hayabusa to this day and it is still within the top five all-time fastest motorcycles.
Photo from suzukicycles.org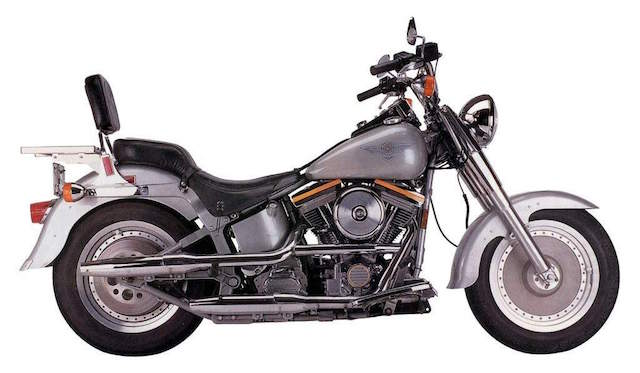 1. The Harley-Davidson FLSTF Fat Boy 
Another standout bike from the 1990s was the Harley-Davidson FLSTF Fat Boy. During the late 1980s Harley-Davidson began to loose their grip on the market and needed to create a bike that would help the brand. They introduced the Fat Boy in 1990 and it quickly became an instant hit, and it helped Harley-Davidson dominate the heavy bike market. It had a 1,338cc four-stroke V-twin engine that offered 48.6 hp in total. Harley's have never really been about speed, rather classic American cruisers, and the Fat Boy embodies pretty much everything Harley-Davidson stands for. The bike was so popular that various iterations of the Fat Boy still exist to this very day. Even the original Fat Boys from 1990 can still cost more money used than some new bikes cost today; they're just loved that much.
Photo from motorcyclespecs.co.za