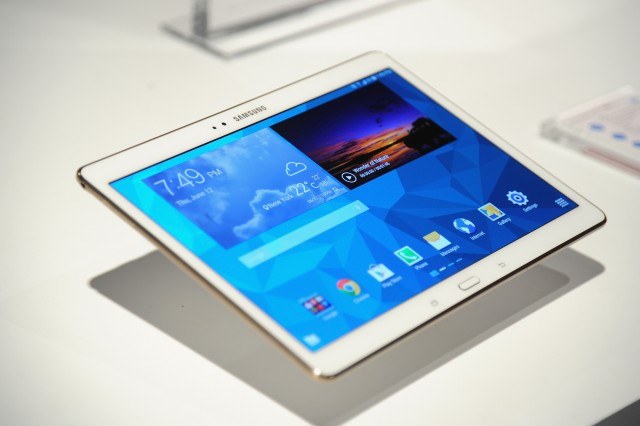 Every year Samsung produces a wide range of different cellphones and tablets, arguably more than any other company currently involved in the mobile computing industry. No seriously, they are looking to cut back their product line about 30% for 2015 as they have just too many devices. Well within their diverse product line are the Galaxy Tab S tablets, which are their flagship tablets, and the newest ones currently on the market. Within the Galaxy Tab S series are two tablets: one that is 10.5 inches and one that is 8.4 inches. These tablets are certainly premium tablets that are meant to compete with Apple's iPads. Samsung has produced a variety of tablets over the years, but these are arguably the best ones yet.
Outside of the two tablets different screen size, under the hood these tablets are pretty much the same. Both devices pack a Samsung Exynos 5 Octa CPU and manages to combine both a 1.9GHz and a 1.3GHz quad-core processor. Most of the tablets performance is handled with the 1.3GHz side, however it switches to the 1.9GHz when you need the extra processing power. The tablets have 3GB of ram, 16GB of internal memory, an 8MP rear camera and a 2.1MP front facing camera, and finally a Super AMOLED screen that packs an impressive resolution of 2560 x 1600. Samsung is well known to make some of the best screens on the market, since they also produce monitors and televisions, and the screen that they placed on these tablets are arguably the best to be found on a tablet right now. The 8.4 inch model is priced at $399 while the larger 10.5 inch model is priced at $499.
So outside of numbers, if you are familiar with Samsung's TouchWiz user interface that is placed over Android, then you will feel right at home. Samsung is well known for packing in all the bells and whistles in their version of Android, and that holds true with these tablets. You'll find a fingerprint scanner, screen splitting modes, advanced multitasking options, gesture based dictation, and so much more.
Tablets are kind of strange, and are definitely a luxury item. It is hard, at least for me, to rationalize why I need a tablet when I already have a laptop and a smartphone. Pretty much all tablets do virtually the same things that smartphones do, just on a blown up screen. In terms of processing power, a computer will always win over a tablet. Tablets are primarily used to consume media: browse Facebook or watch Netflix in bed. With regards to that, these tablets are an easy buy since the screen is just so good on them. The Galaxy Tab S tablets have a lot to offer, and are currently some of the better tablets on the market however fewer people are buying larger, premium tablets in favor of more affordable smaller ones. So for many people the price tag that these tablets have are not worth it, even though they are still great products.
Photo by Bryan Bedder/Getty Images for Samsung