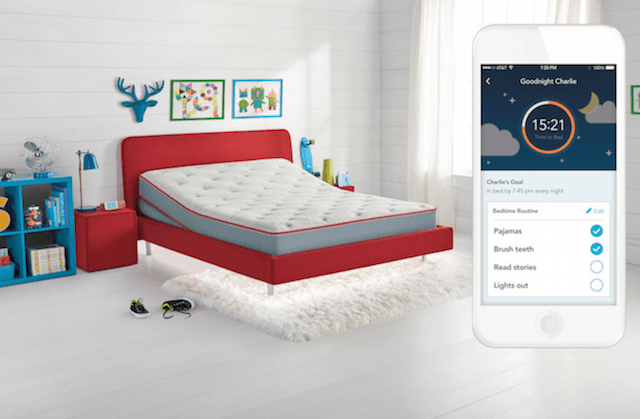 Most of the products that are unveiled at CES are typically cell phones, computers, and televisions but there are also some very unique products shown off as well. We've seen smart phones, smart TV's, smart watches, and now we see smart beds. The popular bed company, Sleep Number, showed up this year and showed of its very interesting smart bed for kids. The company originally unveiled their Sleep IQ bed last year for adults, and this year they are folloing it up with a model made for children.
Sleep Number is calling it the Sleep IQ Kids, and it is arguably the most advanced bed ever made. In addition the the ability to raise and lower parts of the bed and the ability to control the comfort levels, Sleep Number have also outfitted the bed with a variety of sensors and monitors to record information. When you connect a smartphone, tablet, or computer to the bed you can control and monitor many things. For one the bed will let you know the sleep cycle of your children and if they get out of the bed at any period during the night. The bed can also monitor your child's breathing and heart rates, in addition to other things.
For the kids there is a series of lights under the bed. When they get out of the bed, the lights turn on allowing them to safely see the floor and monitor any potential monsters that might be lurking underneath. Sleep Number hopes this bed will not only allow parents to monitor their child's sleep better, but also make bedtime and enjoyable part of the day for kids The Sleep IQ Kids bed will be available in twin, full, and queen sized mattresses. The beds are also fairly expensive as they start at $1,000 for just the mattress alone.
Photo from Sleep Number