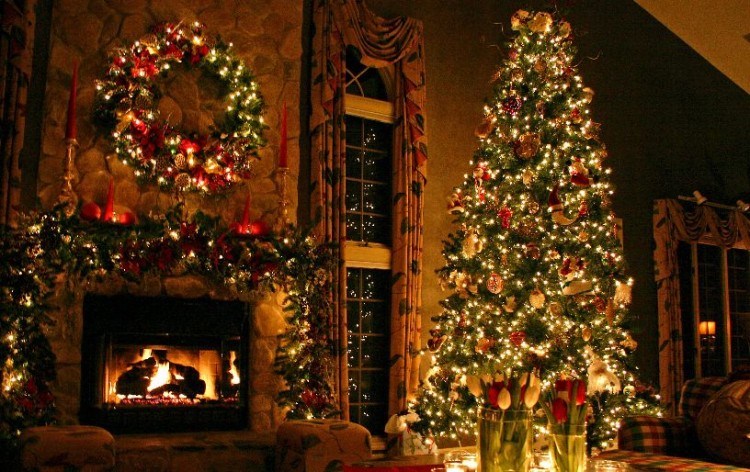 Christmas time is a magical time for the family. Children are awed around Christmas time and the whole country is aglow with thoughts of the season. The music, TV programs, and decorations around the town or city also lend to the air that something special is on the way. Decorating the home also adds to the magic of the season and everyone can join in on the feeling that Christmas has arrived at home.
Decorating the Tree
Naturally, the center of the home's Christmas decor is going to be the tree. It could be a natural one, or an artificial one with everything already in place. Something more exotic and unexpected could be achieved, though, if the tree were more modern. Create your own tree or decide to make it very different from last year. Take a few moments to ensure good color combinations to match your other decorations around the home.
The Tree's Ornaments
The ornaments for your tree can be a single color to contrast with the color of your tree, or they can be varied in color. Bows or ribbons can be added, too. The ornaments can be simple round colored bulbs, or you can get more elaborate decorations that are unique, in silver or gold tones, and handcrafted. Jewelers often make special collector sets of tree ornaments, adding pearls, glass beads, and more, with gold, silver, or platinum, making your tree a real conversation piece when the family, friends and relatives arrive for the festivities.
Special Lights
Christmas is always made a little more special by the warm glow of lights. Easy festive lights such as the Tree Dazzler can be a spectacular sight, especially when combined with rich and beautiful tree ornaments.
Strings of lights can be added to fireplaces, railings, the edge of bookcases, doorways, window frames, or even hanging from the ceiling to form a tree, or anything else. Special strings of lights can be added outside, letting you greet your guests with warm Christmas lighting.
Candles can be placed to add beautiful lights around the room. Of course, they need to be out of the reach of young children, and away from flammable decorations. Many stand-up decorations are now intended to be supplemented by tea lights, such as deer, trees, and more. You may or may not want to use scented candles, but be aware that some people are sensitive to them. An alternative would be to bake some cookies or pies shortly before your guests arrive to add to the season's joys. It will certainly get them looking forward to eating.
Table Centerpieces
Decorating the table for the holiday festivities can be simple. To start with, a decorative Christmas tablecloth could be used on either your primary table, or on a table specially set up for the food or deserts. Make sure the colors match your other decorations in the room. Once again, decorative candles can be used to add to the decorations on the table. Use food bowls that supplement the Christmas colors, as well as placemats and napkins. Greenery can be added to the table, too.
For a more luxurious look to your table, designer placemats can be purchased, and gold plates and napkin rings, too. Decorative small red flower arrangements can also be added. To complete the rich decorations, a silver ice bucket and tongs, as well as candelabra – all diamond encrusted – can add to the magnificent sparkle on your table.
Greenery
Depending on your other decorations, greenery can be added almost anywhere. You can put it in wreaths, which can go on your door and windows, or as a decoration on the walls. Greenery can also be added on railings, your fireplace, windowsills, and more.
Personal Decorations
One more thing is needed to make the decorations perfect. Mom needs a special brooch to help her get in mood for the season. She will be glad to wear it and show it off to her friends.
Don't forget to add the stockings to the fireplace – if you have one. Each child or grandchild can have his or her stocking with their name on it.
The Food
The thing that makes the festivities of Christmas fun is being together as a family – and having the right kind of food. Some of it can also have Christmas colors to add to the joy of the season. This goes for the desserts, the cookies, some of the special dishes, and more. And of course, there has to be some special foods that are usually seen during the holidays.
Christmas is a special time of year. Decorating is certainly a part of the celebration, and making it memorable will help ensure the family keeps coming around at Christmas time for food and fun times.