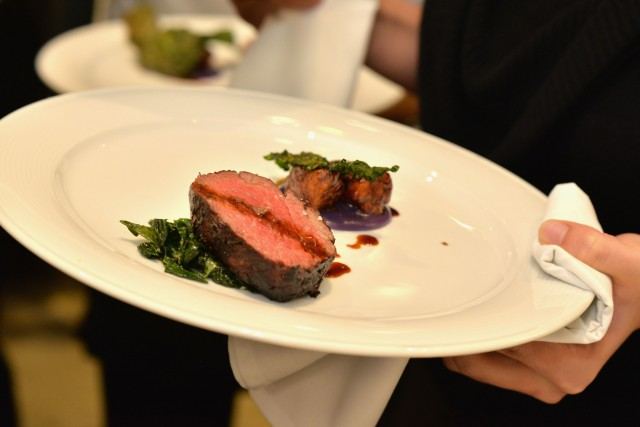 A finely cooked steak is often considered to be one of the most enjoyable meals that money can buy. Steaks come in all different flavors and sizes, from a variety of different cuts of meat. We all know that steak is among some of the more expensive dishes that you can order when dining out, so what are some of the most expensive steaks of all-time? When we are looking at the most expensive steaks, we are dealing with meat that comes from Wagyu cattle, like Kobe steaks for example. These cattle have a natural disposition for great tasting meat because they have a high percentage of unsaturated fat and are raised in very specific manners to yield quality beef, which is why all of the steaks on our list come from Wagyu cows.
5. The Select Special Kobe Fillet – $246
The first steak on our list can be found at the Renga-tei Steak Restaurant in the location that started it all: Kobe, Japan. This 5.6-ounce steak is wrapped in fine Japanese paper and then is cooked on a copper and iron grill. The steak comes with salmon, a salad, and a desert. Aside from tasting amazing, the real attraction here is that you get to visit the area that spawned the best tasting steaks in the entire world.
4. The Charbroiled Kobe Filet – $258
Offered at Aragawa, a restaurant located in Tokyo, this charbroiled Kobe filet is one of the most expensive steaks out there. The steak weighs 8-ounces and is sourced from local Wagyu farms. They serve this steak exactly how it should be: minimally seasoned with salt, pepper, and mustard. With a steak like this, you don't want a complicated seasoning so you can experience the true taste of the meat as it was intended to be.
3. The Fullblood Wagyu Tenderloin – $295
The GPO Grand steakhouse in Sydney also serves up a pretty delicious (and expensive) steak. The meat is sourced from local Wagyu cows that have been grain fed for 600 days and it has a marble score of 9+ (the highest score you can get outside of Japan). The steak weighs in at a large 14.1-ounces and is intended to feed two people.
2. The A5 Kobe Strip Steak – $350 
This is one of the most expensive steaks that you can get here in the States, and it is offered at the Old Homestead Steakhouse who have locations in New York, Las Vegas, and Atlantic City. The steak weights a whopping 12-ounces and is served up New York strip-style.
1. The "103" Wagyu Ribeye – $2,800
Cooked medium-well, the "103" Wagyu Ribeye was a custom ordered steak for a private party in New York a few years back. This isn't something that you can get at a restaurant, as it was a one-time deal. Chef Chris Albrecht prepared the steak for the party and it weighed in at an insane 40-pounds.
 Photo by Dylan Rives/Getty Images