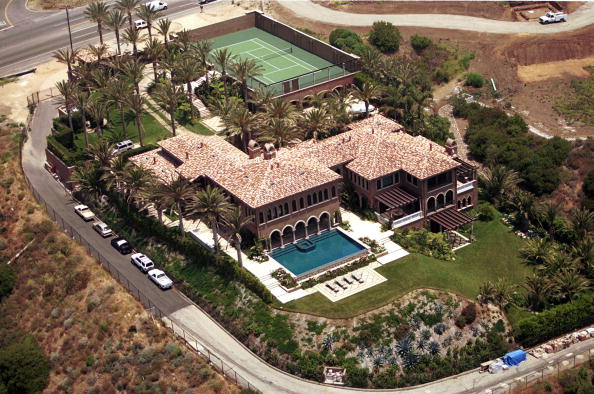 Not only do some of our favorite celebrities get to play sports, act or sing for a living, but they get paid handsomely in order to do so. And while their financial planners might not love the idea of dropping it on a house, they often reinvent what is possible to be built in and around a home. Which celebs have the most expensive pad, though? Well keep reading and you'll see the ones who have a piece of real estate on the market right now—and carry quite the price tag.
5. Spike Lee – New York City, $32 Million
Writer/Director Spike Lee is New York through and through, so it's no surprise that he has a number of different properties in the city. His estate on East 63rd Avenue is the one with the large price, though, which Lee is looking for double what he bought it for back in 1998.
4. Jon Bon Jovi – New York City, $39.9 Million
After dropping the price nearly $3 million in the past year, the rock legend is still set to earn quite the return on his near 7,500-sqaure-foot condo on the famed Mercer Street in New York City. Getting that much room in the city, complete with three landscaped terraces and two chef's kitchens is a luxury that definitely comes with a price tag.
3. Tom Brady and Gisele Bunchen – Los Angeles, $50 Million
The supermodel and future Hall of Fame quarterback have done quite well for themselves, with news breaking out just a few days ago that an L.A. house they built just a year ago was on the market for $50 million. That's a lot a coin for a house, but if it gives the buyer the aura of success like Brady and Gisele, than it might actually be worth it.
2. Richard Gere – North Haven, N.Y., $65 Million
With over 12,000-square-feet, this house of veteran actor Richard Gere better be looking to land a big family, because that's a heck of a lot of room to fill. Boasting 12 beds and bathrooms, the 1902 manor has been updated and reconstructed to fill it with state-of-the-art appliances and luxuries, as well as having some breathtaking views of of the private Long Island lake that surrounds it.
1. Celine Dion – Jupiter Island, Fla., $72.5 Million
No, that's not a typo. Though she probably has trouble finding any future buyer on her place, Canadian singer Cline Dion has her sunny house in Florida listed at a cool $72.5 million. Seeing that the estate includes two separate homes, worth $12.5 million and $7 million respectively, a water park and three pools, maybe she'll sell it to someone hoping to build a resort for people to rent on vacation?
Photo by Jason Kirk/Getty Images