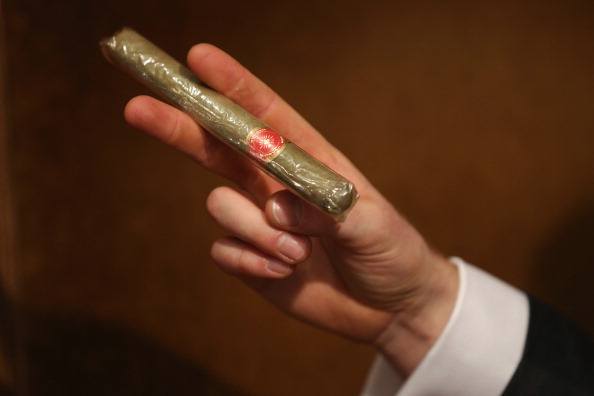 Where you find a cigar enthusiast you are bound to find the finer things in life. Whether an avid smoker or simply a collector, you must have a healthy bank account to purchase them on a regular basis. In fact, cigarette smokers are a bit shocked when they discover the cost of a single sought after cigar. It may not seem like this habit could be that expensive, but remember the prices reflected here are for 1 (one) single cigar. For a chain smoker this can be a quite pricey habit.
1. Gukha Black Dragon – $1,150
The most expensive cigar on the market today, this cigar is available super sized at 8.5 inches long and 52 inch ring size. They are a rare find as only select cigar shops carry them. An interesting fact about this cigar is that when they were first produced the company only created 5 unique hand carved boxes made from camel bone, and they were much more expensive. In 2007, they decided to make it more accessible to the common folk, and released a cheaper version at a reduced price of $1,150 dollars.
2. His Majesty's Reserve – $750
Less than 100 boxes of this popular cigar are made yearly. It starts with the finest tobaccos in all the world. The tobacco is rolled and the cigar is then soaked in Louis XIII cognac to create the perfect smoothness. You can buy this brand as a single stick. However, if you need a whole box, expect to pay no less than $15,000 dollars.
3. Cohiba Behike -$450
When it first hit the market way back in 2006, the company only manufactured 100 pieces. The plan now is to release various brands of the same cigar tailored to those on a tighter budget. The current cigar measures about 7.5 inches long, with a 52 inch ring size.
4. Arturo Fuente Opus X "A" – $79.00
With a length of 9.2 inches and a ring size of 43 inches this collection though not the most expensive on the market today, is the most rare. If you find it, it will always be sold in a single stick. You are more likely to find in at an on-line cigar shop, rather than taking your chances with your local store.
5. Fuente Don Arturo AnniverXario – $78.00
This cigar created in 2001, was kept a secret and released to the public in 2008. You'll pay a pretty penny (around $7,500) dollars for a box of 46 of these cigars. However, you are sure to be the envy of all your friends.
6. King of Denmark – $75.00
In one day this company only produces about 30 of these precious cigars, which speaks volumes as to how rare they can be. They are almost always made to order. The normal packaging will come in gold foil with your name on it, for a unique personal touch. If you have the extra cash laying around you may also spring for a gold and silver crown added to the packaging to the tune of $4,500 dollars.
7. Arturo Fuente Opus X BBMF – $55.00
Obviously Arturo Fuente has the cigar market on lock down when it comes to the most expensive and popular cigars, offering cigars at various price points. This cigar is considered a treasure to collectors. Count your lucky stars if you can find it in your local cigar shop, and snap it up as quickly as you can because it will not be on the shelf for very long. By the way, the BBMF stands for Big Bad Mother F#cker. That name alone would make even a non-smoker take at least one puff.
8. Louixs – $50.00
When taking up cigar smoking for the first time consider this as your first. It has been praised by critics as the finest money can buy. With a price tag of $50.00 dollars, it certainly shouldn't break the bank account either, should you decide that cigar smoking just isn't for you.
9. Stradavarious – $34.70
You can normally find this in a box containing 10 sticks. The distinctive taste can be traced back to Mexico and the Dominican Republic.
10. Cohiba Esplendido – $34.00
This is a popular cigar as it is Cuban. Now, avid cigar smokers are aware that for some reason Cuban cigars are illegal in the U.S. This particular cigar has been keeping up appearances since the 1960's. It is produced in Havana, Cuba and is normally sold in a package of 3 or a box of 25 somewhere in the range of $92.00- $750.00 dollars.
Image via Thinkstock