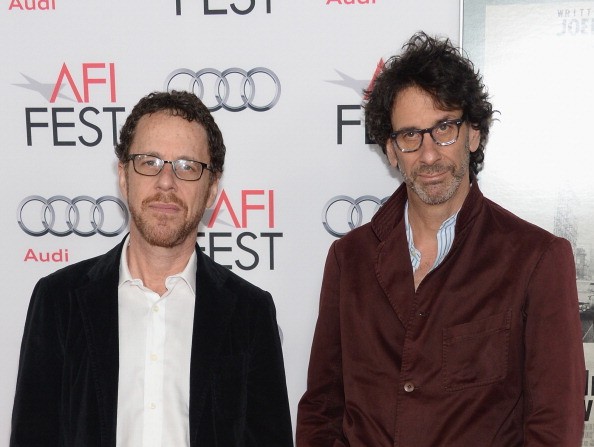 Joel and Ethan Coen, known informally as the Coen brothers, are Academy Award winning American film directors, screenwriters, producers, and editors. Their notable films include Blood Simple (1984), Raising Arizona (1987), Barton Fink (1991), Fargo (1992), The Big Lebowski (1998), O Brother, Where Art Thou? (2000), No Country for Old Men (2007), Burn After Reading (2008), A Serious Man (2009), True Grit (2010), and Inside Llewyn Davis (2013). The brothers write, direct, and produce their films jointly, although until 2004's The Ladykillers, Joel received sole credit for directing and Ethan for producing. Now, the brothers often alternate top billing for their screenplays while sharing film credits for editor under the alias Roderick Jaynes. The Coen brothers–who have a net worth of $100 million–have won six Academy Awards (out of 33 nominations), three Golden Globe Awards (out of 20 nominations), and six BAFTA Awards (out of 36 nominations) over the course of their 30-year career together. The brother's latest credited film is Unbroken, a film they helped write the screenplay for, that is directed by Angelina Jolie and set for a Christmas release. Their own written and directed film, Hail, Caesar!, along with their screenplay directed by Steven Spielberg, St. James Place, are both slated for 2015 release dates. Read on for the top five highest-grossing Coen brothers movies of all-time.
5. The Ladykillers – $76.75 million
This 2004 American black comedy/thriller was directed, written, produced, and edited by the Coen brothers. Starring Tom Hanks in the leading role as "Professor" Goldthwaite Higginson Dorr, a casino heist mastermind and the leader of a group of criminals, The Ladykillers is based on the 1955 British Ealing comedy film of the same name. The first film in which Joel and Ethan Coen share producing and directing credits, The Ladykillers received mixed reviews.
Video by TouchstoneOnDemand/YouTube.com
4. Intolerable Cruelty – $120.22 million
Released in 2003, Intolerable Cruelty is a romantic black comedy film co-written, produced, edited, and directed by Joel and Ethan Coen. George Clooney stars as Miles Massey, a top divorce attorney who is tasked with defending a wealthy cheating man (Edward Herrmann) from his wife (Catherine Zeta-Jones), whose primary objective is to obtain wealth and independence through divorce. Also starring Geoffrey Rush, Billy Bob Thornton, and Cedric the Entertainer, the film was a critical and commercial success.
Video by UniversalMovies/YouTube.com 
3. Burn After Reading – $161.13 million
Burn After Reading is a 2008 black comedy film written, produced, edited, and directed by the Coen brothers. With a star ensemble cast including George Clooney, Frances McDormand, John Malkovich, Tilda Swinton, Brad Pitt, Richard Jenkins, and J. K. Simmons, the film–which centers around a mysteriously lost CIA file–grossed $19.1 million in its opening weekend and received mostly positive reviews from film critics. Burn After Reading was nominated for Best Comedy or Musical at the 2009 Golden Globes.
Video by MOVIECLIPS Classic Trailers/YouTube.com
2. No Country for Old Men – $171.63 million
Considered by many to be one of the greatest films of the past decade, No Country for Old Men is a 2007 American neo-western thriller film directed, written, and edited by Joel and Ethan Coen. Based on the Cormac McCarthy novel of the same name, the film stars Tommy Lee Jones, Javier Bardem, and Josh Brolin and tells the story of an ordinary man who comes across a fortune that is not his and the ensuing cat and mouse drama that unfolds as the paths of three men intertwine. The film received near perfect reviews and won four Academy Awards, including Best Director and Best Picture.
Video by BVHEMiramax/Youtube.com 
1. True Grit – $252.28 million
The highest-grossing Coen brothers movie of all-time is True Grit, a 2010 American western directed, written, produced, and edited by the duo. The film is the second adaptation of Charles Portis' 1968 novel of the same name, which was previously filmed in 1969 starring film legend John Wayne (in the Coen's version of True Grit, Jeff Bridges plays U.S. Marshall Reuben J. "Rooster" Cogburn). Also starring Matt Damon, Josh Brolin, Hailee Steinfeld, and Barry Pepper, True Grit received nearly universal critical acclaim and was nominated for 10 Academy Awards without any wins.
Video by Paramount Movies/YouTube.com
Photo by Jason Kempin/Getty Images