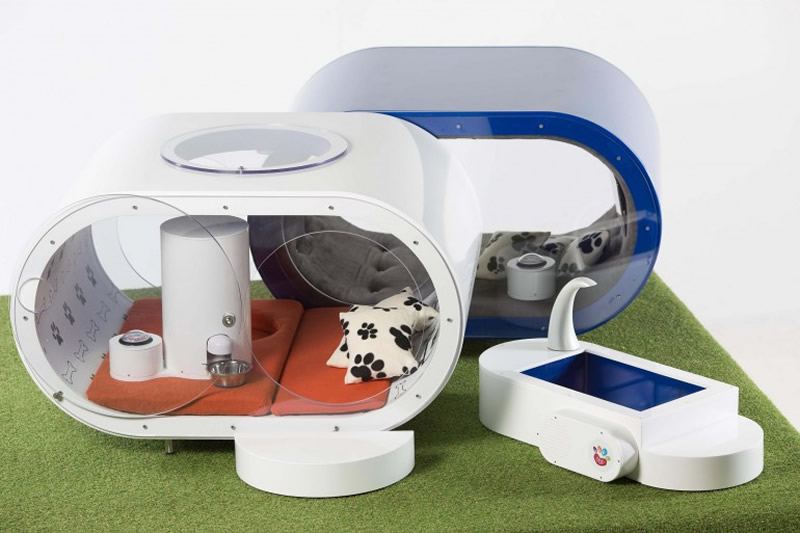 Samsung is a company that is known for their recent push into the smart phone market over the past decade, but the company actually deals with many different technological markets. Now the company has created a very expensive luxury doghouse that costs $30,000 and will include all sorts of unnecessary gadgets for dogs. The doghouse is very interesting looking and definitely would be neat to have in a house, but will only appeal to a certain market at the price and probably not attract many buyers.
The new dream doghouse is definitely a niche product that will only sell to a very specific market of consumers, but it is neat that they have successfully created one. The doghouse is the luxury penthouse of all doghouses and comes with an astro turf covered treadmill, a hydrotherapy pool, bespoke wallpaper and framed portraits along with a paw controlled snack dispenser. It took 12 total designers to create the amazing three area doghouse. The other two areas include two indoor dens for resting, an entertainment zone, and finally, a open air rejuvenation section.
As if this weren't enough for the pets, Samsung has installed a Galaxy Tab S on the wall of the resting area for dogs to become just as obsessed with technology as their owners. Samsung created the product and decided what would be incorporated after surveying 1,500 dog owners and getting these responses. The Samsung doghouse is a very interesting concept that was initially made to promote their sponsorship of the Crufts dog show in the United Kingdom this year. They decided to gift the doghouse to one lucky social media contest winner. It will sit on display at the featured dog show and afterwards will be sent off to it's lucky new owner where one dog will live in the most comfortable doghouse available.
Photo Via Samsung