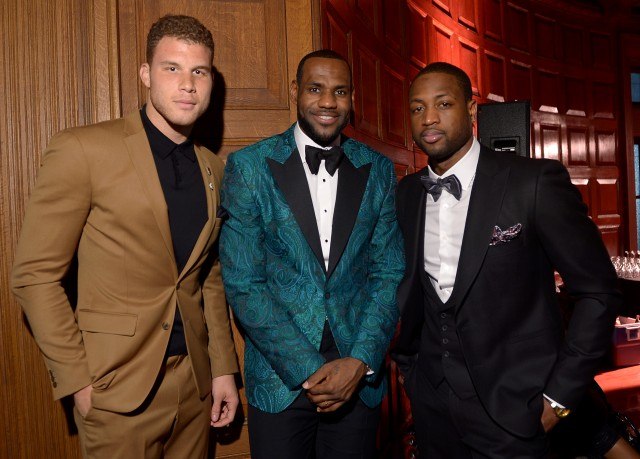 It's always fun (and maybe slightly amusing) to see how various celebrates and athletes age over the years. Some of them look exactly the same from when they were younger while others can drastically change. Sometimes it's important to see where people came from and where they have ended up, and that's especially the case for athletes. What did they look like in their high school and middle school days, and how do they look now? Here we take a look at a list of 20 then and now pictures of current NBA basketball stars.
Photo by Michael Loccisano/Getty Images for GQ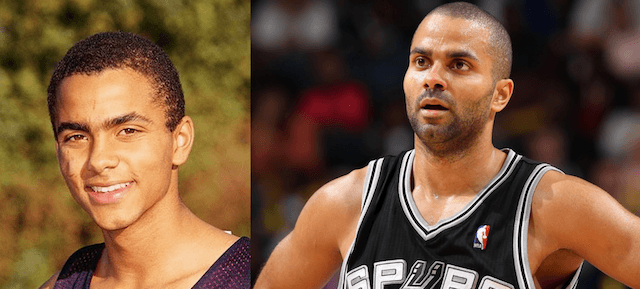 20. Tony Parker
Tony Parker is a French basketball player who is currently the point guard for the San Antonio Spurs. He's been a crucial team player that has helped the Spurs secure a variety of championship wins over the years and is arguably one of the best players on the team and in the league right now. Here's a picture from his younger days and it doesn't look as though he's changed much over the years.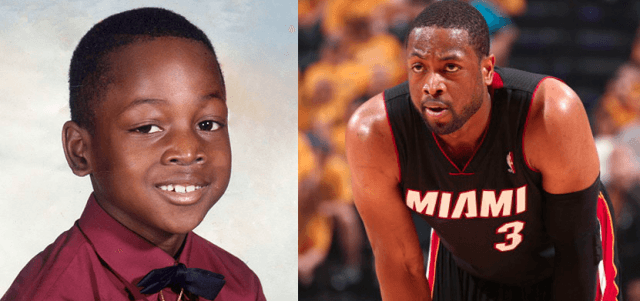 19. Dwyane Wade
Here's an old picture of Dwayne Wade from when he was a small child, and you can see that a lot has changed over the years. Dwyane had a difficult upbringing and family life as a child, but found sports to be a great outlet to express himself. And as we all know, he would go on to play for the Miami Heat and secure three NBA championship wins with the team, in addition to a variety of other accolades over his career.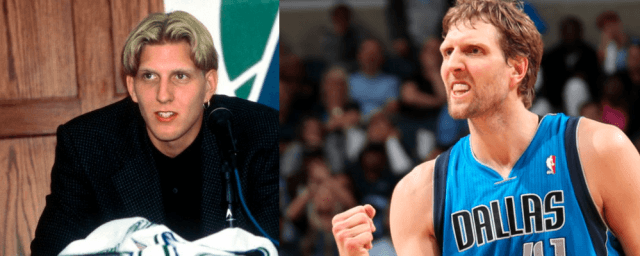 18. Dirk Nowitzki
If you've ever thought you've done something strange as a teenager, just remember this picture of Drik Nowitzki from his teenage years when he was rocking a large, golden hoop earring. From Germany, the current Dallas Mavericks player has accomplished a lot in his lengthy NBA career, and really embraced that 1990's look when he was younger.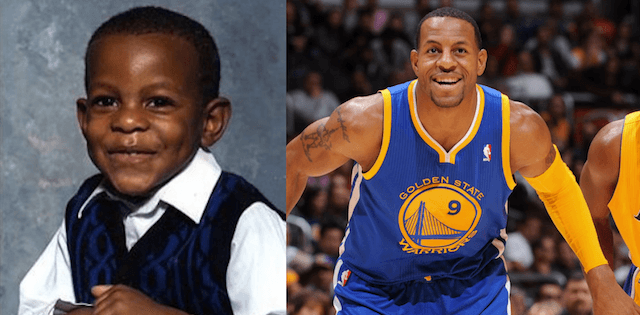 17. Andre Iguodala 
What do we know about Andre Iguodala? He's from Illinois, he's played for the 76ers, the Nuggets, and now currently plays for the Golden State Warriors, where he's seen a NBA championship win for this past season. He's an All-Star and MVP player who has had a great career in the NBA, and he was also an extremely cute kid when he was younger.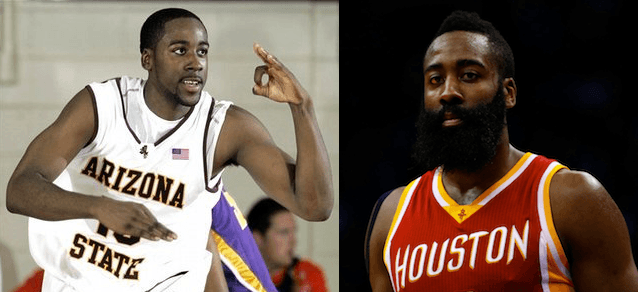 16. James Harden
Harden currently plays as the shooting guard for the Houston Rockets and besides being known as a great athlete, he's also known for his epic beard. However he was once a boy before he became a man. Here's a picture from his college days at Arizona State before he was rocking his manly facial hair. So does a beard really make a man? Probably that, and you know, being a professional athlete of the highest caliber.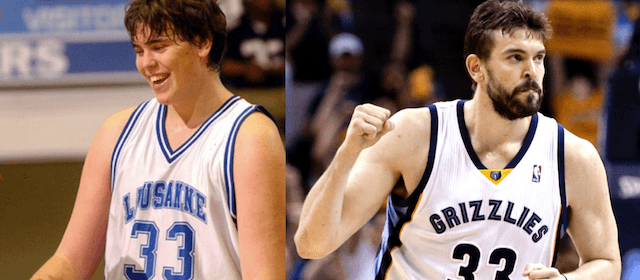 15. Marc Gasol
You should never judge a book by its cover, and Marc Gasol is a prime example of this. He's currently the center for the Memphis Grizzlies, and arguably one of the best in the league. But take a look at his old picture from his high school and he looks like an extremely goofy kid. Since then he's obviously grown a lot, but it's hard to imagine that these two pictures are of the same man.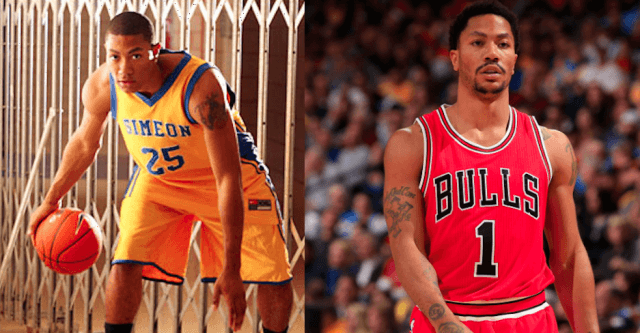 14. Derrick Rose
Derrick Rose hasn't changed too much over the years, apart from a few more tattoos and same facial here. The picture on the left is taken from his high school days when he played for Simeon Career Academy. From there he would attend one year of college before he was drafted into the NBA in 2008.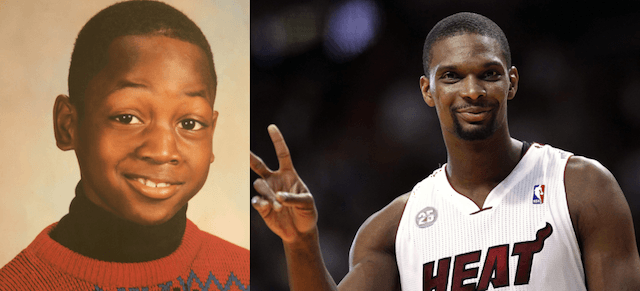 13. Chris Bosh
Chris Bosh has had a successful career in the NBA where he currently plays for the Miami Heat. But he was a kid just like all of us back in the day, and a kid that seemed to really enjoy picture day at school. A lot has changed since then, especially his height since he's now 6'11".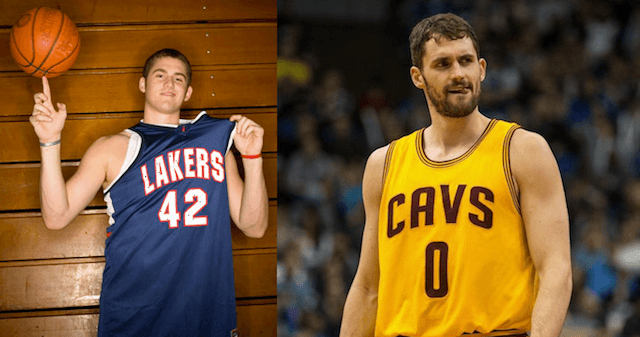 12. Kevin Love
Kevin Love currently plays for the Cleveland Cavaliers and is there-time All-Star athlete. He was picked up by the Timberwolves in 2008 before he came to Cleveland in 2014. He's also changed a lot since his youth, as evident by this picture from his high school days. He put on some weight during his college years but has since lost much of it.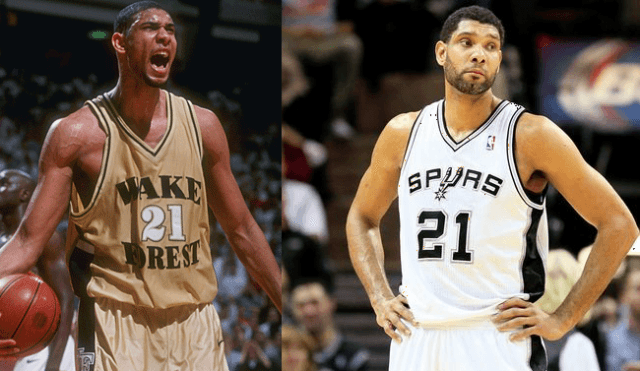 11. Tim Duncan
Tim Duncan hasn't changed that much over the years. Here he is on the left from when he played for Wake Forest back in the day, and compared to a recent picture, he still looks very similar. However there was a time when the power forward was rocking some pretty wild hair, but has since gone back to the shaved look. Although I do have to say that he does look a bit more athletic in the picture from the past, but we can chalk that up to lighting and posture.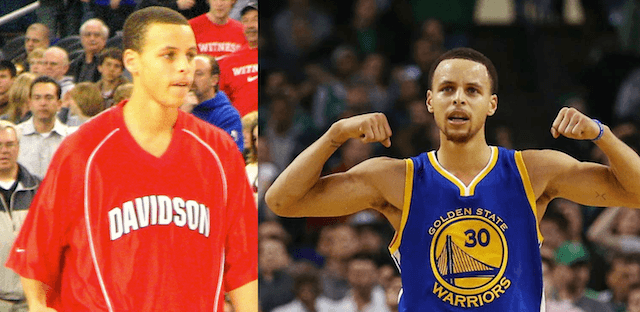 10. Stephen Curry
Stephen Curry has made quite a name for himself over the recent years, and is one of the more promising players that are currently in the NBA. He helped his team, the Golden State Warriors, on their march to victory just last season, and is an all-around solid player. Here he is on the left from his college days, and you can see that not much has changed.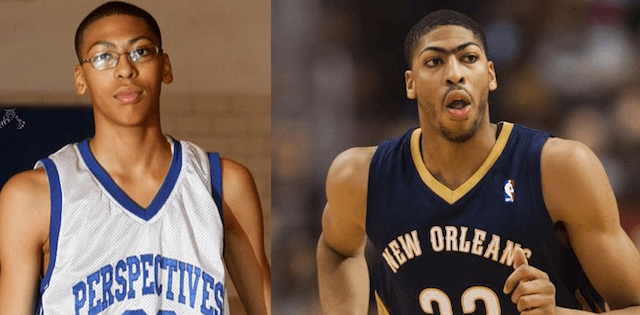 9. Anthony Davis
The current power forward and center for the New Orleans Pelicans, Anthony Davis, has some of the most distinct eyebrows of anyone that I've ever seen. But aside from that, he's a pretty good basketball player, to say the least. Here he is sporting some glasses back when he played ball in high school, and apparently he's given up on manscaping ever since.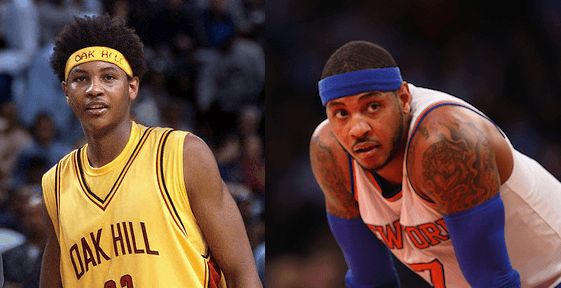 8. Carmelo Anthony 
Carmelo Anthony has been in the NBA since 2003, and has been a favorite player amongst countless fans. From Brooklyn, Carmelo, as we know, would go on to eventually play for the Nicks in 2011. He's grown up a lot over the years, especially when you compare him now to his picture from when he used to play for Oak Hill back in the day.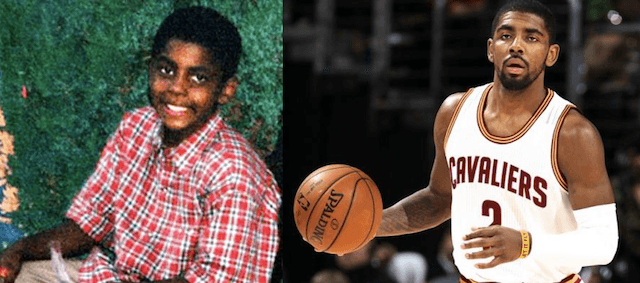 7. Kyrie Irving
Kyrie Irving is another athlete that's one of the most promising players who is currently in the NBA. He was drafted by the Cavaliers in 2011, where he won the NBA Rookie of The Year award. From Australia, Irving had a great basketball career when he was younger, and would go on to play for Duke. But after just one year he joined the NBA. Here he is on the left when he was just a kid.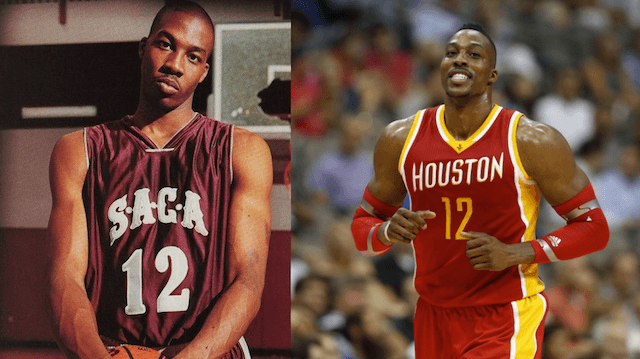 6. Dwight Howard
Dwight Howard has played for the Magic, the Lakers, and is now currently over on the Rockets and he's become a well respected player over the years. He has 8 NBA All-Star awards, 5 All-NBA First Team Awards, and a long list of other accomplishments. Here he is on the left from when he was in high school, and even then he was still an intimidating basketball player.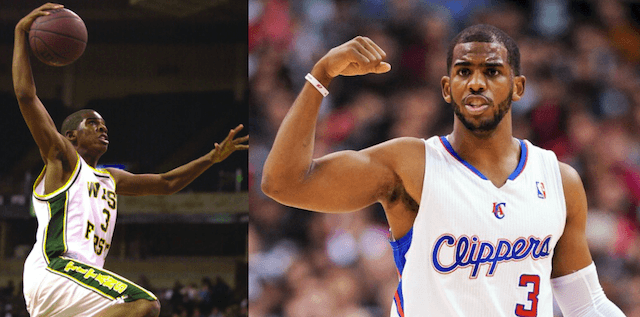 5. Chris Paul
Even at a young age, Chris Paul was a skilled basketball player who was destined for great things. On the left is a picture of him from when he played for West Forsyth High School. There he average 25 points during the regular season, and even scored 61 points in one game which drew in attention from recruiters. Since then he's got on to play for the Hornets and is now on the Los Angeles Clippers.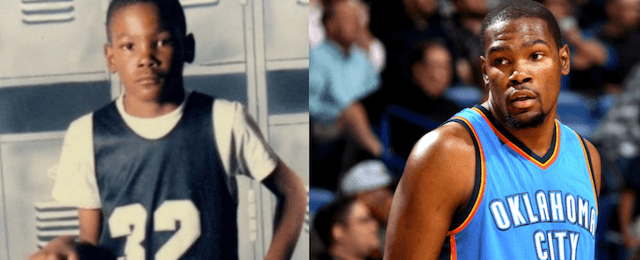 4. Kevin Durant
Kevin Durant needs no introduction, as his solid basketball career speaks for itself. Here he is on the left as a young boy, who even then, loved all things relating to basketball. He transferred around during his high school days quite often, went on to play for the University of Texas, and was eventually drafted by the Seattle SuperSonics back in 2007.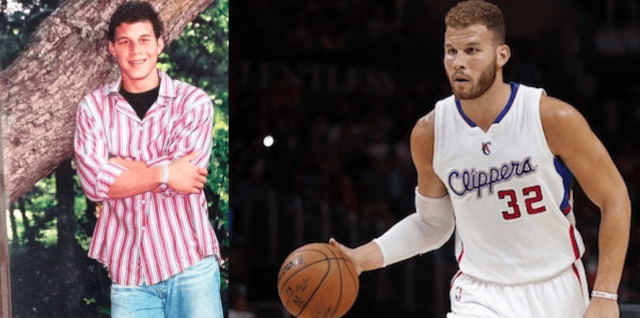 3, Blake Griffin 
Blake Griffin genuinely seems like a nice and funny guy, however his jokes aren't as amusing as this picture of him from when he modeled as a kid. At the time he probably didn't realize he would go on to become a player for the NBA. I think we can all be glad that he didn't try and pursue a career as a male model.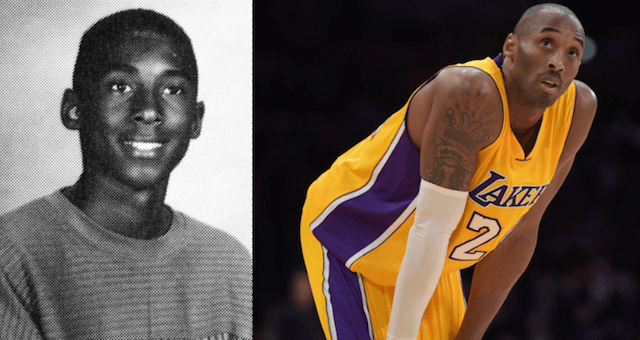 2. Kobe Bryant 
Kobe Bryant will go down as one of the greatest players in the history of basketball, and his incredible career speaks for itself. Here is an old year book picture of the 5-time NBA champion to give you some perspective on how much can change over the years. But even back then, everyone knew he was going to become a pro.

1. LeBron James 
Anyone that watch basketball is familiar with who LeBron James is, and many would consider him to be one of the best players currently in the NBA, if not the best. I don't think we need to go into too much detail for LeBron, but here he is as a little kid. A lot has changed but you can tell it's him for sure. Also, notice the earrings on young LeBron.