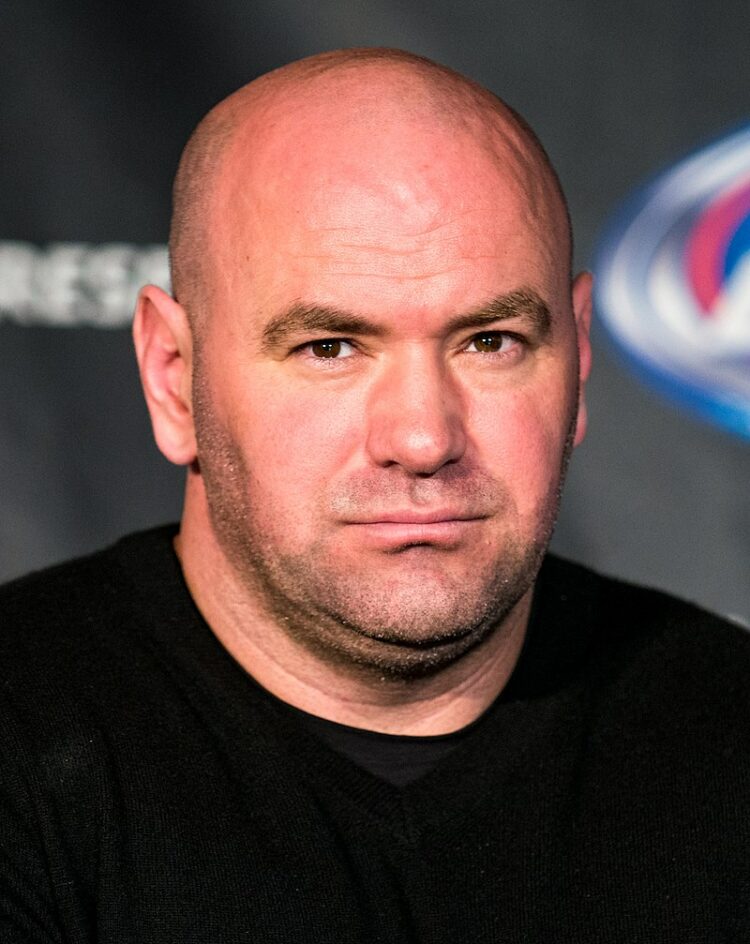 Dana White, the prominent figure in the world of mixed martial arts, has made a significant impact on the industry since becoming president of the Ultimate Fighting Championship (UFC) in 2001. Under his leadership, the UFC has transformed into a global phenomenon, and White's business acumen has been a driving force behind its success. As of 2023, Dana White's estimated net worth stands at a staggering $500 million, with an annual salary of $20 million.
This impressive wealth can be attributed to White's strategic approach to growing the UFC brand, including securing lucrative broadcast deals, promoting high-profile fighters, and expanding the organization's reach into new markets. His passion for the sport and dedication to its growth has not only benefited the UFC but also cemented White's position as one of the most influential sports executives in recent times.
Dana White's Net Worth
Dana White, the current president of the Ultimate Fighting Championship (UFC), has amassed a considerable net worth through his years in the sports industry. As of 2023, his net worth is estimated to be around $500 million. This huge wealth is the result of his strategic management of the UFC, as well as his numerous other ventures within the realm of sports entertainment.
White's journey with the UFC began in 2001 when he, along with the Fertitta brothers, purchased the company for $2 million. The success achieved since then is largely attributed to White's vision and determination. In 2010, the UFC broke the pay-per-view industry's all-time record, earning over $222,766,000 in revenue. This significant milestone further solidified his reputation as a brilliant and effective business leader.
In addition to his role as president of the UFC, White has continued to diversify his business interests. In May 2017, he began hosting Dana White's Contender Series, an exclusive mixed martial arts competition available through UFC Fight Pass. This initiative not only expanded the organization's reach but also introduced a new platform for up-and-coming fighters to showcase their talent.
Dana White's annual salary is another contributing factor to his impressive net worth. He is reportedly earning around $20 million per year, further boosting his already substantial fortune. It's clear that White's expertise in the sports promotion business, combined with his relentless drive to grow the UFC brand, has led to his immense success and staggering net worth.
Primary Sources of Income
UFC Career
Dana White's primary source of income is his role as the president of the Ultimate Fighting Championship (UFC). Under his leadership, the UFC has grown into a global sports powerhouse and played a significant part in the mainstream acceptance of mixed martial arts. According to various sources, White's net worth stands at a total of $500 million. His salary is estimated to be $20 million per annum, which contributes significantly to his overall net worth.
Endorsements and Sponsorships
In addition to his salary from the UFC, Dana White has also earned money through endorsement deals and sponsorships. Being the public face of the organization has allowed him to forge partnerships with brands in various industries. These collaborations not only help him financially but also boost the profile of the UFC and the sport of mixed martial arts in general. While specific details regarding his endorsements and sponsorships are not publicly available, they undeniably contribute to White's overall net worth.
Effects of Business Growth
Dana White's net worth of $500 million can be attributed to the monumental growth of the UFC under his leadership. As the president of the organization, White transformed the UFC into a global MMA powerhouse, resulting in substantial financial rewards for himself.
One contributing factor to this growth is the expansion of UFC events. White has overseen the increase in the frequency and reach of these events as the company has tapped into new markets around the globe. This expansion has undoubtedly played a significant role in his net worth.
White's business acumen also extends to strategic partnerships and acquisitions. For instance, the company's high-profile deal with ESPN and Fox Sports has helped raise the UFC's profile and attract more viewers, translating into greater revenue. Additionally, White has been a key player in the ongoing discussions about a potential merger between the UFC and WWE, which could have significant financial implications for both organizations.
White's net worth has also been boosted by his investments outside of the UFC. His portfolio includes luxury cars, real estate, and art – all of which have the potential to appreciate in value over time. These investments add to his financial stability and can help maintain or even grow his net worth in the future.
The growth of the UFC under White's leadership has not just impacted his personal wealth, but it has also positioned the company as a dominant force within the world of MMA and sports entertainment. As the UFC continues to grow and innovate, it's clear that Dana White's business decisions have had a significant effect on the trajectory of both the company and his own net worth.
Asset Portfolio
Real Estate
Dana White, with an estimated net worth of $500 million, has made significant investments in real estate. He owns multiple properties in Las Vegas, such as a luxurious 7,700 square foot mansion in the upscale Tournament Hills neighborhood. Additionally, White owns multiple residential units, including a beachfront property in Malibu, California, which further demonstrates his affinity for high-end real estate investments.
Luxury Vehicles
White's passion for luxury vehicles is evident in his impressive collection. His extensive lineup includes high-end brands such as Ferrari, Lamborghini, and Bentley. Some notable cars in his collection include a custom Ferrari F430, a Lamborghini Aventador, and a Bentley Continental GT. White's keen interest in luxury cars reflects his taste for finer things and adds to his overall asset portfolio.
Philanthropy and Giving Back
Dana White, with a net worth of $500 million, has significantly contributed to philanthropy and charitable causes throughout his career. As the current president of UFC, he has leveraged the promotion's platform in a multitude of ways to help people in need.
One notable instance is when the UFC held a fundraiser event for the Intrepid Fallen Heroes Fund, raising more than $6 million for the cause. The fund assists military personnel suffering from traumatic brain injury and psychological health conditions.
Another remarkable effort is the UFC's continued partnership with the Make-A-Wish Foundation, a non-profit organization that grants life-changing wishes to children with critical illnesses. Dana White and UFC fighters have actively engaged in granting wishes to young fans, creating unforgettable moments for these children and their families.
Additionally, Dana White has extended his support to local communities by making significant donations. For example, he provided aid to the devastated city of Houston after Hurricane Harvey. Furthermore, he has supported educational initiatives such as the Boys & Girls Club, emphasizing the importance of providing safe and inspiring spaces for young people to grow and develop.
Although it is hard to quantify the exact percentage of his net worth attributed to philanthropy, Dana White's charitable endeavors make a noticeable impact on various communities and organizations. He continues to use his influence and resources to give back, working to create a lasting legacy beyond the world of sports and entertainment.
Comparisons with Other MMA and Sports Personalities
In the world of MMA and sports, Dana White's net worth of $500 million is quite impressive, especially when compared with other prominent figures in the industry.
Joe Rogan, a well-known MMA commentator, podcast host, and comedian, has an estimated net worth of around $100 million. Despite being one of the highest-paid personalities in his field, Rogan's net worth is significantly lower than White's.
Another comparison can be made with Jake Paul, a YouTuber-turned-professional-boxer, who has made headlines in recent years for his involvement in combat sports. Although his net worth is not publicly disclosed, it is estimated to be in the tens of millions, placing him below both White and Rogan in terms of financial success.
Additionally, we can look at the net worth of Conor McGregor, one of the most famous MMA fighters in the world. McGregor's net worth is estimated to be around $200 million, which is significantly less than White's. However, it is important to note that White's wealth primarily comes from his position as UFC President, while McGregor's earnings are mostly attributed to his fighting career and various endorsements.
In conclusion, Dana White's net worth of $500 million highlights his success in the MMA and sports industry. His wealth exceeds that of other notable personalities, such as Joe Rogan, Jake Paul, and Conor McGregor, further emphasizing the influence and impact he has had on the sport.