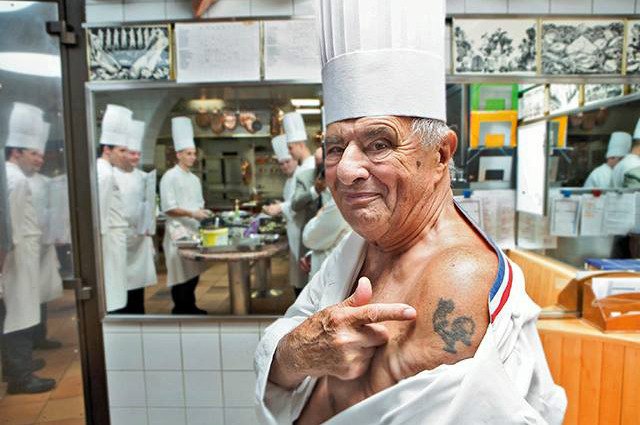 Showing off his tattoo proudly, the 89-year-old is quite different from your stereotypical French chefs. Based out of Lyon, Paul Bocuse is one of the most well-known and richest chefs in the entire world. He's been at the game from some time and specializes in nouvelle cuisine, a style he helped pioneer, and has certainly made a name for himself over the years. Showing no signs of stopping what he loves to retire, Bocuse is often referred to as the "modern French cuisine ambassador". As we known French cuisine is often regarded as one of the best, so that title is kind of a big deal. Oh and he's also one of the richest chefs in the entire world.
Bocuse is no stranger to praise, and many culinary expects and chefs regarded him as one of the best chefs of all time. In 2011 the Culinary Institute of American honored him as the "Chef of the Century", just one more award that he added to his large collection. His main restaurant is the L'Auberge du Pont de Collonges in Lyon, one of the few restaurants in France that has the coveted Michelin three-star rating. Outside of his main restaurants, he's got a few others and a chain of Brasserie's.
Since he's one of the most prolific chefs of recent times, he's also very rich. He's got an estimated worth of $185 million dollars, which is pretty amazing for a chef. In many regards, being a chef is like being an artist, meaning it's very difficult to become well-known and respected at it, and it can be especially challenging to make money. Being a head chef is a difficult job: you're on your feet the whole time, you work long hours, you're constantly moving around and doing things, and many people rely on you. Some people can crack it, and others can't. Paul Bocuse is certainly the later of those two and has made quite a name for himself.
Photo from Paul Bocuse/Facebook