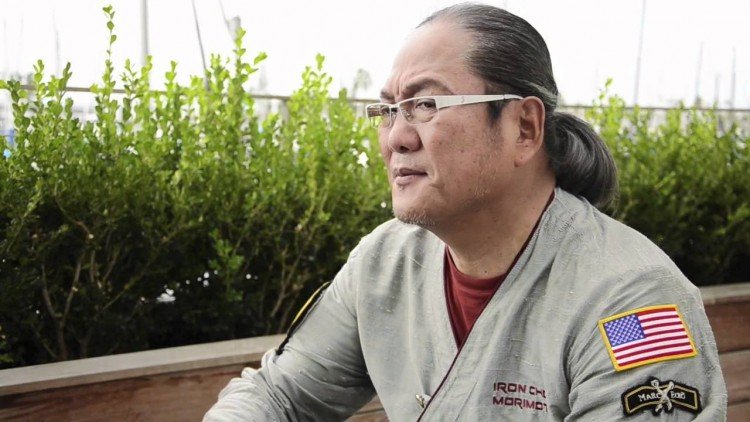 Few chefs have managed to electrify and change America's restaurant scene the way that Masaharu Morimoto has. He first became well known in the U.S. as a star on the cooking competition show Iron Chef. When the Japanese series was revamped into Iron Chef America, he gained even more attention and acclaim.
Before he became a TV star, Morimoto worked in high end restaurants and he owned his own establishment. During his time as a chef at some of the most prestigious restaurants in New York City, he honed his fusion cooking skills and developed his knack for artfully and creatively presenting dishes. Now Chef Morimoto is still in the restaurant business, has enjoyed a long run on TV, and he's launched several lines of gourmet products. Here are ten things you probably didn't know about Masaharu Morimoto.
1. The chef got his sushi training in his hometown of Hiroshima.
When he was young, his family used to head to local sushi restaurants for meals whenever they could afford it. He noted that as being one of the happiest memories of his youth and began to equate the talents of sushi chefs with giving people happiness. To start his career as a sushi chef, Masaharu Morimoto trained for years and learned the art of sushi making and creating Kaiseki, which is a traditional Japanese meal with multiple courses. After his formal training was completed he opened a restaurant in Hiroshima in 1980, which he sold in 1985 before coming to America.
2. Were it not for an injury, he would've played professional baseball.
When Masaharu Morimoto was growing up in Hiroshima, Japan, he had two dreams: to be a professional baseball player or become a sushi chef. He was nearly drafted as a catcher, but a serious shoulder injury stopped his chances of entering the big leagues. With baseball no longer a possibility, Morimoto decided to learn to create sushi. In a throwback to his athletic days, Masaharu Morimoto was invited to throw the first pitch at a Mets vs. Phillies game decades after becoming a star chef.
3. Morimoto used to be head chef at Nobu.
Nobu is one of the most highly regarded and famous Asian restaurants in the world, and Masaharu Morimoto worked there while he was establishing himself as a chef in New York City. He eventually rose to earn the position of head chef at Nobu, and during this time he also got his start on the TV show Iron Chef. After leaving Nobu, Chef Morimoto opened Morimoto restaurant in Chelsea, NYC in 2001.
4. He only eats one meal a day while he's working.
Masaharu Morimoto looks great for his age, and he attributes that to eating just one meal a day whenever he's working. When he's at home, his wife Keiko cooks several meals a day for him. However, when he's traveling and working on his TV shows or at his restaurants, the chef makes it a habit to only eat one meal a day to keep feeling his best. If he happens to be traveling on a plane, he never eats the food. In addition to deeming it unhealthy, Chef Morimoto simply doesn't like the heavy feeling that eating airplane meals gives him.
5. Masaharu Morimoto doesn't really need his signature glasses.
Fan of the TV show Iron Chef, or anyone who has followed Masaharu Morimoto's career, will no doubt notice one thing: he doesn't wear glasses on set. However, when he's photographed working in his restaurants, on the cover of cookbooks, and out and about he's nearly always seen wearing a pair of glasses. The chef has stated that he doesn't wear the glasses to improve his eyesight and doesn't need them at all for that. Instead, Masaharu Morimoto's glasses serve to distinguish his personality on Iron Chef from his real life persona.
6. Outside of cooking he's a philanthropist.
Masaharu Morimoto grew up poor as a child, and once he made it big he didn't forget his roots. He's participated in a number of charity events throughout his career, and he's also donated a significant amount of his time and money to worthy causes. He made a particularly memorable and touching appearance at a 2011 charity event in California to benefit Japanese earthquake victims
7. He's over the whole practice of creating food trends.
While some chefs base their career on either creating or following food trends, Chef Moriomoto shuns the whole deal. In a January 2016 interview with Orlando Weekly he stated, "I am tired of the nature of "food trends" itself. Sushi used to be a trendy food, but no one thinks it is anymore. Good food should not be treated as trend but rather just as interesting and delicious food."
8. The worst injury he got in the kitchen was on Iron Chef.
Masaharu Morimoto appeared on the original Iron Chef television series that taped in Japan. While he was filming an episode of the show that revolved around the ingredient monkfish, he attempted to take one out of a barrel. In the process of trying to grab and cut it, the monkfish bit the chef and he started bleeding profusely. He had to wrap a towel around his hand to hide the injury and tape the episode, although the bleeding hardly stopped. Though he's had other accidents in the kitchen, Morimoto cites this incident as being the worst.
9. Masaharu Morimoto Net Worth
Masaharu Morimoto is worth approximately $15 million. He gained his money from his restaurant endeavors, product deals, books, and from being a celebrity chef. It took Morimoto decades to accumulate his millions — he's been in the restaurant and food business since the 1970s.
10. He has no plans to retire from cooking.
Though he doesn't look it, Masaharu Morimoto is 61 years old and at an age when many professional chefs start looking to retire. However, Chef Morimoto has stated in interviews that he has absolutely no plans to stop cooking unless he becomes physically unable. He has restaurants all over the nation and abroad and wants to open one in Toronto, meaning his work in the industry is far from over.