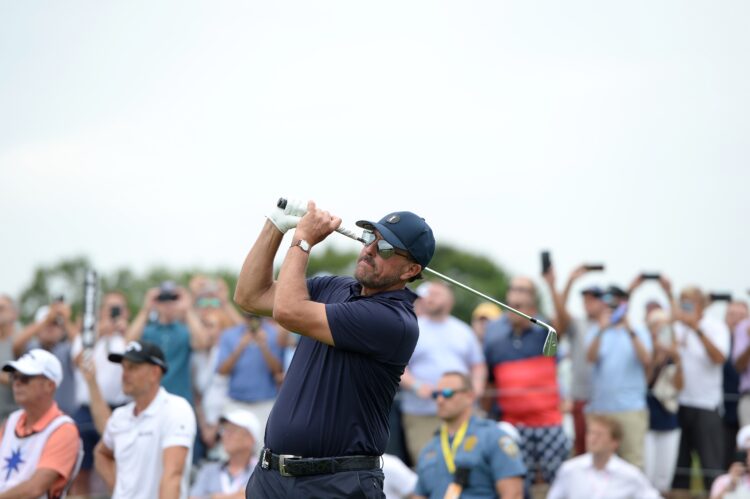 Phil Mickelson, a renowned American professional golfer, has experienced immense success throughout his illustrious career. With numerous championships and accolades under his belt, Mickelson has amassed substantial wealth partly due to tournament winnings and lucrative endorsement deals. As one of the most iconic golfers of all time, it is no surprise that his financial worth has been a topic of interest for many.
Mickelson's net worth has been estimated at around $300 million, placing him among the wealthiest athletes in the world. Despite being known for his prowess on the golf course, his wealth can also be attributed to the various sponsorship deals he has signed over the years, which continue to boost his earnings significantly.
Net Worth
Phil Mickelson, an American professional golfer, has accumulated an impressive net worth of $300 million. His wealth is a result of his successful golf career, which comprises numerous championship wins and lucrative endorsement deals.
In the 2020 edition of Forbes' Highest-Paid Athletes in the World ranking, Mickelson ranked 25th overall, with earnings of $40.8 million. His earnings consist of a combination of his salary/winnings and sponsorship deals. As of 2023, Mickelson's reported salary/winnings amount to $104 million, while his endorsements contribute another $2 million to his net worth.
Throughout his career, Mickelson has been known for his exceptional skill and achievements in golf, making him one of the few players to have won most of the major golf championships. His net worth and career success exemplify his prowess and dedication to the sport.
Early Life
Phil Mickelson was born on June 16, 1970, in San Diego, California. He grew up in a family passionate about sports, particularly golf. His father, Philip Mickelson Sr., introduced him to the game at an early age and supported his growing interest in the sport. Phil's mother, Mary, also played a significant role in nurturing his talent.
As a young golfer, Mickelson demonstrated remarkable skill and determination. He attended the University of San Diego High School, where he played on the school's golf team and exhibited exceptional talent as a junior golfer.
Mickelson went on to attend Arizona State University on a golf scholarship. During his college years, he achieved impressive accomplishments, with three NCAA individual championships and a record 16 collegiate competition victories. In 1990, he earned further recognition when he became the first left-handed golfer to win the U.S. Amateur championship.
Phil's early life laid the foundation for his successful professional career. His undeniable talent and hard work, combined with the support of his close-knit family, contributed to the development of one of the most iconic professional golfers of all time. Today, Phil Mickelson's net worth is estimated to be $300 million, with a significant portion of his earnings coming from tournament winnings, endorsements, and business ventures.
Career
Phil Mickelson, an accomplished American professional golfer, has had a remarkable and lucrative career in the sport. Born on June 16, 1970, Mickelson began his professional golf career in 1992. Over the years, he has become one of the most recognized and successful golfers in the world.
To date, Mickelson has won 45 events on the PGA Tour, including five major championships. His major wins comprise three Masters titles, a PGA Championship, and an Open Championship. These victories have helped him cement his place as one of the greatest golfers in history, and he is one of the just twelve players to have won at least three of the four professional majors in his career.
Mickelson's success on the golf course has translated into substantial financial earnings. As of 2023, he has amassed over $94 million in career earnings from tournament winnings alone, making him one of the wealthiest professional golfers. In addition to his winnings, Mickelson has also earned a considerable amount from sponsorships and endorsements.
Some of the notable sponsors and endorsement deals include companies like Grayhawk Golf Club and SportFive. Thanks to these deals, Mickelson has garnered a significant additional income, with an estimated $50 million per year from sponsorships alone. This has contributed considerably to his overall net worth, which is estimated to be around $300 million.
Throughout his career, Phil Mickelson has demonstrated exceptional golfing prowess and remains among the most skilled and wealthy athletes in the world. His numerous accomplishments and consistent earnings, both on and off the golf course, have solidified his legacy within the sport.
Personal Life
Phil Mickelson was born on June 16, 1970, in San Diego, California. He has established himself as a renowned American professional golfer with a net worth of $300 million. Mickelson's impressive career includes winning the PGA Championship in 2021 and becoming the oldest major winner in golf history at the age of 50.
In his personal life, Mickelson is known to be a family man. He is married to Amy Mickelson, and they have three children together: Amanda, Sophia, and Evan. The family has faced some challenges, particularly when Amy was diagnosed with breast cancer in 2009. Despite these difficult times, Phil has continuously shown immense support for his wife and family.
Mickelson is also dedicated to philanthropy and giving back to the community. He is involved in numerous charitable activities, such as the Mickelson ExxonMobil Teachers Academy, which provides math and science teachers with professional development opportunities to enhance their skills. Additionally, he has been known to support military families and contribute to various other charitable organizations.
Throughout his career and personal life, Phil Mickelson has demonstrated determination, resilience, and a genuine care for others. As a result, he continues to be an inspiration for golfers and fans alike.