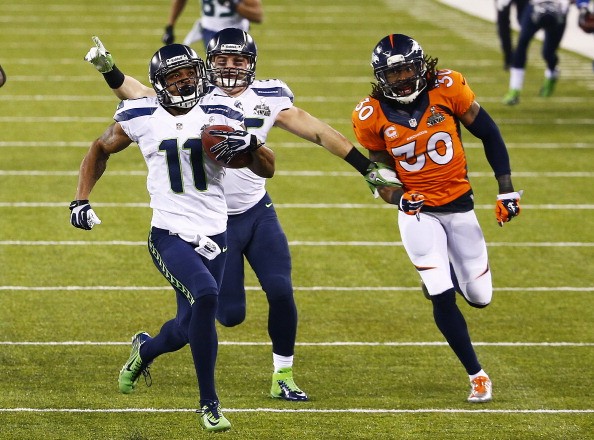 The wide receiver on a Football team is one of the key players whose job is to catch the ball and move the team down the field. Having a good wide receiver on a Football team helps out all of the offense in general. Wide receivers are typically extremely athletic people who can make big plays happen. We are going to take a minute and look at some of the richest wide receivers in the NFL in 2014.
5. Dwayne Bowe – Kansas City Chiefs – Base Salary: $8,750,00
Coming in at number 5 is Dwayne Bowe. Over the course of Dwayne's career he went all-pro in 2010 and was the leading receiver for amount of touchdowns also in 2010. Bowe was a first round pick in 2007 and signed with the Kansas City Chiefs that year and has been with them ever since.
4. Vincent Jackson – Tampa Bay Buccaneers – Base Salary:  $10,000,000
Vincent Jackson is the next wide receiver to be featured on our list. The 31 year old was originally drafted to the Chargers. He played for the Chargers for 6 years before going to the Buccaneers. Jackson has gone to the Pro Bowl 3 times and has 52 career receiving touchdowns.
3. Andre Johnson – Houston Texans – Base Salary: $10,000,000
Andre Johnson is an amazing football player who has accomplished a great deal over the course of his career. He went to the Pro Bowl 7 times, 2 times NFL receiving yards leader, 4 times Texans MVP, and is part of the 10,000 receiving yards club among other awards. Johnson has proven time and time again that he will always deliver and is a terrific player.
2. Percy Harvin – Seattle Seahawks – Base Salary: $11,000,000
Coming in at number 2 on our list is wide receiver Percy Harvin. Harvin was first drafted to the Minnesota Vikings in 2009, and played for them until 2012. When he was with the Vikings he set the Viking record for single season combined yards (2,081 yards). He then went on to play for the Seahawks where he helped them win their first ever Superbowl.
1. Mike Wallace – Miami Dolphins – Base Salary: $15,000,000
28 year old Mike Wallace takes our number 1 spot with a base salary of $15 million dollars. He was originally drafted to the Pittsburg Stealers in 2009, and played for them for 3 years. He now plays for the Miami Dolphins where he has a career total of 4,972 receiving yards and 37 career touchdowns. Wallace was a great player for the Dolphins to pick up and we will see a lot more of him as the season takes off.
Photo by Tom Pennington