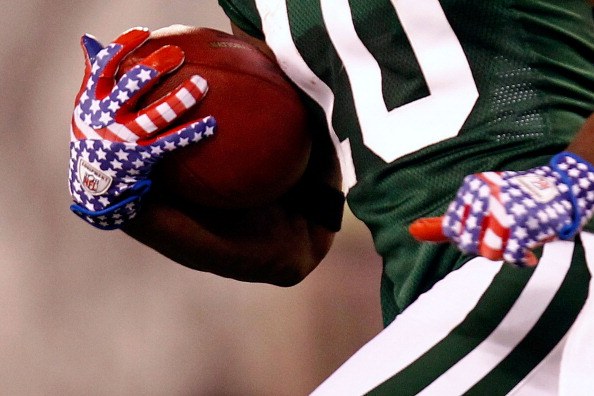 The safety in American Football is a defensive player whose job is to stop passes from being completed to the middle of the field and the sidelines.  Safeties take down receivers/running backs, depending on the defensive formation. Safeties are typically speedy and athletic players who can not only run fast, but can also hit hard. In light of the upcoming football season, we are going to take a look at the highest paid safeties in the NFL for 2014.
5. Dashon Goldon – Tampa Bay Buccaneers – Base Salary: $6,000,000
First up on our list is Dashon Goldon. Goldon has proven to be a very good safety and has seen 413 career tackles and 13 career interceptions. He was drafted by the San Francisco 49ers in 2007 and played with them until 2012. During his time with the 49ers he saw a NFC Championship win and 2 Pro Bowl games. He was traded in 2013 to the Tampa Bay Buccaneers where he remains today.
4. Michael Griffin – Tennessee Titans – Base Salary: $6,200,000
Coming in at number 4 on our list is the free safety for the Tennessee Titans, Michael Griffin. Although playing as a running back and defensive back in high school and college, Griffin currently plays as a Safety for the Titans. At 29 years of age he has seen 580 tackles, 21 interceptions, and 11 forced fumbles.
3. Antrel Rolle – New York Giants – Base Salary: $7,000,000
Making his debut professional football appearance in 2005 for the Arizona Cardinals, Antrel Rolle comes in at number 3 on our list with a $7 million dollar base salary. He currently plays for the New York Giants and has accumulated 670 career tackles, 21 career interceptions, and 4 quarterback sacks.
2. Eric Weddle – San Diego Chargers – $7,500,000
Californian native Eric Weddle appears at number 2 on our list of the highest paid safeties. He had a strong college career playing for the University of Utah, which inevitable allowed him to return to his home state to play for the Chargers in 2007 where he remains today. In his entire NFL career he has achieved 658 tackles, 6 sacks, 58 pass deflections, and 18 interceptions. He has gone All-Pro 4 times and appeared in 2 Pro Bowls.
1. Eric Berry – Kansas City Chiefs – Base Salary: $8,417,000
Nicknamed 'The Fifth Dimension", Kansas City Chiefs strong safety Eric Berry takes our number 1 spot. In college he played for the University of Tennessee but left school early to enter the NFL draft. He was then drafted to the Kansas City Chiefs in 2010 where he has seen 252 tackles, 5 sacks, and 8 interceptions at only 25 years of age.
Photo by Jeff Zelevansky/Getty Images