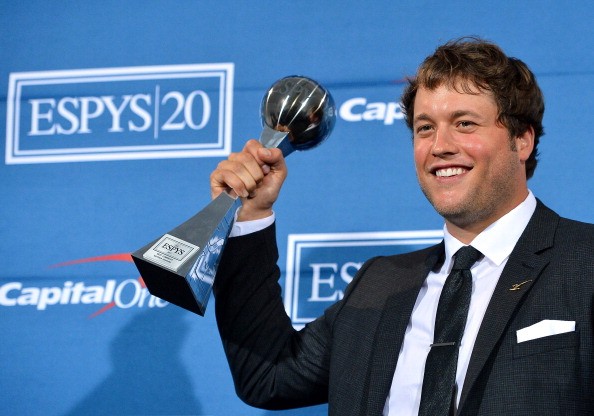 Matthew Stafford is currently the starting quarterback for the Detroit Lions. Stafford has put together a strong career that definitely has its ups and downs, but he is still playing great football. Personally, I like Stafford, and think that when he can stay calm he is a great quarterback who is fun to watch, especially with Calvin Johnson around. Although I'm a die-hard Eagles fan, I definitely like to rootfor the Lions to win games because of players like Stafford, so it's interesting to learn a bit about him. Here's five things you didn't know about Matthew Stafford.
5. He holds 12 NFL records
Yes, Stafford currently owns 12 records in the NFL. Mainly being the quickest to reach certain amounts of passing yards. He also holds 23 Lions franchise records showing just how much of an impact he has had there.
4. Rookie Record
Out of all those records, the most notable comes in Stafford's rookie season where he set the record of throwing the most touchdown passes in a game as a rookie. He also was the youngest quarterback to throw 5 or more touchdown passes in a game.
3. Radio Show
Stafford actually does a weekly radio segment on The Mitch Albom Show every Monday. The show is featured on Detroit's WJR
2. "The Stafford Effect" 
Stafford's hometown discovered that the in the three years after he made his decision to play for Georgia that a huge increase in students from Stafford's high school applied to Georgia. The year before Stafford was in college only 35 seniors applied to Georgia, but this rose drastically reaching a peak of 106 in 2008.
1. Freshman Phenom 
In Stafford's freshman year at the University of Georgia he immediately stepped into the starting role. He led the team to a 9-4 record as well as taking charge in the Chick-Fil-A bowl for a second half comeback over Virginia Tech. He led the team to plenty of victories and had a strong four years as a bulldog.
Photo by Frazer Harrison/Getty Images