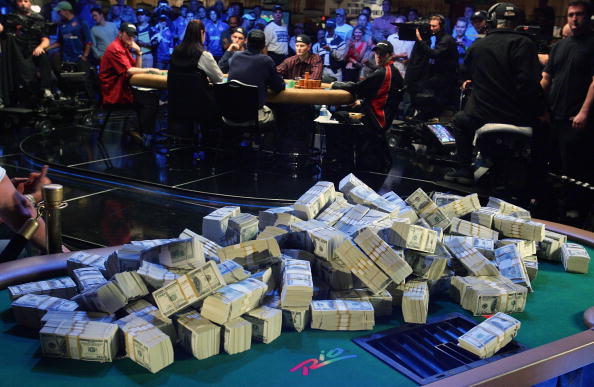 Ah, the game of poker. While many see it as a game purely of chance and luck, I see plenty of skills that the game offers and see the attractiveness it holds for some. Although I've never been a huge gambler, I am always up for some Texas Hold'em with my friends for a little money. Playing cards is something that most people pick up at some point in their life, but for others it becomes a career, and certain professional poker players have collected a nice amount from playing.
Let's check out the five richest professional poker players in the world!
5. Daniel Negreanu – $16.5 Million
Daniel Negreanu is probably one of the more recognizable names and faces in the professional poker playing world. I don't even follow the professional circuit but I know who Negreanu is immediately. This veteran has earned respect from everyone for having the most relaxed table presence and always keeping himself cool and collected. Negreanu has won three gold bracelets two world titles, and established himself as one of the best.
4. Sam Trickett – 16.6 Million
Sam Trickett has such a great story behind him. The guy started playing professional poker back in 2005 after he suffered an injury that destroyed his life goal of becoming a professional football player. However, he fought on and found a hidden skill of playing poker. He's still on the rise and had plenty of first place finishes and is only 27 years old.
3. Erik Seidel – $17.2 Million
Erik Seidel might be a veteran, but he's always been a natural born gambler. The man started out professionally playing backgammon, and actually stopped doing that to go gamble with the stock market as if it were another game, then finally returned to the professional poker scene and received second place in his first tournament ever.
2.Antonio Esfandiari – $22.9 Million
Antonio was the youngest professional poker player to ever win the World Championship because he's never afraid to go big and take a risk. He has earned this top spot by taking gambles and they have all paid off. He is constantly placing highly in tournaments and continuing to build on his nice $22.9 million in the bank.
1.  Phil Ivey – $100 Million
To date Phil has earned over $19,500,000 in live tournaments.   He's currently respected by other top poker players in the world as being THE top poker player in the world.  Most of his money has been won in cash games against other poker players.  He's notorious for going on humongous swings at casinos but manages to stay ahead.   He's also called "The Owl" because of his funny eye movements during games.
Photo by Ethan Miller/Getty Images