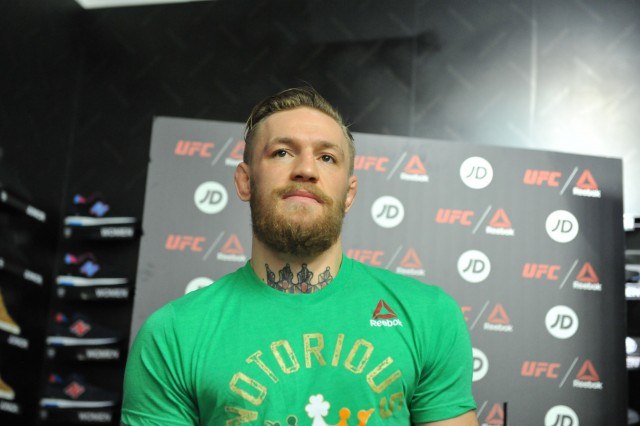 Conor McGregor stunned the world over a year ago when he knocked out his opponent José Aldo, a fighter that went undefeated for the last decade, in just thirteen seconds at UFC 194; it was the fastest victory in any UFC title fight. It was one of the largest fights in the history of mixed martial arts, and most were expecting a heated, long lasting battle between the two.
Conor McGregor is one of the biggest names in the sport, and has propelled himself into the limelight after holding not one but two belts simultaneously. Known for his aggressive fighting style, immeasurable confidence, and his fondness of trash talking, "The Notorious" Conor  McGregor is certainly the biggest name in mixed martial arts right now. But what do we know about this man outside the octagon?
Here are 20 things you probably didn't know about Conor McGregor.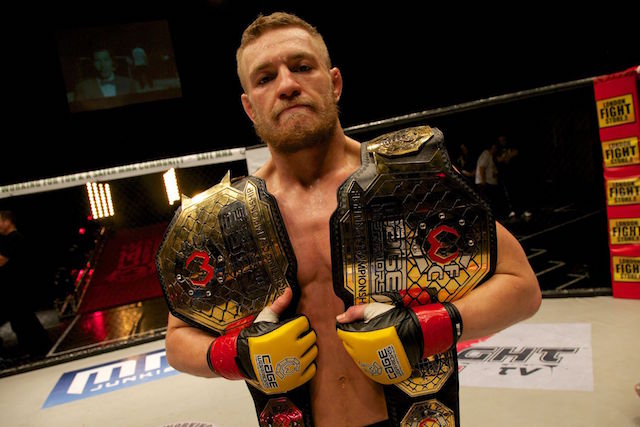 20. He held two different belts in the same year 
Before Conor signed with the Ultimate Fighting Championship in 2013, he was fighting in the Cage Warriors Fighting Championship. Now typically most fighters stay within one weight division, but most fighters are not Conor McGregor. At CWFC 47, Conor defeated opponent Dave Hill and won the featherweight belt. Then in his next fight he gained weight, and secured the CWFC lightweight belt. So in one year, Conor held two belts for two different weight divisions.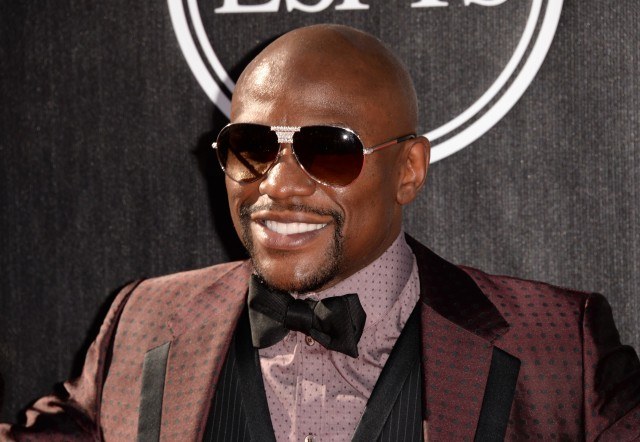 19. He Is Going To Fight Floyd Mayweather Jr.
Now Conor McGregor is a pretty big trash talker, and often says some pretty outlandish things about his opponents. He has said that trash talking is just "part of the game". In an interview with Conan O'Brien, Conor said "If you're asking would I like to fight Floyd Mayweather, I mean, who would not like to dance around the right for $180 million? I certainly know he wouldn't want to step into my world…but I most certainly would step into his world. I would certainly box him if the opportunity arose".
The two are scheduled to fight this Summer, and it's sure to put up massive Pay Per View numbers and hopefully leave us with a fight for the ages.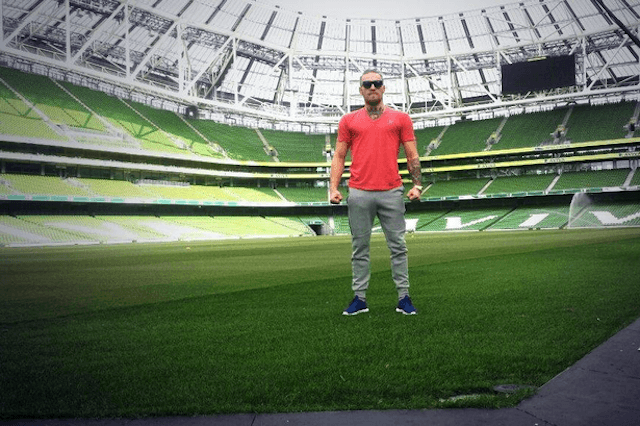 18. He contemplated becoming a soccer player
Conor didn't always dream about becoming a fighter, in fact, he wanted to be a soccer player at one point. According to an article from the Bleacher Report, Conor dreamed about becoming a professional soccer player when he was younger. He said his favorite team was Manchester United, and he envisioned himself on the field back in the day.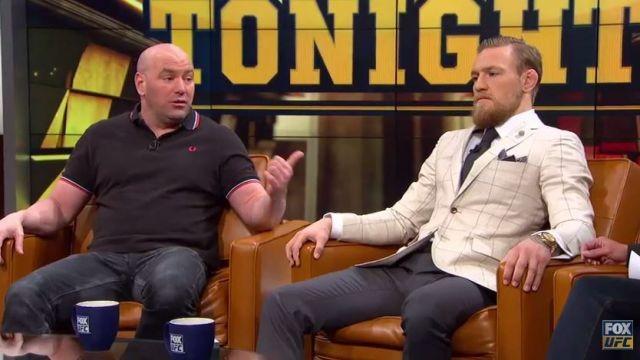 17. He rode along in Dana White's Ferrari
Now it's not very common for the president of the UFC, Dana White, to take you for a ride in his supercar, however it is common if you're Conor McGregor. Back when Conor was just entering the UFC, Dana invited him out to Las Vegas to hang out. During their ventures, the two would take a drive in Dana's Ferrari. Not every UFC fighter can say they've done the same.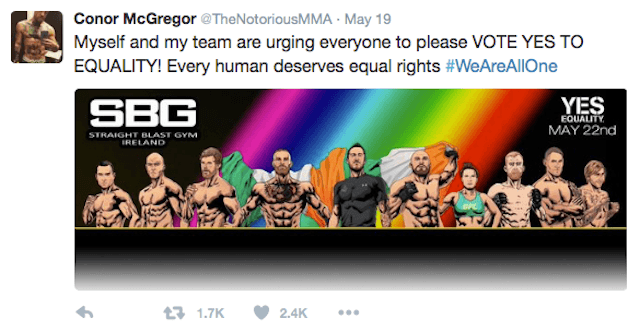 16. He is a supporter of gay marriage 
Conor McGregor is easily one of the most vocal fighters in the entirety of MMA, and he's also very vocal when it comes to human rights. He was a major supporter of gay marriage when Ireland voted to legalize same-sex marriage. He took to social media to encourage others to vote "yes" on the bill, and was one of the largest celebrities from Ireland to come out in favor of same-sex marriage.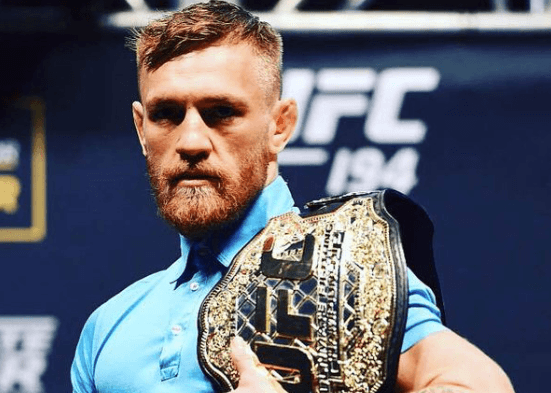 15. He brought in a record draw at UFC 194
Conor's fight against José Aldo was one of the most popular fights in the history of mixed martial arts and the UFC. According to official reports, the fight had a live gate of some $10.1 million dollars, the second highest gate total in UFC history. Additionally some 16,516 fans attended the event, which was the biggest turnout of any UFC event in Nevada.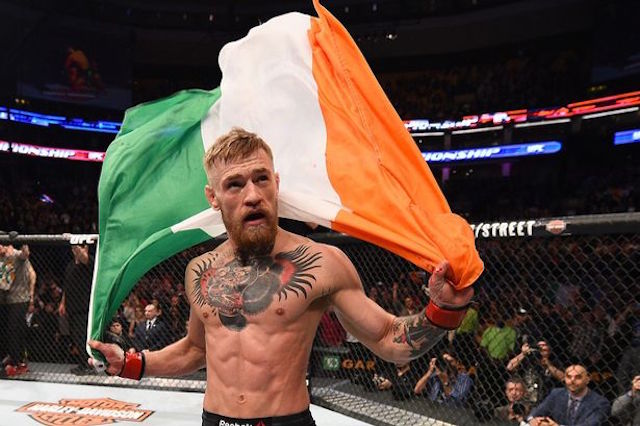 14. He's the first UFC Champion from Ireland
Conor, like nearly everyone from Ireland, is extremely proud of where he came from. Conor McGregor has brought the Irish into the forefront of UFC as he is the first UFC champion from Ireland. He wasn't the first Irishman to fight in a UFC fight, however he was the first to secure a win in the league. Ever since, more and more Irish are getting interested into the sport.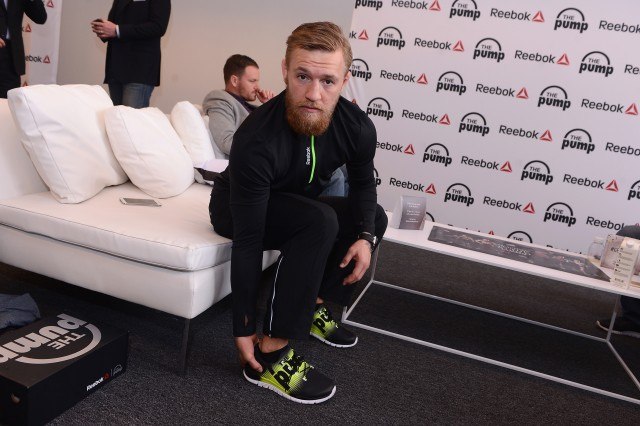 13. He was on welfare before entering the UFC
Conor's life wasn't always filled with sold-out fights or driving in fast cars. According to McGregor himself, he was actually collecting welfare checks from Ireland before he made his UFC debut. He secured his first UFC win in Sweden against Marcus Brimage, and after the fight he told reporters: "I didn't have money before this, you know. Like I said, I was collecting 180 Euros a week off the social welfare and here I am and I've got 60 G's bonus and my own pay".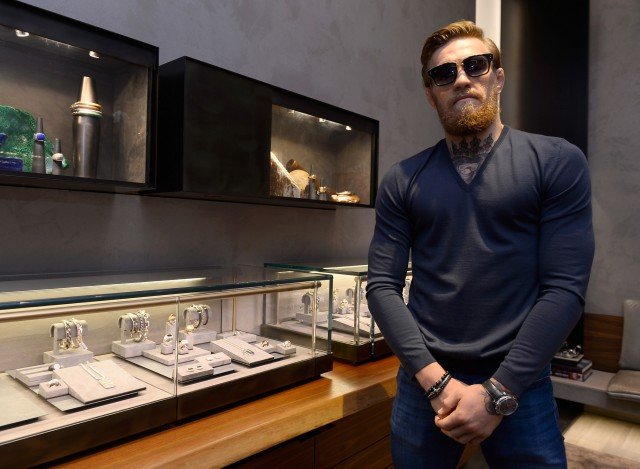 12. He made anywhere from $230,000 to $622,000 dollars per second at UFC 194
Now UFC 194 obviously generated a lot of money, from the gate, pay per view buys, and the variety of other revenue streams. Now off-the-bat, Conor won some $500,000 dollars for the win. Additionally, as is typical with contracts, he gets a certain cut from each PPV buy. Now the official numbers are still not in, however we can estimate how much he made. It's been reported that Conor McGregor would receive between $3 and $5 dollars for every PPV buy. It's expected that around 1 million people ordered the fight, at the very least. If that's the case and he made $3 per buy, he made some $230,000 dollars per second as the fight was just thirteen seconds long. If 1.5 million people purchased the fight and he saw $5 from each sale, he then would have made $622,000 dollars per second. While the official numbers are still not out there, we do know that Conor McGregor made a small fortune that night.
11. He can predict the future
Conor has this weird way of being able to seemingly predict the future. Take a few minutes to watch the video above and you can see for yourself. Obviously he can't really predict the future, but he does certainly posses arguably the most valuable trait in fighting and in life: confidence. Conor is so confident that he just believes 100% deep down in what he says. It is through his great confidence, and his impeccable set of fighting skills, that he is able to defeat his opponents, seemingly predicting the future.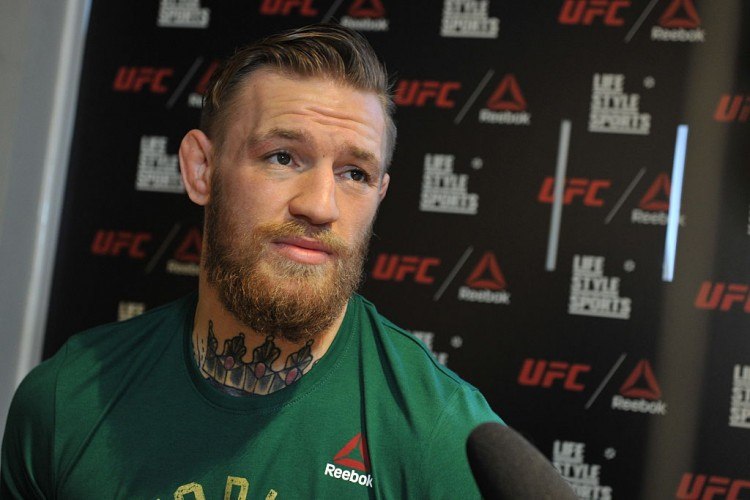 10. He has an astonishing finishing rate
While a good fighter will have many wins with few losses, great fighters are able to have successful records while finishing their opponents. This means that they stop the bout with a knockout or submission before the final bell.
McGregor's greatness is largely due to his ability to hurt opponents (usually with his devastating left hand) and put them away. In fact, of his 21 career victories, he has only gone the distance twice. This means his finishing rate is an astonishing 90%. Of these finishes, 18 have come by way of knockout.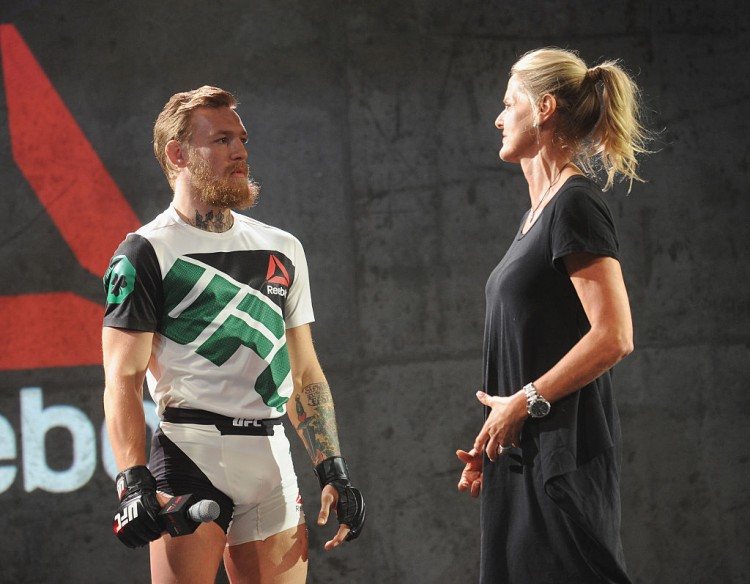 9. He worked as a plumber
When one sees McGregor today, there are two common images. One is of the fighter blasting opponents in the Octagon, while the other is of McGregor buying ludicrously expensive suits and cars. Nobody would expect that this high profile professional athlete once labored away at a trade.
Before reaching fame and fortune, McGregor was on his way to a stable career as a plumber. However, luckily for his fans, he decided to pursue MMA. Although this decision initially worried his parents, he has obviously made the right decision.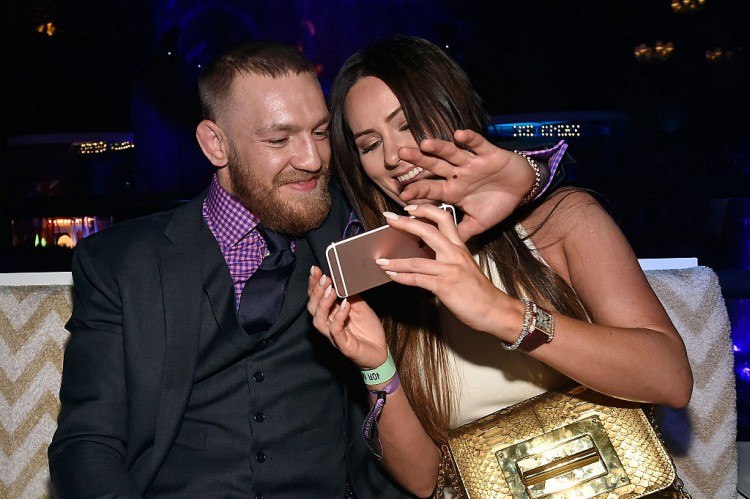 8. He is loyal
Popular and successful fighters are known to have large and ever-changing entourages. Surprisingly, McGregor is not one of these fighters. Instead, the inimitable talent has surrounded himself with a close group of friends, family members, and teammates since the outset of his career.
He has been outspoken about his loyalty to John Kavanagh, his head coach. McGregor has trained under Kavanagh since his professional debut in 2008. The two clearly have a recipe for success.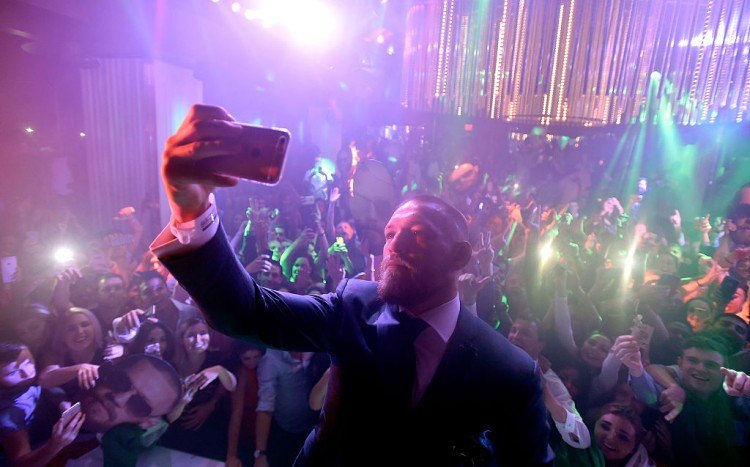 7. Net Worth
One of the key talking points whenever McGregor is brought up is his massive financial success. He has shattered records for pay-per-view buys and gate income, making him the highest earning fighter in the history of the sport.
Prior to his fight at UFC 205, his net worth was estimated to be approximately $22 million. Given his incredible success at this event, one can safely assume that this number has risen considerably. It would be surprising if his net worth does not currently top $30 million.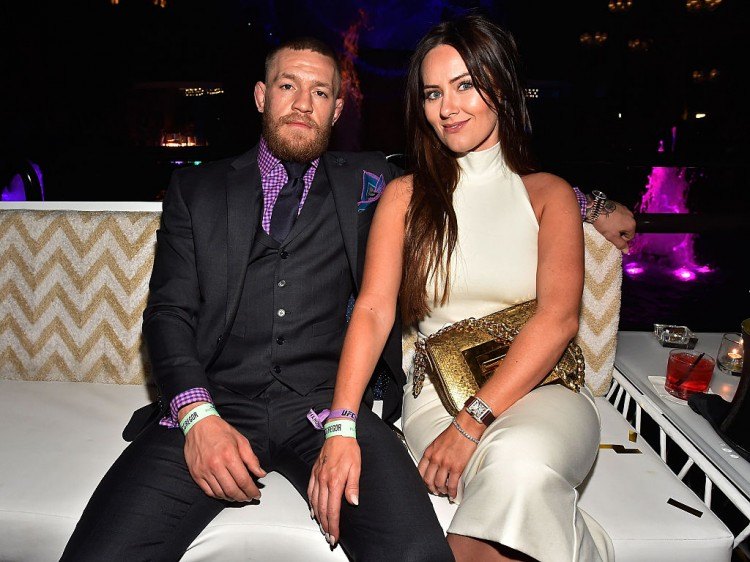 6. He has been in a committed relationship throughout his career
In addition to being loyal to his coach, McGregor has not allowed his fame and fortune to interfere with his relationship. Dee Devlin is McGregor's girlfriend and the two have been a couple for nearly a decade.
Devlin is far more than just "Conor McGregor's girlfriend," however. In fact, McGregor has been open about the fact that it was only with Devlin's support that he was able to pursue fighting. She believed in him so much that even when the two were just making ends meet through unemployment benefits, she would drive him to training sessions, help him eat healthily, and provide invaluable support.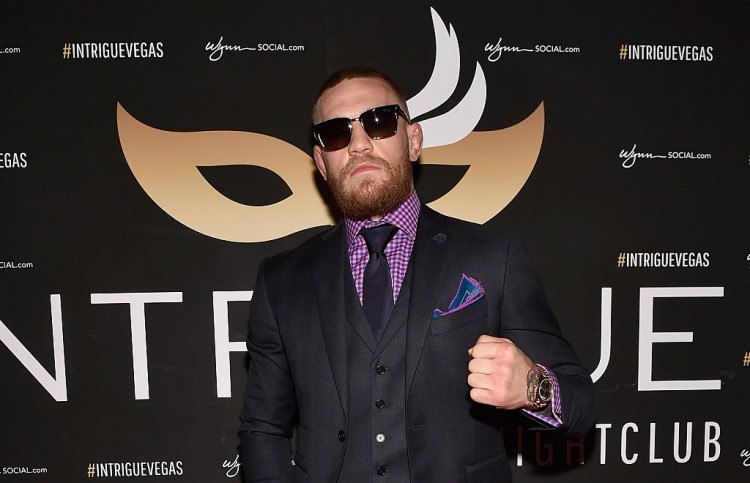 5. He is expecting his first child in 2017
Although winning world championships, making millions of dollars, and achieving worldwide fame are incredible motivators for McGregor, perhaps his most important achievement will occur in May of 2017 when he becomes a father.
McGregor and Devlin are expecting their first child together in the upcoming spring. This child will certainly want for nothing, given the couple's success. Fans should be happy to see McGregor beginning this new chapter of his life, although they will have to wait until after the baby is born before seeing him step into the Octagon again.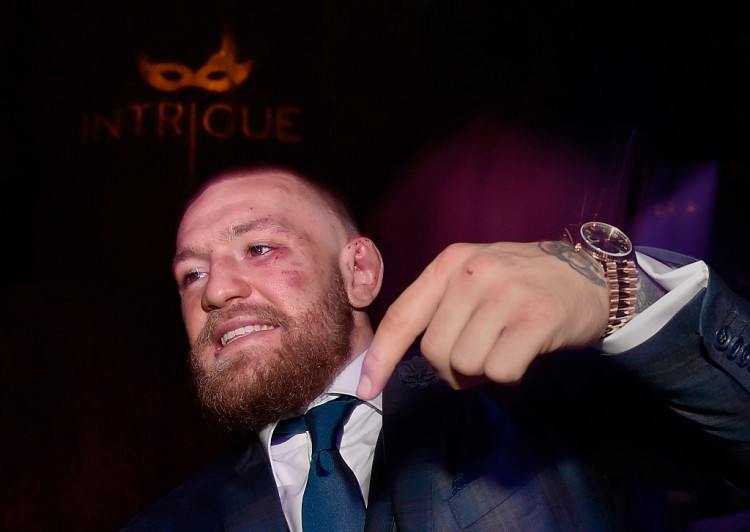 4. He has fought in three different weight classes
In fighting, weight classes are a necessity. Dividing athletes by weight allows any individual to display their skill, fitness, and toughness in front of thousands of fans. A select few, however, are able to find success at multiple weight classes.
McGregor is one of the most notable individuals who has this feather in his cap. He has competed and won bouts in the UFC at Welterweight (170 pounds), Lightweight (155 pounds), and Featherweight (145 pounds). To have wins at such a range of weight classes speaks to his courage, confidence, and ability.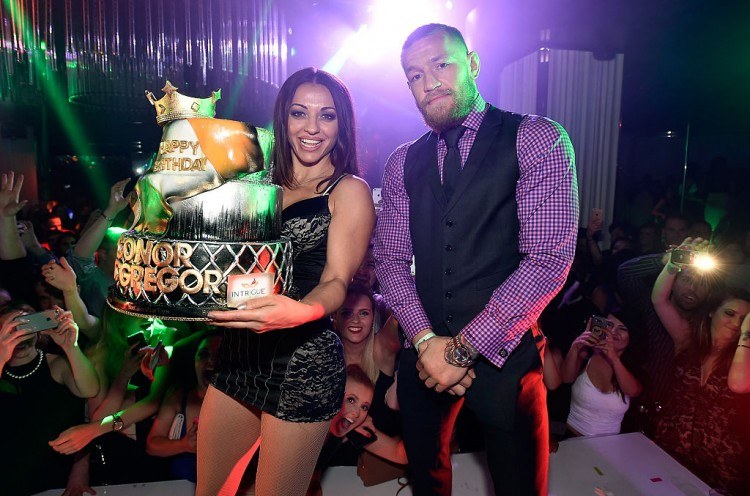 3. He gives back to his community
While it can be fun to watch fighters compete, supporting an athlete for personal reasons can make it all the more exciting. While McGregor is known for his brash and derogatory pre-fight trash talk, it seems that he is actually a kind and generous individual in his personal life.
McGregor is known to give back to the people who have supported him, buying his family cars and paying off their mortgages. However, he also extends assistance to those in need. One of the most inspiring moments of McGregor's career was when he donated 50,000 euros to Simon Community and Focus Ireland. These charities provide services to the homeless of Ireland.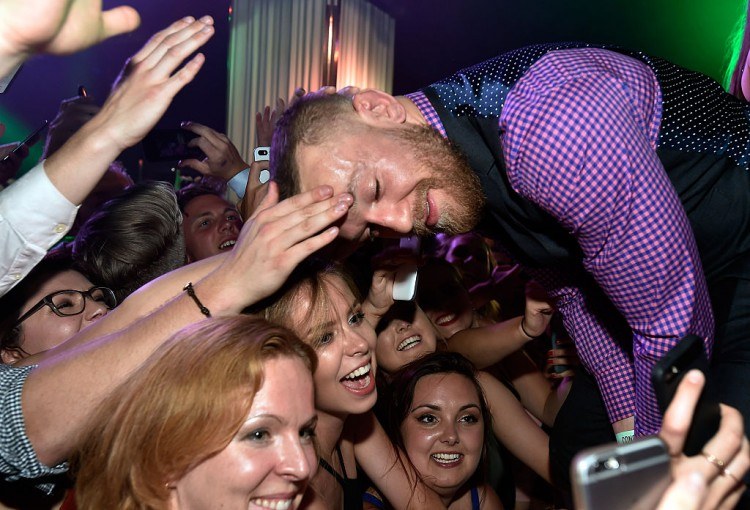 2. He is the biggest star the sport has ever seen
Without a doubt, Conor McGregor is the most popular fighter of his time. However, most people are unaware of how immense his drawing power truly is. Including the early predictions for UFC 205, he has had four pay-per-view fights that have drawn over 1 million buys.
However, the most impressive statistic comes when one compares his success to the UFC as a whole. In the past 12 months, from McGregor's victory over Jose Aldo to his recent knockout of Eddie Alvarez, the PPV buys from his fights have more than doubled those of the entire UFC in 2014. Amazingly, he alone has managed to bring in more than double what the entire promotion was able to earn.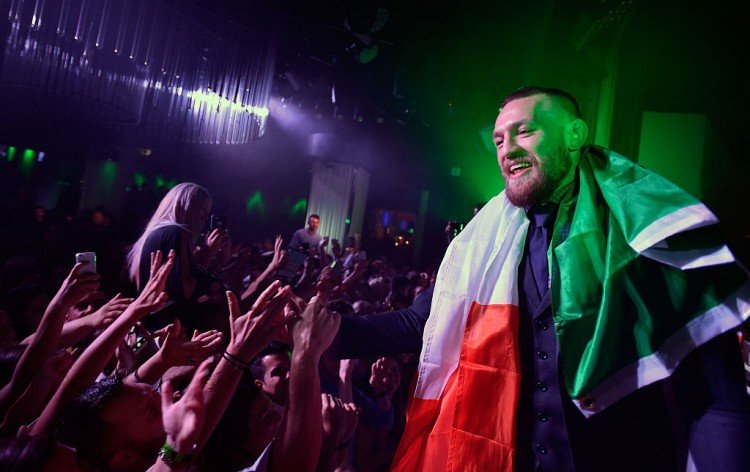 1. He's the first person to hold two UFC belts simultaneously
While viewer numbers and record-breaking revenues are important, none of it would be possible without being an outstanding fighter. Not only is McGregor an excellent mixed martial artist, he is in a league of his own.
While BJ Penn was able to win both the Welterweight and Lightweight Belts, and Randy Couture was able to win the Heavyweight and Light Heavyweight Belts, neither of these fighters held both belts at the same time. McGregor is the only fighter in the history of the UFC to hold two belts simultaneously.