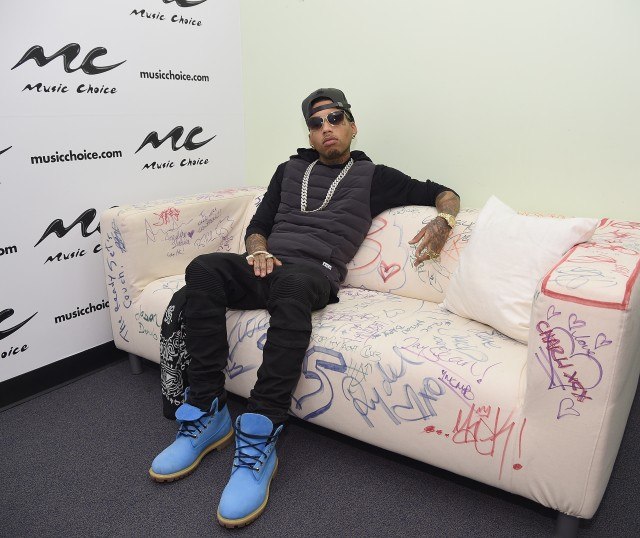 Kid Ink is a 29 year old American rapper from Los Angeles who was born Brian Todd Collins and successfully launched a new album, "Full Speed" in February, 2015 that debuted at the number one spot on Billboard's Top Rap Album charts. He is known for such hits at "Show Me", "Body Language" and "Be Real" and with his most recent album, "Ride Out" which is also featured in the film, Furious 7 from the Fast and Furious franchise.
Kid Ink got his start as a record producer following his introduction into the world of hip hop and music from an after school program in which he was involved. He credits Pharrell Williams and Swizz Beatz as his musical inspirations and eventually, at the ripe old age of 22, decided to pursue rapping as a full time profession. In January or 2013, he was signed to RCA records.
Working on and writing songs for the movie about fast cars was not a stretch for Kid Ink as he has a love of fast cars and owns a track ready Corvette Z06 and a completely rebuilt 1972 Chevy Nova that he has owned since he was in high school.
When asked to describe his "sound", Kid Ink says, "With the lyrical side of things, I try to make up for it and speak a little bit more on a hip-hop standpoint of actual things where I came from growing up in L.A., and situations I go through now that are relatable to my fans and my peers at the same time. I cross those together to get the Kid Ink sound that people are used to at this point". This sound is evident in his newly released album.
He admits that there is a bit of nostalgia currently for L.A. rappers and that has contributed to his sound and what he likes to write as all the artists from the West coast are familiar with one another and push each other to create an L.A. vibe with some subtle differences.
For instance, Kid Ink likes to work with various singers – not just rappers. While he is writing songs, he envisions who he thinks would sound good singing that part of the song or all of the song and admits that he often writes pieces of music that he cannot sing himself because he already has another artist in mind. He approaches them about working on his album or sometimes he will send them a piece of it, the hook, for them to find a place to put it into their own music.
He honed his music writing craft from being a producer, when he was known as Rockstar, taking serious piano and voice lessons and even studying music theory. All of these things come together to help him write and produce melodies and songs that resonate with people. Music was part of his family life and he attributes his mother for giving him a sense of music and a love of melodies.
In 2014, Kid Ink performed over 220 shows across the county and this year after working on, producing, and releasing his current album, he wants to slow down just a bit and do a few more things that are on his radar such as the X-Games, BMX events, WWE, and Wrestlemania.  "Fastlane" was selected as the theme for Wrestlemania. He has also had other songs, such as "Money and The Power" featured on HBO's "Hard Knocks" and was also used in 2014 for NBA Live.
His rapper name is derived from his love of tattoos. He has dozens of them on his face, hands, torso and arms. He claims to be "addicted" to the world of tattoos and will continue to ink other parts of his body. He has a portrait of his mother and grandfather on his chest and a tiger on the front of his neck that he says portrays his Chinese symbol.
When asked what he hopes to accomplish with his music and what he wants people to feel, he says, "I want people to feel surprised. I want them to get something they didn't expect. I want them to look forward to more, too." And with his star on the rise, people are looking forward to more from this fresh, young artist who started out as a piano player and then eventually became a rapper.
Photo by Dimitrios Kambouris/Getty Images