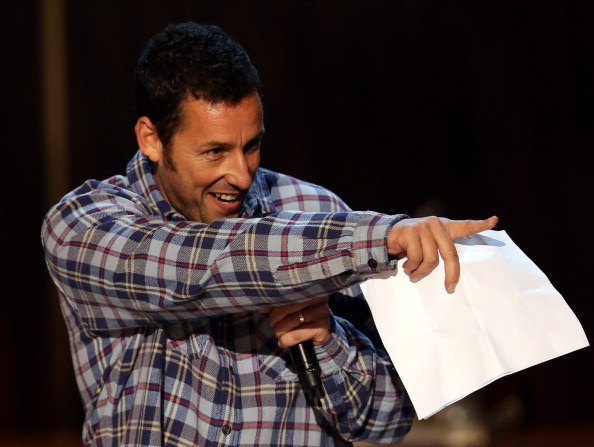 Adam Sandler is an American actor, comedian, screenwriter and film producer with an estimated net worth of $300 million. Adam Sandler's net worth is mainly attributed to his comedic movies he's been releasing for close to 20 years.
Adam Richard Sandler was born in Brooklyn, New York on September 9, 1966. He is the son of Stanley, an electrical engineer, and Judith Sandler a nursery school teacher. Sandler truly began realizing his destiny as a comedian as a student at New York University. During this time, Sandler would perform regularly in night clubs and on campuses. Sandler's big break came in 1990 when Dennis Miller caught one of his live comedy shows and decided to recommend Sandler for Saturday Night Live producer Lorne Michaels. He was hired as a writer and in 1990 and became a featured player the following year. He was fired along with co-star Chris Farley in 1995.
Sandler's coming out party was the movie Billy Madison in 1995. His very early film success lead him to become one of Hollywood's highest paid actors. Since leaving Saturday Night Live Sandler has starred in over 20 major films. Among the most popular of his movies – Bulletproof, Happy Gilmore, The Waterboy, Grown Ups, Just Go With It, and Big Daddy. Of the 20 movies he's starred in, he's reportedly earned around $20 million for 15 of them. An astounding number considering the moderate success of each film. His most recent films have not come anywhere close to the early success of his career. He is also well-known for casting beautiful actresses to work alongside of him. Some of these include Jennifer Aniston, Brooklyn Decker, and Drew Barrymore.
Sandler has formed his own film production company called Happy Madison Productions. The company has produced all of Sandler films with the exception of Punch Drunk Love, Spanglish, Reign Over Me, and Funny People. Sandler is known for working with his core group of friends through his production company. Through Happy Madison, Sandler has worked with Rob Schneider, David Spade, Kevin Nealon, Kevin James, and Anna Farris. Happy Madison Productions is located on the Sony/Colombia Pictures lot in Culver City, California.
Sandler met his wife Jacqueline Samantha Titone on the set of the 1999 film Big Daddy. The couple was married in June of 2007. Together they have two daughters, Sadie Madison (born 2006) and Sunny Madeline (born 2008). Sandler resides in Los Angeles, but owns a home in New York City and Florida. Sandler is also an active philanthropist. In 2007, he donated $1 million to The Boys and Girls Club in his hometown, Manchester, New Hampshire. He also donated $2,100 to the Republican Rudy Guiliani's presidential campaign.
Sandler has been highlighted for his high earnings and lack of movie success of late. Much of the time he's earning close to 25% of the movies total gross profits. Regardless, Sandler continues to demand high salaries and with his production company earns well over $30 million annually. He also has revenue streams from his years on SNL and his comedy work including his hit song "The Chanukah Song", which may be one of his most famous works.