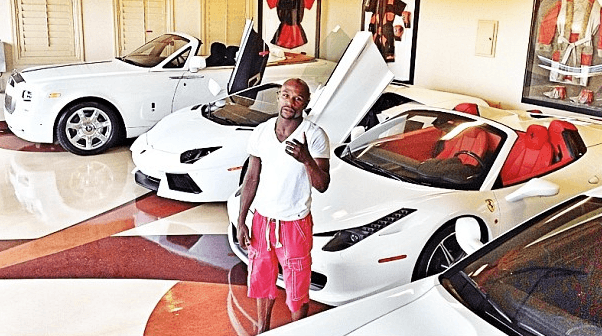 "If getting money is a crime, then give me the death penalty" writes Floyd Mayweather as the description of the Instagram picture shown above that features a Ferrari 458 Spyder, a Lamborghini Aventador, and a Rolls-Royce Drophead Phantom Coupé. I always knew that Floyd Mayweather was extremely wealthy, however I never realized how much money he actually had until I started browsing his Instagram page. There, he often posts about his latest hot-ticket items that he purchased. His net worth is estimated at around $300 million, however that's just a number. What does that kind of money actually look like? As fans around the world are gearing up for one of the most anticipated fights in history this weekend, we wanted to take a quick look into the lifestyle of one of the best boxers in the world who is currently undefeated. So here's a list of some of the absurdly expensive items that Floyd Mayweather has bought, and you will come to learn that he really likes his cars.
All photos from Floyd Mayweathers Instagram (@floydmayweather)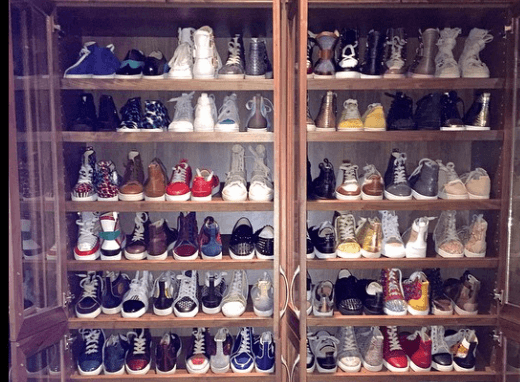 An $80,000+ Collection of Louboutin Shoes
Like many prominent celebrities, Floyd Mayweather takes pride in his appearance and wears clothing from high end designers. In one Instagram post he showed off his collection exclusively made of Louboutin sneakers. In the post he says he "could only fit 80 into the picture". Now, I'm no sneaker head so I can't identify each and every pair, but these shoes typically range from $895 to $3,000 dollars. Let's assume for a rough estimate that the price for one pair of these shoes is $1,000 dollars. That means he has some $80,000 dollars worth of shoes, and you know he has even more than just these, many of which are probably custom made or limited editions.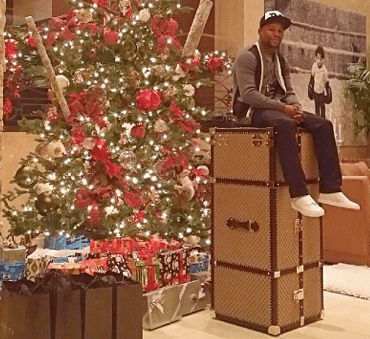 A $49,300 Gucci Trunk (among other high-end luggage)
Now when Mr. Mayweather travels, he likes to do so with style. Here he's seen sitting on top of a large Gucci trunk that he purchased for himself. Currently the only trunk that Gucci sells for men is priced at $49,300 dollars which is absolutely absurd. This is also just one Instagram post of him with luggage, as there are others where he as various bags from Gucci and Hermès so he's got a lot of money in luggage for sure.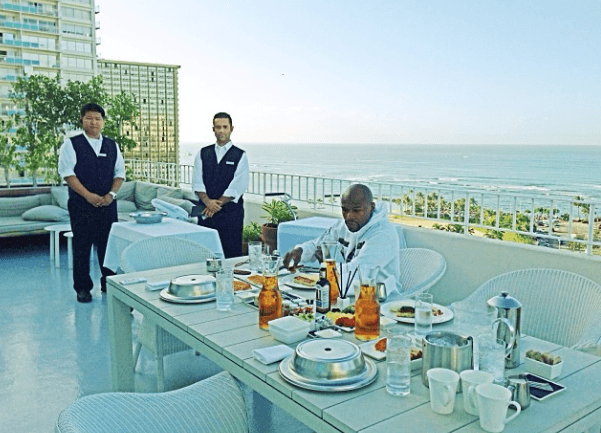 Various Presidential Hotel Suites
So where does Mayweather stay when he travels? As it is obvious that Floyd Mayweather enjoys the "finer" things in life that are more expensive, he only stays in the nicest luxury hotels when he travels and books the most premium suites. He's pictured here on the rooftop suite of an undisclosed hotel in Hawaii. He also has posted about a few others, like a 12,000-square-foot room he booked when he was in South Africa.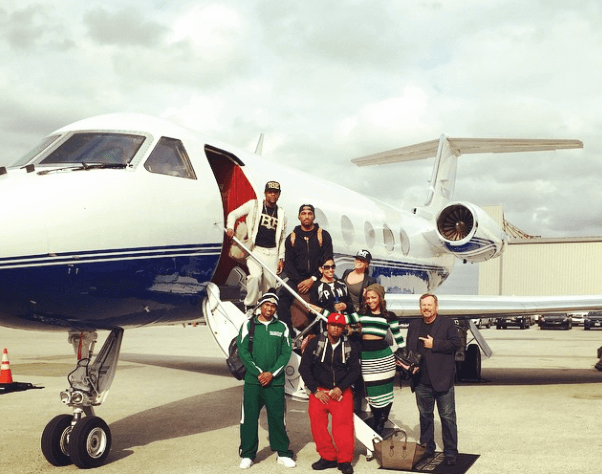 A Gulfstream G450 Private Jet
So how does he travel to these exotic locations with his expensive luggage? Well in his G4 private jet of course. The jet can hold 14 people and a brand new one costs in excess of $40 million dollars. That price doesn't include what it costs to maintain it, store it, or the crews paycheck. I'm not sure what's on the inside, but I would imagine that he has purchased a variety of bespoke options as well.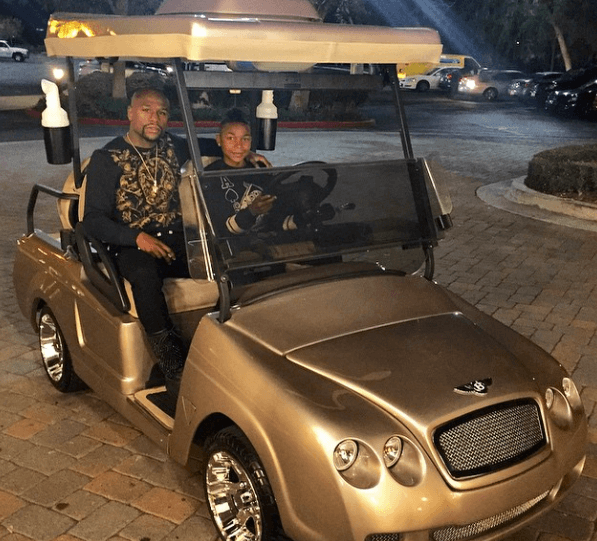 A Bentley Golf Cart
For his sons 15th birthday, Floyd Mayweather picked up a Bentley golf cart. Now obviously Bentley doesn't make golf carts, so this is custom made. I have no clue where you go to order one, but it certainly would be fairly expensive. I've read some articles that estimate they cost somewhere between $15,000 to $20,000 dollars. That's more money than some cars cost. So what do you think he will get his son for his 16th birthday?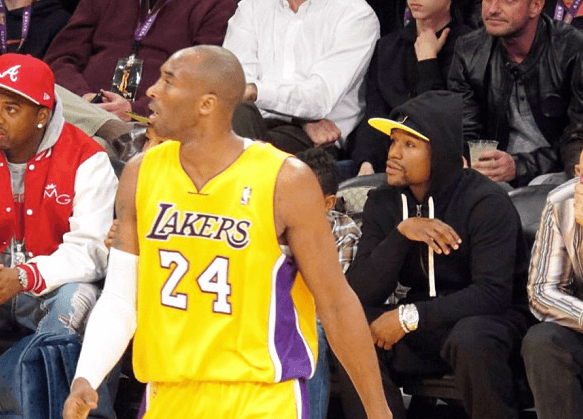 Lakers Floor Seats
Since Mayweather is a fan of the Lakers, he obviously picks up floor seats when he goes to see them. Now ticket prices for floor seats to Lakers games can range in price depending on a variety of factors (who they're playing, how the team is doing, etc.). You're going to be dropping at least a few thousand for a seat. During Game 7 back in 2010, one ticket was sold for $81,083 dollars. Now that was a desirable game to attend and they never usually cost that much, however they are still obviously very expensive. I would also bet that Floyd Mayweather is also a season ticket holder.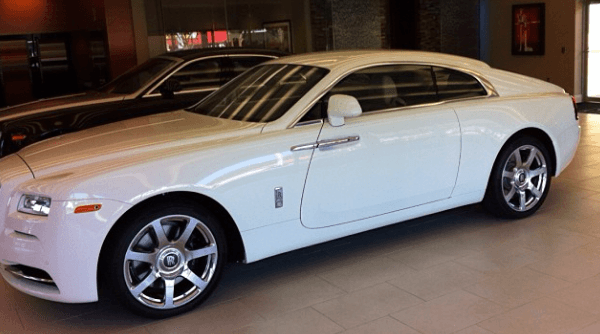 A Rolls-Royce Wraith
Back in 2014 Floyd picked up an all-white, Rolls-Royce Wraith for himself as a Christmas present. If you're looking to pick up one of these bad boys, then you are looking at dropping at least $284,900. As you will quickly learn, Floyd Mayweather is a huge fan of high-end automobiles.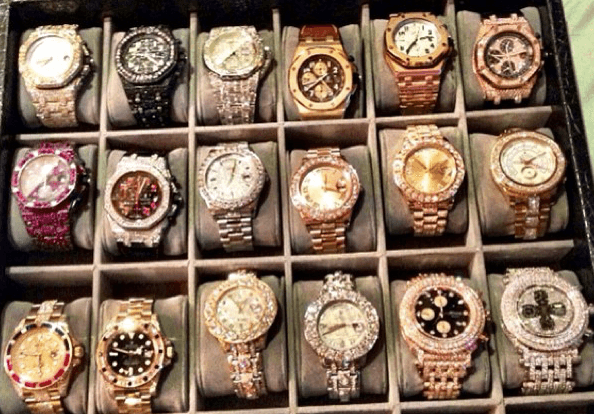 A $6.4 Million Watch Collection
Floyd Mayweather is also a fan of high-end watches and timepieces, and as you can see from this picture he also likes diamonds. I had to cut some watches out (because all of them wouldn't fit in the picture), but he tells us his collection is worth over $6.4 million in the Instagram post. He owns eight Audermars Piguets, eight Rolexs, two Axioms, three Franck Mullers, one Hublot Big Bang King, a Raindbow Tourbillon, and a Piaget Galaxy. And those were only the ones that he included in the picture.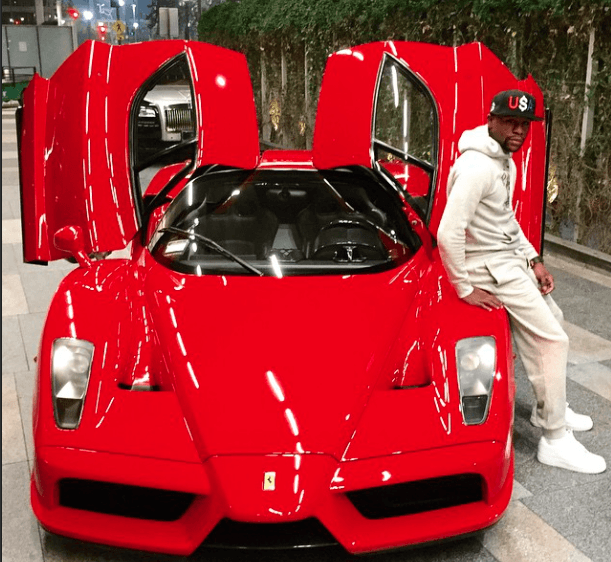 A Ferrari Enzo
As I've mentioned earlier, Floyd Mayweather likes cars. He really likes cars. In one post he showed off his all-red Enzo Ferrari (which you can't buy anymore). When the Enzo initially came out, it was priced around $670,000 dollars. However these are actually cars that have increased in value given that only 400 were produced. I saw one listing for a "like new" Enzo that was priced at $2.8 million, for example.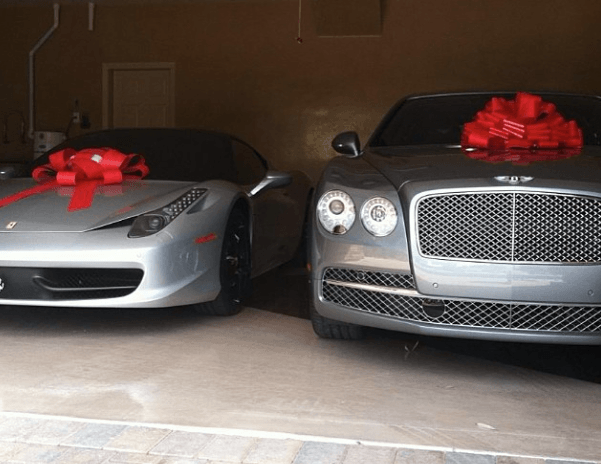 Cars for Friends/Girlfriends
Floyd Mayweather also often buys some pretty expensive gifts in the form of cars. In a post from 2014 with the simple description of "I love to buy her gifts" he shows off a Bentley Continental and what looks like to be some type of a Ferrari 458. We don't know who this mystery woman is, but she's pretty lucky.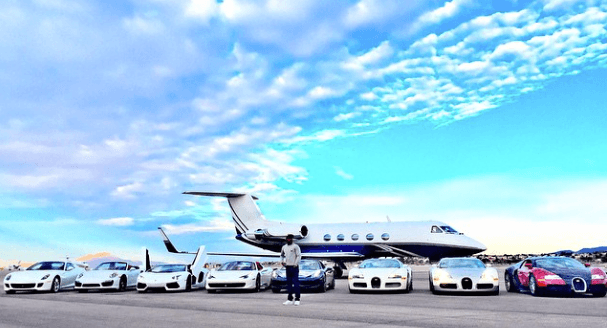 Pretty Much Every Car You Could Want
I know we are beating a dead horse here, but Floyd Mayweather is very enthusiastic about high-end automobiles. In a more recent post from January, he showed off some of his car collection. This picture contains two Bugatti Veyrons ($1.6 million each), one Bugatti Grand Sport ($3 million), two Ferrari 458 Spiders ($360,000 each), a Porsche 911 Turbo S ($205,000), a Ferrari 599 GTB Fiorano ($350,000), and a Lamborghini Aventador ($390,000). To be clear, that's $7,865,000 dollars in cars just seen in this picture alone. So if you were ever wondering to yourself if Floyd Mayweather leads an extravagant lifestyle, he certainly does.