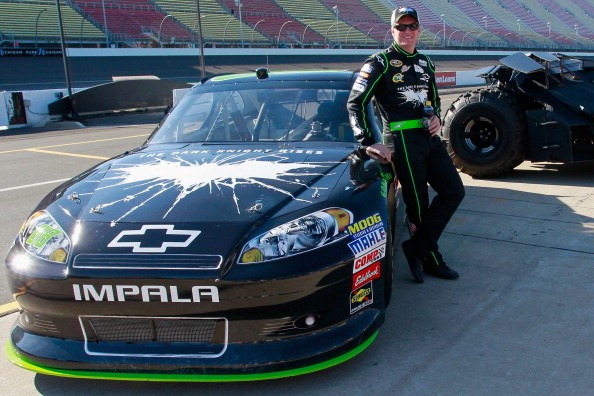 The National Association for Stock Car Auto Racing was founded by Bill France Sr. in 1947. As of 2014, NASCAR is the largest sanctioning body of stock car racing in the United States. The organization sanctions over 1500 races at over 100 tracks in 39 states. NASCAR is second to the National Football League for television ratings in the United States. In 2004, it was reported that NASCAR holds 17 of the top 20 regularly attended single-day sporting events in the world. The popularity behind NASCAR is no secret anymore.  In fact, NASCAR is well-known for representing TONS of Fortune 500 companies on the race track.  As for the drivers, they're cashing in heavy and they have the net worth to prove it. Check out the Top 15 Richest NASCAR Drivers of All-Time….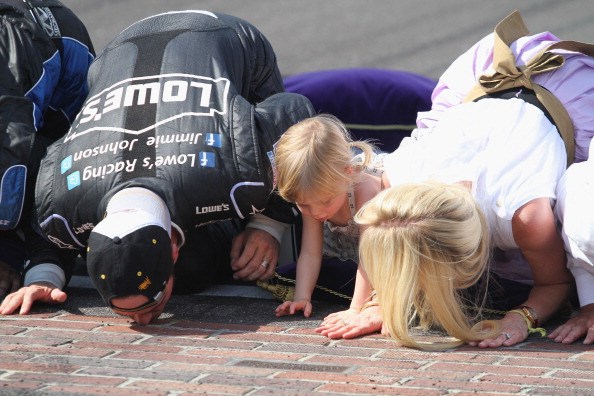 15.) Jimmie Johnson – $40,000,000
Jimmie Johnson's track record isn't anything to sneeze at. The guy has been the NASCAR Cup Series Champion five times, he's won the Daytona 500 twice, he's a five-time driver of the year, and he was named the AP Athlete of the Year in 2009. To be quite honest, that's a pretty darn impressive resume. It's impressive enough to earn Johnson about $20 million a year income between race winnings and endorsements. At 38-years old he still has some juice left. No question Johnson's net worth will continue to rise.
Photo by Tasos Katopodis/Getty Images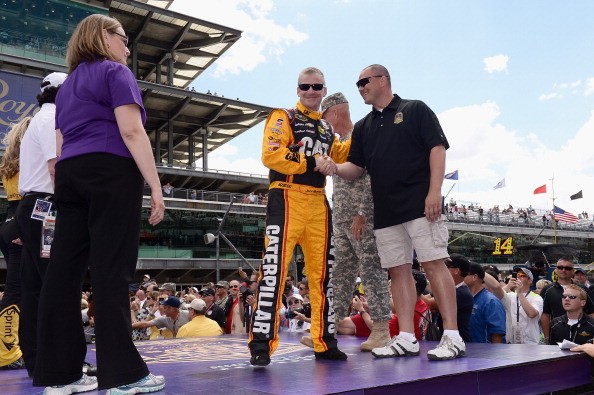 14.) Jeff Burton – $45,000,000
The Mayor has had a long and successful career as a NASCAR driver. Over 22-years and 693 races, Burton has finished in the Top 10 254 times and has won 21 times. He hasn't had a major victory, but his consistent model of solid performances has landed him some serious cash flow that includes some nice endorsement money. Let's face it: Burton isn't going to be on any billboards anytime soon, but he's proof that if you're good enough to hang around for a while you can make some serious paper in this game.
Photo by Michael Loccisano/Getty Images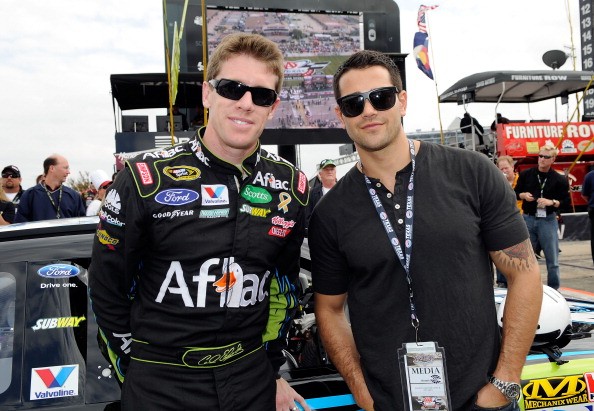 13.) Carl Edwards – $50,000,000
The back-flipping sensation is one of the better NASCAR drivers in the game. He won the 2007 Busch Series Championship and almost won the 2011 NASCAR Sprint Cup Series title, but lost in a tie-breaker to Tony Stewart. He's won Rookie of the Year and is consistently one of the most popular drivers on the track. His annual income is well-over $20 million thanks to his marketability and driving success.
Photo by John Harrelson/Getty Images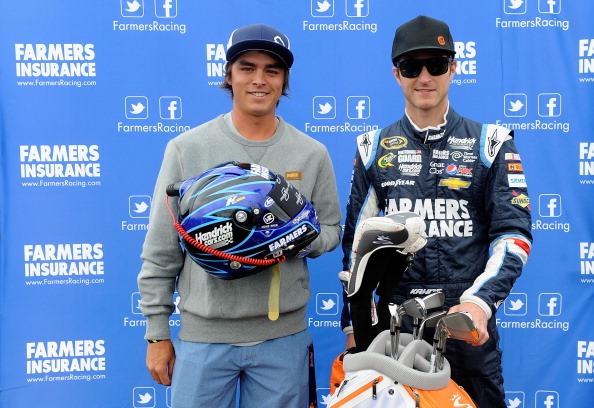 12.) Kasey Kahne – $50,000,000
Kasey Kahne has put together a nice career over the span of 11 years that has included 380 total races. Over that time he has 143 top ten finishes and 16 wins in total. He was the Nextel Cup Series Rookie of the Year in 2004 and has gone on to win the Coca-Cola 600 three times. He drives the #5 Farmers Insurance Group/Great Clips Chevrolet SS for Hendrick Motorsports in the Sprint Cup Series. He also owns his own race team, Kasey Kahne Racing.
Photo by Grant Halverson/Getty Images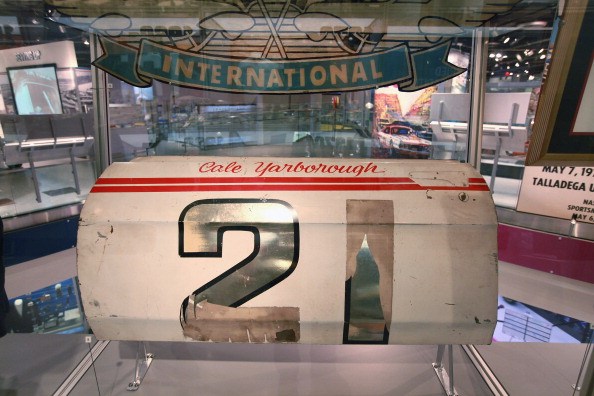 11.) Cale Yarborough – $50,000,000
Let's turn back the clock a little bit to one of the all-time greats. Cale Yarborough raced for 31 years and a total of 560 races. During that time he had a total of 83 wins and 319 top ten finishes. He's one of two drivers to ever win the Winston Cup Series three years in a row. He won the Daytona 500 four times and was elected to the NASCAR Hall of Fame in 2012.
Photo by Scott Olson/Getty Images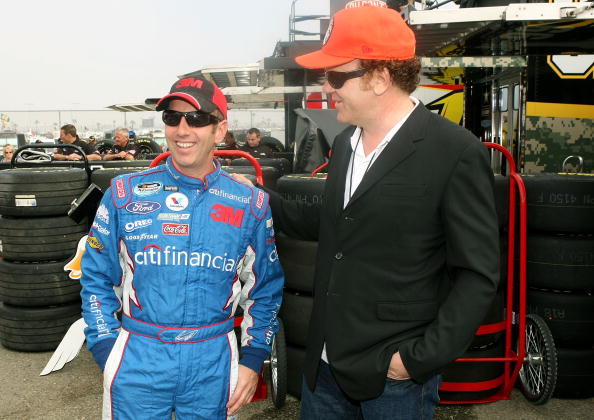 10.) Greg Biffle – $50,000,000
Greg Biffle is the #16 car for Roush Fenway Racing in the Sprint Cup Series. He has won championships in both the Nationwide Series and the Camping World Truck Series. Biffle has been in the game for 13 years winning 39 times and placing top 10 311 times in between the Sprint Cup and Nationwide Series. Way back in 2002 he was voted the most popular racer in the Busch Series.
Photo by Stephen Dunn/Getty Images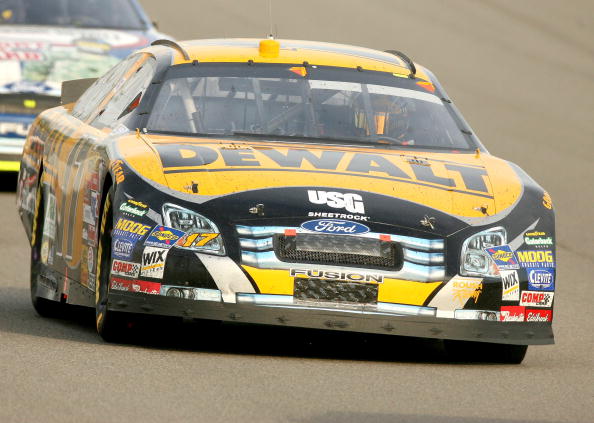 9.) Matt Kenseth – $60,000,000
Kenseth drives the #20 Toyota Camry for Joe Gibbs Racing in the Sprint Cup Series. Kenseth has been racing for 17-years successfully. He's won the Daytona 500 twice as well as 29 other wins in 528 races. Kenseth was also named Rookie of the Year in 2000 for the Winston Cup Series. His success on the track as well as a small endorsement portfolio through Joe Gibbs racing has made him a financial success.
Photo by Frederick M. Brown/Getty Images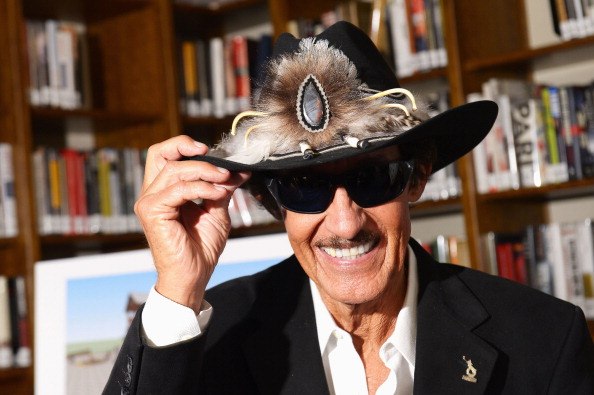 8.) Richard Petty – $60,000,000
Probably one of the most famous names in the history of stock car racing, Richard Petty is nicknamed The King. He's won the NASCAR Championship 7 times and a record 200 races during his career. He's also won the Daytona 500 a record 7 time. Statistically, he's the most accomplished driver in the history of the sport. His 200 wins and 712 Top Tens in 1,184 races is untouchable at this moment. Modern day, he would have easily been worth $100,000,000 (as if $60 million isn't good!).
Photo by Michael Loccisano/Getty Images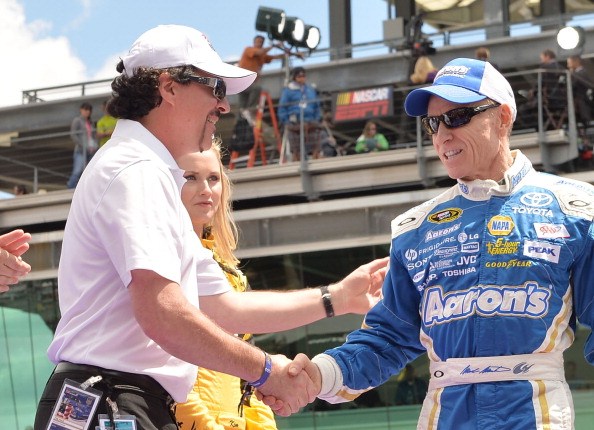 7.) Mark Martin – $70,000,000
Mark Martin is a retired NASCAR driver with one heck of a winning percentage. He's no Richard Petty, but his 89 wins in 31 years is still pretty good. Interestingly enough, Martin never won a Daytona 500, but that doesn't mean his career was a loss. ESPN called Martin "the best driver to never win a championship". As of 2014, he had the second most wins in the history of the Nationwide series. The best driver to never win a championship has a pretty nice net worth that I'm sure eases that fact.
Photo by Rick Diamond/Getty Images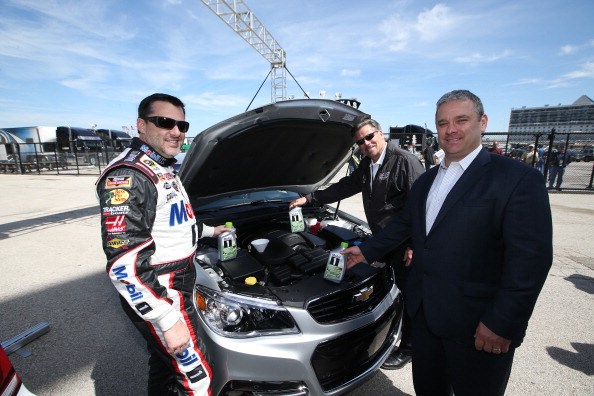 6.) Tony Stewart – $70,000,000
Tony Stewart starts a chain of modern day racers who are successful businessmen and owners as well at number 7. Stewart drives the no. 14 car for his own team in the Sprint Cup Series. From 1999 to 2008, he drove for Joe Gibbs racing before starting his own team. His list of successes is long and distinguished including a three time Sprint Cup Series Champion. He's the first owner-driver to ever win the Sprint Cup Series Championship since Alan Kuwicki.
Photo by Rick Yeatts/Getty Images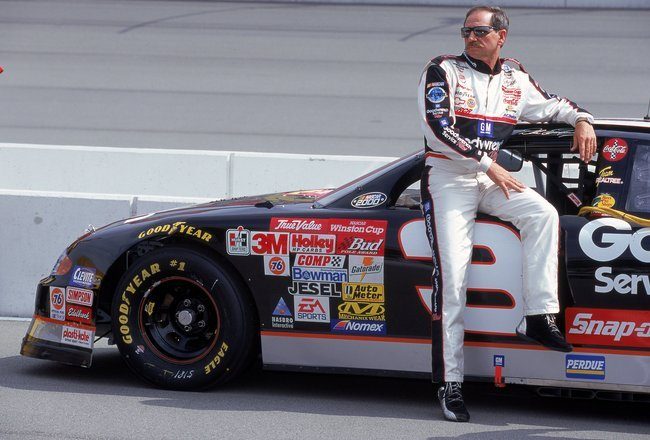 5.) Dale Earnhardt Sr. – $70,000,000
If you want to look at a long, successful bloodline look no further than the Earnhardts. Dale Earnhardt Sr. is considered one of the best NASCAR drivers of all-time. He won a total of 76 races throughout his career including one Daytona 500 victory. He's tied with Richard Petty for the most NASCAR Winston Cup Championships (7). His nickname is 'The Intimidator' because of his aggressive driving style. On February 18, 2001 he was involved in a last lap crash at the Daytona 500 that cost him his life. He's been inducted into numerous Hall of Fames.
Image via Getty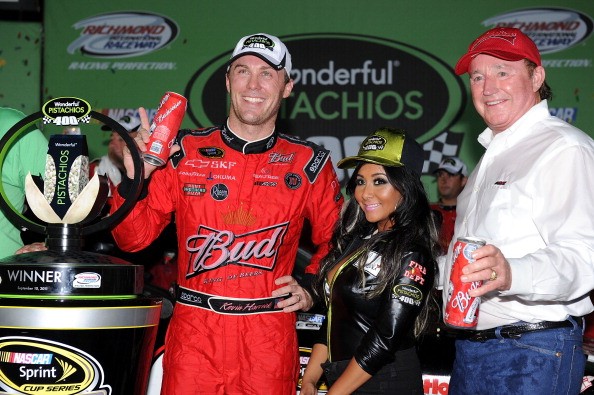 4.) Kevin Harvick – $70,000,000
Kevin Harvick is a successful NASCAR driver who races for Stewart Haas Racing in the Sprint Cup Series. Harvick is the former owner of Kevin Harvick Incorporated, a race team that ran in the Nationwide Series and Camping World Truck Series for seven years. He's a two-time Busch Series Champion and has one Daytona 500 win under his belt. In 15 years, he has 47 total wins between the Sprint and Nationwide Series.
Photo by Patrick Smith/Getty Images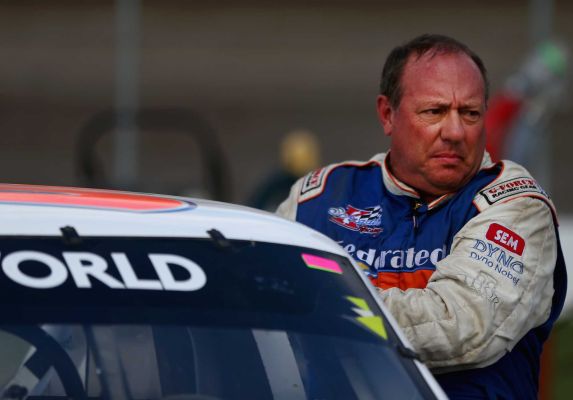 3.) Ken Schrader – $75,000,000
Ken Schrader is probably the most diverse racer among the group. He races in many divisions and has been successful in many divisions. For a span of ten years, Schrader raced in an incredible amount of different races in a given year period from NASCAR to ARCA, short track and dirt track. His track record isn't nearly as solid as the other drivers on this list, but he's a product of sheer volume and popularity. It doesn't hurt that the guy owns Raceways, Speedways and a dozen other things!
Image via Getty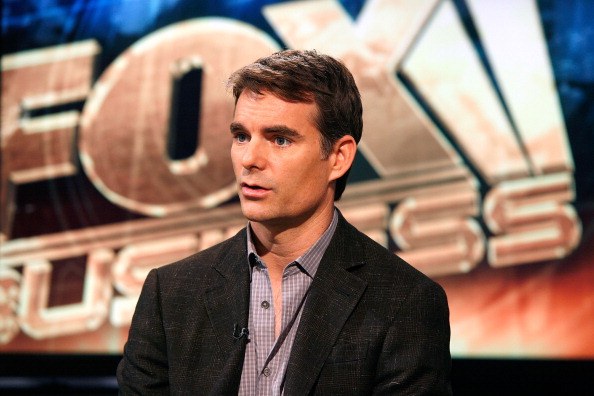 2.) Jeff Gordon – $150,000,000
That's a pretty impressive jump isn't it? Jeff Gordon is one of the most well-known drivers in the sport today. Its not all fanfare though, Gordon has been immensely successful and durable on the track. He's won the Daytona 500 three times and it would take the better part of a day listing all of his successes over his 23 year career. The four-time Sprint Cup winner is third all-time in Cup wins and perhaps the most important stat for the purposes of this description – He's the first NASCAR driver to ever win $100,000,000 in career earnings. Take that and an incredible nice endorsement portfolio and you're in pretty good shape.
Photo by Andy Kropa/Getty Images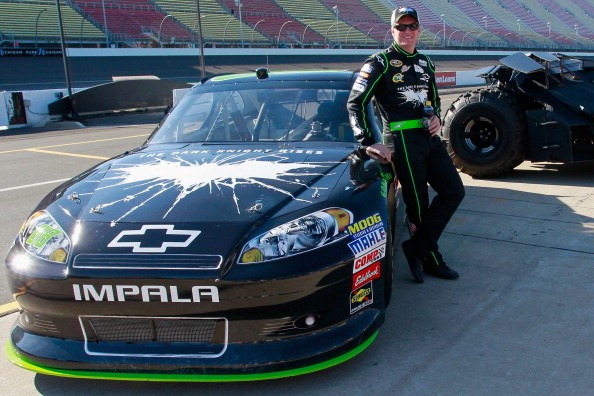 1.) Dale Earnhardt Jr. – $300,000,000
The "Pied Piper' of Daytona is the most popular NASCAR driver in the sport today. Don't believe me? He's won the Most Popular Driver Award 11 straight times from 2003-2013. To go with that he has a nice portfolio of victories (Daytona twice) and an incredibly lucrative endorsement portfolio. Along with Jeff Gordon, Earnhardt is the most marketable driver in the sport. On top of driving for Hendrick Motorsports, he owns his own team JR Motorsports that races in the Nationwide series occasionally. The $300,000,000 is absolutely outstanding for a professional athlete today.
Photo by Geoff Burke/Getty Images