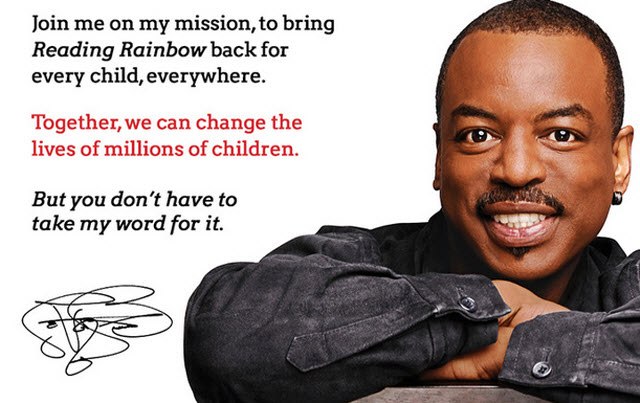 For a while there, it seemed like Kickstarter's star might be fading a bit. Yes, new projects have been funded every day for a while now, but it was missing the kind of truly enormous, high profile campaigns that made it so famous initially
Until this week, that is.
Right now, LeVar Burton's three day long effort to revive his famed children's reading program, Reading Rainbow, is at $2.76M in pledges. By the end of the day, it will likely break three million. There are still 33 days to go in the campaign, which had an original goal of $1M.
So, what's happened here to create what is deniably the next big Kickstarter sensation? It's combination of a few factors.
First, there's nostalgia. There's an entire generation of kids who grew up with Reading Rainbow who are now just getting into the workforce, or have been for a few years. Older than that, there are the parents that had their kids watch Reading Rainbow when they were young. As such, it's a powerful memory for many, and one that spurs donations based on nostalgia alone. If there was a Kickstarter to bring back the cartoon Doug or to have N*Sync record a new album, that might get funded too. Reading Rainbow is a powerful staple in the childhoods of many, and one that feels good to support.
And that's the advantage Reading Rainbow has over other projects. While it might be nice to fund a VR headset or a new video game, the revival of Reading Rainbow is a more directly charitable act. The goal of the fundraiser is to make Reading Rainbow a worldwide program that can be accessed for free, by anyone, on the web. It's goal is to subsidize the cost of the program for schools so everyone can utilize it, even in underprivileged areas. In this way, people get to support something they used to love AND feel like they're making a difference in the world. It's a win-in.
Then there's LeVar Burton himself. He became famous for his role on Star Trek: The Next Generation, but was especially beloved during his time at Reading Rainbow. The fact that he personally is the frontman for this campaign helps immensely. He's an incredibly likable figure, and I don't think it would be at all possible to have done this without him.
Burton has been on a whirlwind tour of interviews the past few days promoting the Kickstarter, and most of the backing pledges have to do with him personally doing something for you. It could be signing an autograph, recording a voicemail message or other small things, but it's also coming to your favorite school to read, or even going out to dinner with you. Burton is fully committing himself to the project, and it's clear that he's entirely invested in. That means we, as backers, can be too. We trust him.
Here's Burton's reaction when the Reading Rainbow Kickstarter broke a million dollars in barely 12 hours after it launched. The emotion is real, and the release of this video only spurred even MORE donations. Hell, it's what got me to chip in $20 of my own, and I haven't funded a Kickstarter in well over a year at this point.
The success of the Reading Rainbow Kickstarter is a combination of nostalgia, charity and a great leading man that's allowed it to raise far more money than it ever dreamed. I have no idea what the grand total will be in the end, nor what they will do with all the extra cash, but lord knows if any Kickstarter ever deserved to be superfunded, it was this one.
Support it yourself here, if you're so inclined.
[Photo via Kickstarter]