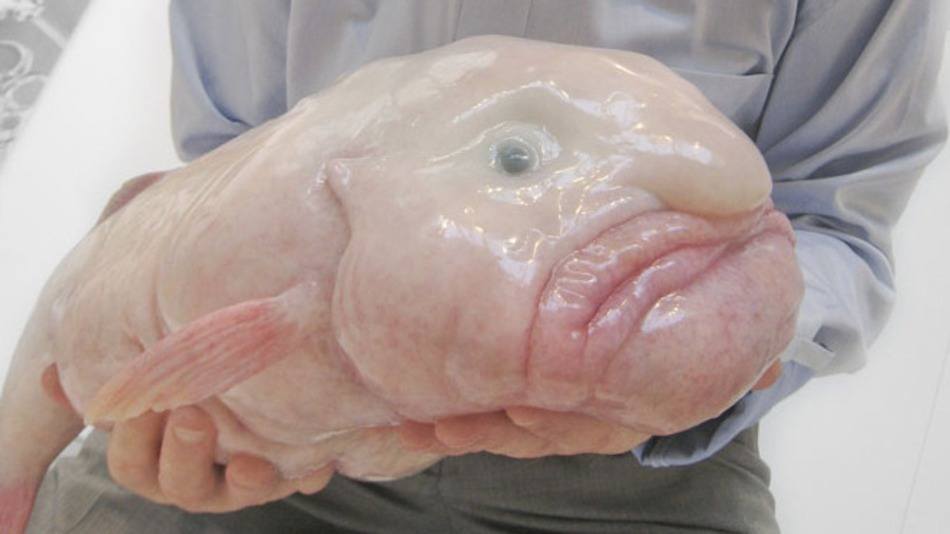 Back in 2013, the blobfish was voted the "World's Ugliest  Animal," and that's all people knew it as. However, a group in London is doing its best to ensure that blobfish become known for more than their "ugliness," an unfair label put on the fish that clouds any other thoughts that individuals may have about them. So what are they doing? They're giving blobfish their own pop-up cafe, similar to the owl bars that appeared in London earlier this year, one that celebrates the animal and educates people about it rather than mocking it about its appearance.
According to the Blobfish Cafe's website, the pop-up has acquired three blobfish—named Barry, Lorcan, and Lady Swift—that will be on display when the business opens next summer in 2016. With three blobfish in their possession, this could not have been a cheap or easy project to conduct for the cafe's creators, as one blobfish alone costs $100,000, with its large tank coming in at $500 (meaning that with three of them, these unnamed individuals have probably paid over $301,500 alone just to obtain blobfish).
This is definitely an endeavor taken on by those who are committed to showing the world blobfish in a new light, a goal not only reflected in the estimated price paid for these creatures but in the words expressed on the cafe's site, which promise that the cafe's creators "have been working with some of the world's top marine biologist." Check out what else the creators had to say about their plans and intentions below:
In 2013 the previously little known blobfish became an internet sensation after it was cruelly voted the World's Ugliest Animal. Suddenly the blobfish was everywhere. But despite its online celebrity, its deep sea habitat means that very few people outside of the marine biology community have ever seen one in the (gelatinous) flesh.

Until now.

Next summer we are proud to be opening the world's first pop-up aquarium in the heart of East London. Over the past 18 months we have been working with some of the world's top marine biologist to understand how we can safely transport and comfortably home these deep sea dwellers. And the hard work has finally paid off. We have secured our perfect venue (not easy when you need to recreate a deep ocean environment!) and work on 'the tank' has begun in earnest.

We currently have three Blobfish all packed and ready for their London holiday – Barry, Lorcan and Lady Swift.

There will be no ballot for the Blobfish Café -everyone will be welcome! Just keep your ears open for our launch in Summer 2016.
Image credit: Grufnik/Flickr