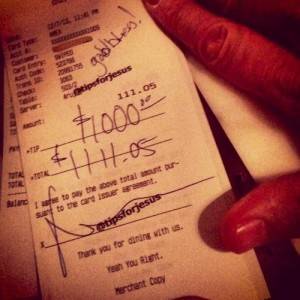 I was always taught to tip your waiter or waitress 20% of whatever the bill is. Maybe a little more if you though they did an extremely good job or had a fun personality. But have you ever heard of tipping someone at a restaurant $10,000? Anonymous diners have been doing this across the United States since September 2013. More and more stories that come about these individuals that leave the tips, and it's creating a buzz across the internet.
The tips that have been left for servers in restaurants range from $500 to $10,000 and have been left via American Express Centurion Card on bills that tally only around $100 or so. Whoever is leaving these tips also stamps the receipts with a quote which says that the tip is being left for Jesus. Now a website called Valley Wag is stating that these tips are being left by Jack Selby, former Vice President of PayPal, who left the company in 2002 after it was acquired by eBay. There has been no response from Selby about Valley Wag's claims, nor has there been any factual evidence presented that proves that Selby is the one behind leaving all of these incredibly generous tips.
Most recently, a $2,500 tip was left at an Italian Fusion Restaurant Crudo in Phoenix.
Ultimately, I don't think it really matters if we ever find out who is leaving these tips at restaurants or whether it's just one person or multiple people. The most important idea that is coming out of this story is the message of generosity that this individual (or individuals) is trying to share and spread with the world. This kindness and thoughtfulness should be admired and is something that all people should attempt to replicate, even if it's on a much smaller scale than $10,000. It's the action and the intent behind it that matters – not the amount of money given.